The Central African Republic (CAR) is emerging from a crisis that began when rebels overthrew the national government in 2013. This upheaval came with a chaotic and violent period for the country. A new president was elected in 2016, but the country is still very fragile. Militias' use of religious and ethnic identity continues to fuel violence, and their control of a large part of the country's territory poses challenges to governance, reconciliation, and accountability.
The youth of CAR are watching their country slowly be restored. They are the current and potential future of the country and with the proper support, they can prove instrumental in the rebuilding process. Seeing the untapped potential of young people in CAR, IRI identified young leaders and introduced them to Generation Democracy.
Generation Democracy, IRI's flagship youth initiative, brings reform-minded youth into the "decision making tent." Linking youth across borders to share ideas and best practices for increasing political and civic participation, Generation Democracy teaches youth how to have a stronger voice in the decision making processes in their communities.
In cooperation with the US Embassy in Bangui IRI hosted three workshops for the new Generation Democracy members on the topics of elections and civic education. The youth learned about US campaign practices, including electoral mapping, campaign funding, televised debates and primary elections. The civic education workshop went over good governance, transparency and democratic principles.
Taking what they learned at the workshop, Generation Democracy members organized a civic education campaign at a high school in Bangui. Eight-hundred students attended an event that promoted civic participation in CAR. Generation Democracy members spoke about the meaning of citizenship; the rights and duties of a citizen; and the importance of peace and social cohesion.
In order to make the learning process exciting, a theater troop presented short improvisation plays to illustrate the topics discussed by the Generation Democracy members.
Cedrick, a 10th grade student, attended the event and was excited to engage others about it, "I am going to create a group within my class in order to share [what I learned] with others. Mutual respect is very important if we want to avoid having problems amongst us."
Mamadou Patrick, a 12th grade student, explained: "I will inform my neighborhood friends that I participated in an awareness raising (event) on social cohesion. I will tell them that for our country's development it is necessary to accept to live as a community and to accept one's brother regardless of his religion."
Creating a stable CAR is of the upmost importance and youth are the drivers of the mission. Though they may not know it, the youth of CAR hold the key to a strong country. Moreover, they are drivers of stability for the entire region. In other parts of Africa, strong democracies transfer skills and exert positive influences on their neighbors. Given CAR's strategic location at the center of some of the continent's most troubling conflicts, the development of trusted and enduring democratic institutions will allow for greater security and stability in the region.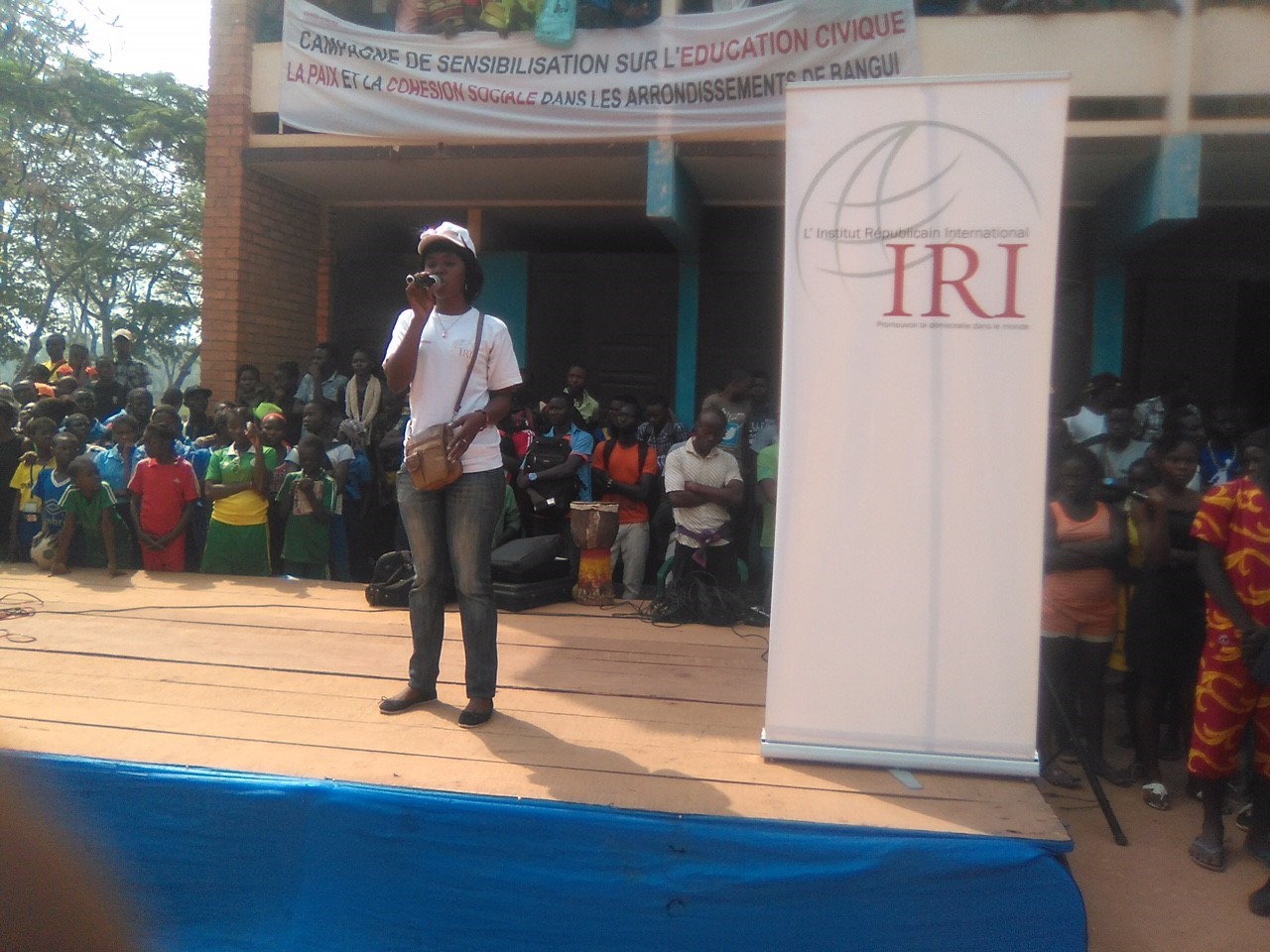 Top