What Voters' Rejection of the Status Quo Means for Tunisia's Democracy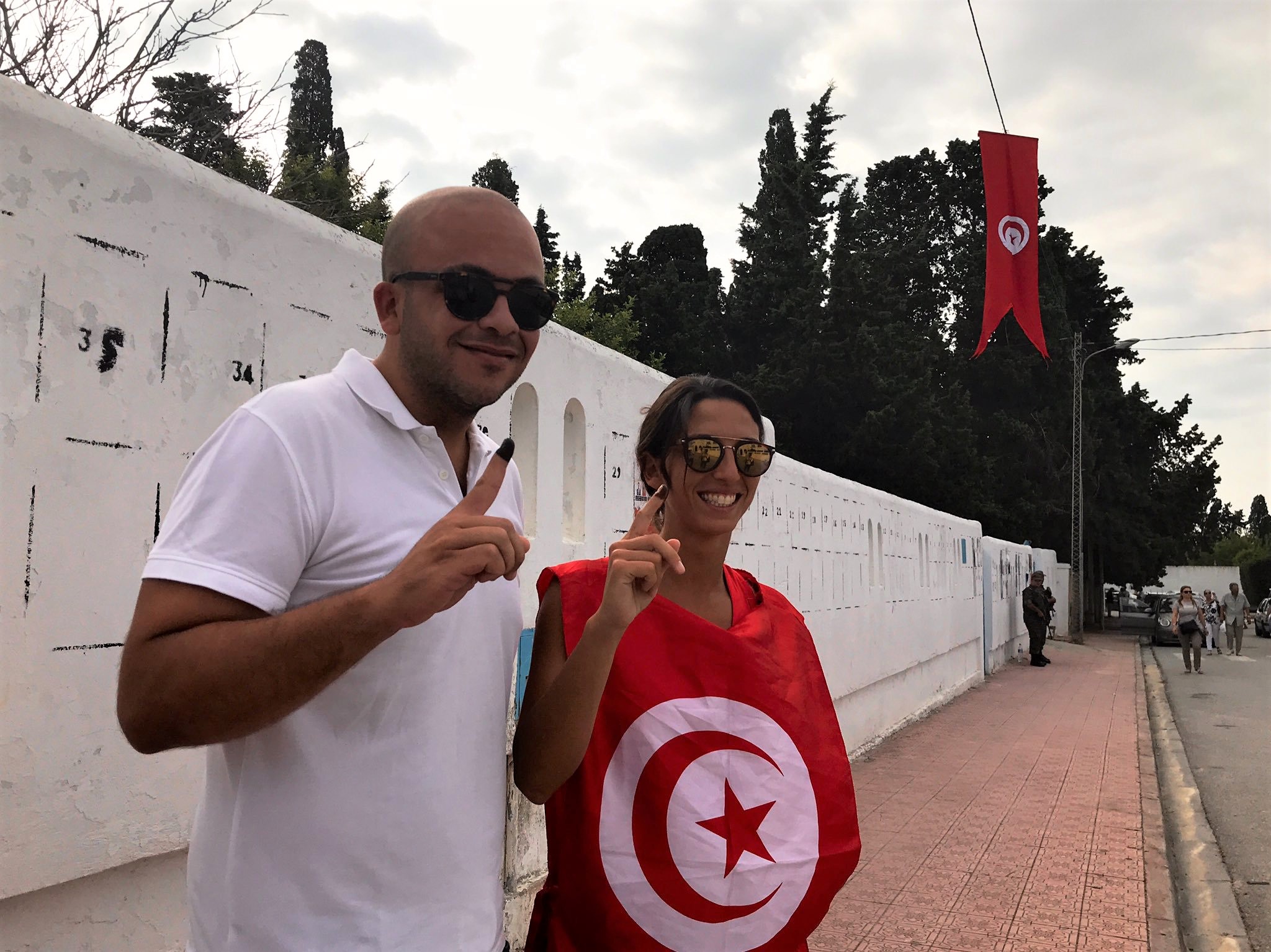 Two first-time candidates made it to the run-off in the first round of the Tunisian presidential election. The outcome speaks to the young democracy's resilience but is also a test of its institutions.
The first round of the presidential elections in Tunisia concluded on Sunday, September 15, with a strong rebuke of the nation's political leadership. Voters elevated two first-time candidates to the run-off round — jurist Kais Saied (with 18.4 percent of the vote) and businessman Nabil Karoui (15.6 percent). The candidates differ significantly, but their campaigns share two common attributes. First, neither candidate was part of the outgoing government. Second, both candidates capitalized on the anti-establishment sentiment among Tunisian voters by portraying themselves as outsiders and champions of the people. That is an encouraging sign for Tunisian democracy as a whole, and simultaneously a warning. As the political landscape shifts, Tunisia's young democratic institutions are being tested in new ways.
For several years, the Tunisian political system has fallen short of popular expectations, thus making the success of Saied and Karoui possible. According to IRI's polling since 2014, large majorities of Tunisians believe their country is moving in the wrong direction, when the last national elections were held. In this year's February poll, the majority reached a high of 87 percent. In that same poll, 65 percent of respondents were "somewhat dissatisfied" (16 percent) or "very dissatisfied" (49 percent) with the democratic development in Tunisia. Moreover, political parties, parliament, the prime ministry and the presidency were ranked the lowest when Tunisians were asked to describe their level of trust in national institutions.
Many citizens see their political leaders as indifferent to their problems and preoccupied with infighting rather than working to solve the country's biggest problems. Tunisia's economy since the last national elections has been gripped by a combination of stagnant growth and spiraling inflation. External debt and budget shortfalls add to the economic malaise and reduce both the quality and quantity of public services. Middle-class life is becoming further out of reach for many.
Capitalizing on popular dissatisfaction, both Kais Saied and Nabil Karoui have distinguished themselves as prominent critics of the political establishment in the lead up to the 2019 presidential election. In reality, both have spent years laying the ground for their candidacies, with Karoui reaching the public through his own television station, Nessma TV, and Saied through speaking tours and appearances on various broadcast media.
Both ahead of and during their campaigns, Saied and Karoui branded themselves as the anti-politician candidates. With this strategy, they managed to mobilize new voters — for Karoui, the poor and especially elderly, and for Saied, the youth. More generally, they have gained the votes of many who are disillusioned with Tunisian politics during this time of transition.
Despite progress in developing democratic institutions, unresolved problems in Tunisia have led to widespread discontent with the various political forces who have led the government (and opposition) since the beginning of the transition. Political jockeying and governance in this period has been widely seen as self-interested and unproductive. Voters are now expressing their frustrations by supporting non-establishment figures and endorsing a change in national politics.
This narrative is not so different from many countries that experienced democratic transitions over the past 50 years. When revolutionary expectations meet the grinding reality of democracy, disappointment is common, and political forces that engineered the transitions often do not survive. This phenomenon even has a name in some places — el desencanto was a term used to describe it in Spain in 1979, then throughout Latin America in the 1980s. In the 1990s, new democracies in Eastern Europe were beset with a "post-totalitarian depression," in the words of Bulgarian author Tzvetan Todorov.
Compared to other democracies in similar stages of transition, Tunisia's current malaise is not exceptional. To vote for a change in leadership is exactly the purpose of democratic institutions, and a necessary step in building a stronger representative democracy. After all, there can only be democracy if citizens are able to peacefully replace governments through elections.
The ability of political outsiders to compete and prevail in elections thus signifies the proper functioning of the democratic process. At the same time, both Kais Saied's and Nabil Karoui's candidacies raise specific issues of concern. Saied has espoused several anti-democratic positions that could set Tunisia's transition back — he has proposed to dissolve the Tunisian parliament and to ban civil society organizations. Karoui's candidacy, on the other hand, has raised a number of high-stakes procedural issues. Currently held in detention on charges of money laundering and tax evasion, Karoui may find himself disqualified if he wins in the second round. His incarceration has also raised the prospect that the entire election could be invalidated, if a court determines that candidates did not have an equal opportunity to campaign under the electoral law. These issues would pose a serious challenge to even the most stable and mature democracies. In Tunisia's current situation, they have the potential to further undermine confidence in the system and cause a political crisis.
Tunisians are headed back to the polls in October to vote in the presidential run-off and in parliamentary elections. As Tunisians await a new government, they should be encouraged by the resilience of their country's young democracy and vigilant about maintaining its legitimacy.
Top