Patricia Karam is Middle East North Africa Regional Division Director at IRI. In this role she is responsible for the strategic oversight and leadership of a multimillion portfolio of programs focused on citizen-responsive governance, political party development, legislative strengthening, and civil society capacity-building.
Karam has held senior managerial positions in non-government organizations over the past 20 years. She has worked at the nexus of problem analysis, policy formulation, and impactful program implementation aimed at social and policy change in a range of complex, conflict-ridden settings across the globe. Karam has a track record of designing and leading field-based teams and programs with concrete implications on long-term, local institutional capacity, and resilience to instability and conflict. She has participated in organizational knowledge management efforts and has demonstrated a commitment to integrating monitoring and evaluation approaches to shape adaptive responses to complex problems.
As MENA director at Natural Resource Governance Institute, Karam was responsible for over 30 research, advocacy, grant-making, technical assistance projects aimed at improving natural resource governance. She established and ran multiple country offices with the influx of US and UK government funding. As deputy director at International Center for Transitional Justice, she oversaw educational transitional justice programs and spearheaded the expansion of the Documentation Affinity Group, a global network of action-oriented grassroots documentation-focused group.
Karam held a combination of field-based management and implementation, fundraising, and grants-making roles at the US Institute of Peace, Iraq Foundation and the Iraq Embassy, and NYU's Trauma Studies Program. Her thematic expertise covers political party development, conflict-mitigation, peace-building and transitions, good governance and anti-corruption, natural resource management, transitional justice and human rights, and women's empowerment. She holds a dual BA from Brown University and an MSFS degree from Georgetown University. Her PhD work at New York University revolved around identity politics in the Western Sahara.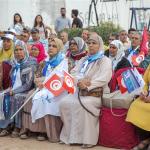 Two outsiders emerged as front runners in the first round of Tunisia's presidential race on September 15th in a rebuke…
Authored External Content
Top