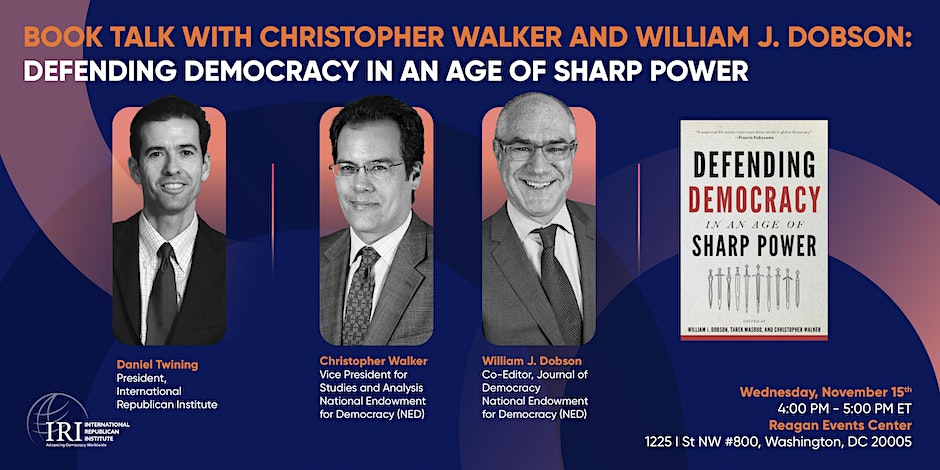 The world's dictators are no longer content with shoring up control over their own populations—they are now exploiting the openness of the free world to spread confusion, sow discord, and suppress dissent. In Defending Democracy in an Age of Sharp Power, editors William J. Dobson, Tarek Masoud, and Christopher Walker bring together leading analysts to explain how the world's authoritarians are attempting to erode the pillars of democratic societies—and what we can do about it.
Join us for an insightful discussion at the IRI Headquarters, 1225 I St. NW, Suite 800, Washington, DC 20005, on Wednesday, November 15, 2023, from 4:00 PM until 5:00 PM or on Zoom for virtual participation.
About the Editors
William J. Dobson
William J. Dobson is a co-editor of the Journal of Democracy and the author of The Dictator's Learning Curve: Inside the Global Battle for Democracy. He has worked as the Chief International Editor at NPR, Washington Bureau Chief of Slate magazine, and Managing Editor of Foreign Policy.
Tarek Masoud
Tarek Masoud is the Ford Foundation Professor of Democracy and Governance at Harvard University's John F. Kennedy School of Government. He is also a co-editor of the Journal of Democracy.
Christopher Walker
Christopher Walker is the Vice President for Studies and Analysis at the National Endowment for Democracy. He is also a co-editor of Authoritarianism Goes Global: The Challenge to Democracy and Sharp Power: Rising Authoritarian Influence.
Top