McCain Fellowship for Freedom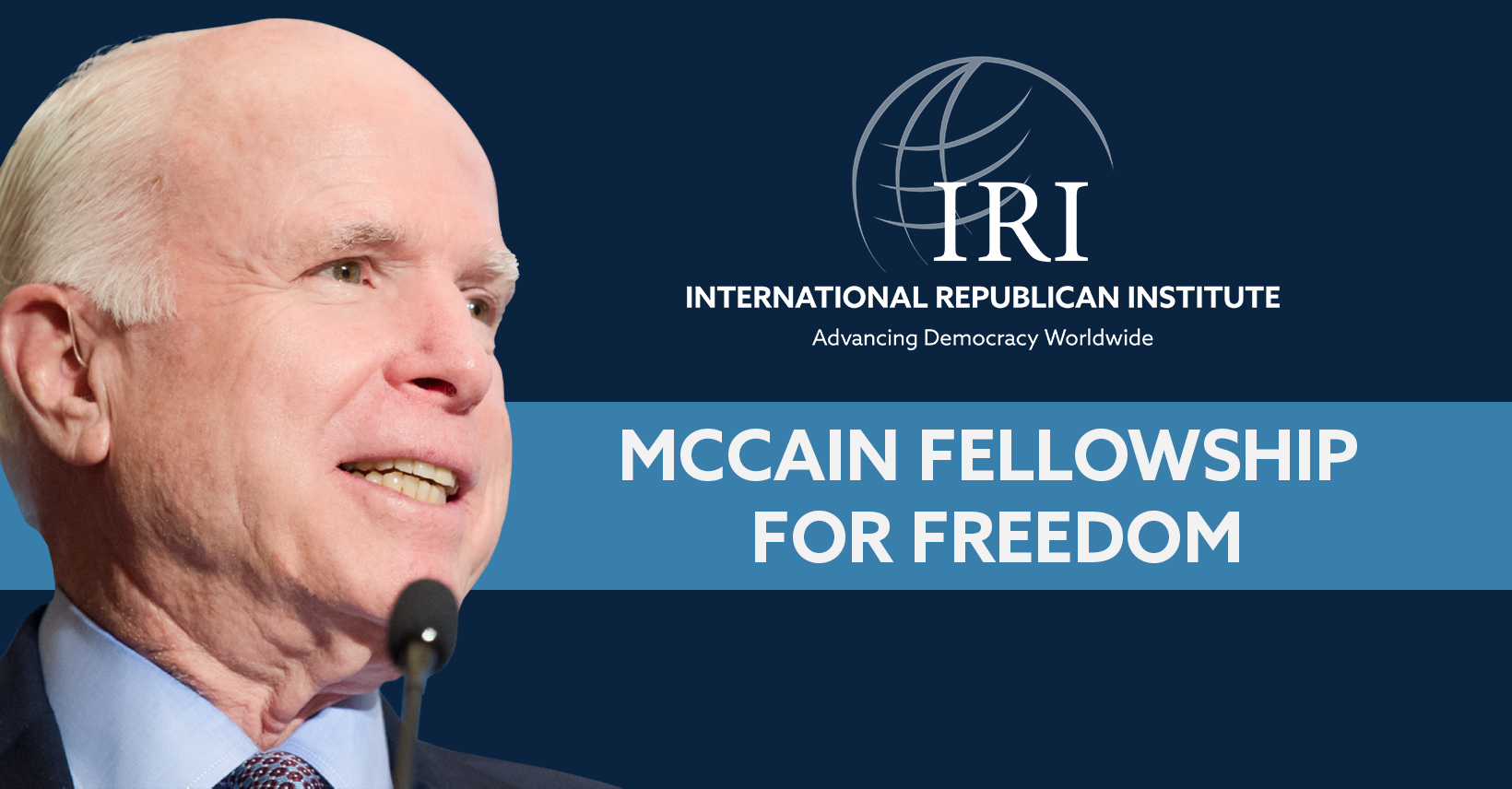 The McCain Fellowship for Freedom (MFF) will bring together a cohort of young leaders from around the world to the U.S. for a two week exchange with policy makers, thought leaders, American entrepreneurs, and others to gain insights and build networks necessary to fostering resilient democracies rooted in economic freedom. The MFF will encourage peer-to-peer learning, provide targeted training, and cultivate a generation of changemakers who are building more inclusive, transparent, and resilient democracies powered by free markets. The Fellowship honors the spirit and legacy of 25-year IRI Chairman Senator John McCain, a passionate advocate of democracy around the world and former Chairman of the Senate Commerce Committee, who believed that "free markets are not possible without free people."
About the Fellows
McCain Fellows are rising leaders between the ages of 21 and 35 who are committed to the promotion of political and economic freedom in their countries. They have a proven track record of leadership and accomplishment in challenging environments. They embody the potential for transformational impact in their organizations, institutions, communities, and countries. Through this program, these emerging leaders will be brought into IRI's global network across more than 100 countries, leveraging their training and contacts to catalyze their contributions to free societies.
Participants will complete Leadership Enhancement Action Plans (LEAPs) to inform their personal goals as part of the exchange. Upon their return home, Fellows will be invited to stay in touch via a closed Facebook group with current and future MFFs. They will also be invited to join Generation Democracy, IRI's flagship youth program that incubates a global network of young leaders committed to democratic change and renewal. Through this ongoing engagement, McCain Fellows will sustain their participation in IRI's global network of transformational young leaders committed to democratic and economic openness in their countries.
Ojooluwa Ibiloye | Nigeria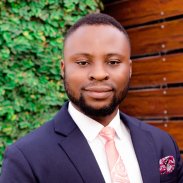 Ojooluwa Ibiloye is a Research & Policy Analyst at Cerebral Hub, a content creation and policy advisory firm. He is a member of the Open Minds Young Voices Network, a group of young, motivated Nigerians advocating for democratic freedom and good governance. Ojooluwa received a bachelor's degree in Political Science from the University of Abuja and is currently pursuing a master's degree in Political Economy and Development Studies, focusing on poverty reduction and sustainable development. After the fellowship, Ojooluwa plans to continue his work with a focus on advocating for democratic practices rooted in economic freedom and inclusive political participation.
Crystal Tu | Taiwan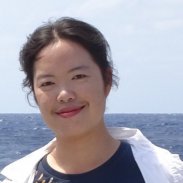 Chen-Yi (Crystal) Tu is a postdoctoral fellow in the Division of Cyber Warfare and Information Security at INDSR. Her expertise includes cybersecurity and Internet governance, with research focus on building an open and secure digital economy. She is a multi-stakeholder steering group member of the Taiwan Internet Governance Forum, and, since2018, has been a consultant for the Taiwan Internet Transparency Report. She was also a founding member of Open Knowledge Taiwan, which advocated for using open data to improve transparency and accountability of government. She completed her PhD at the Institute of Oceanography at National Taiwan University.
Olive Namazzi | Uganda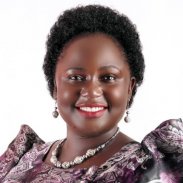 Olive currently serves in the Kampala Capital City Authority as the LC. Woman Councilor for Kyambago Institutions. She is also the Executive Secretary for Health, Environment, Education and Sports for Kampala Capital City Authority and the secretary to the Forum for Democratic Change political party caucus. Olive is passionate about the rule of law, democracy, and public accountability. She holds a master's degree in Public Administration and a bachelor's degree in environmental science, technology and management.
Jatzel Roman | Dominican Republic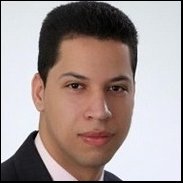 Jatzel Román currently serves as Deputy Minister for Foreign Affairs of the Dominican Republic in charge of Consular and Migratory Affairs. In his position, he leads the Venezuelan Normalization Program which aims to grant regular status to over 110,000 displaced people of Venezuela under the Maduro regime. In the past, he has been Chief Coordinator of the Latin American Youth Network for Democracy (JuventudLAC) which brings together over 100 organizations committed to freedom, democracy and human rights. Locally, Vice Minister Roman was Executive Director at the Centre for Public Policy Analysis (CAPP) free market think tank, Chief of Staff in the Dominican Congress and news contributor to various media outlets mostly focused on international matters, defense and economics.
Suresh Chand | Nepal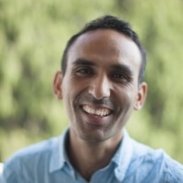 Suresh is a Programs Manager at the Accountability Lab in Nepal. He has more than seven years of experience working on youth entrepreneurship and public sector accountability. He manages two major programs at the Lab – the Accountability Incubator, an accelerated program supporting young accountability entrepreneurs, and the Civic Action Team (CivicAcTs), a platform that bridges the gap between citizens, local government, and the private sector. His key interests include youth entrepreneurship, financial inclusion, foreign labor migration, and government accountability. He holds a dual master's degree in Conflict, Peace, & Development Studies and Political Science from Tribhuvan University.
Kristelle Mardini | Lebanon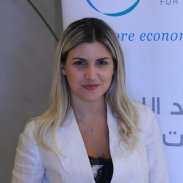 Kristelle is the director of the Lebanese Institute for Market Studies (LIMS), the first free market think tank in Lebanon, where she has pushed for economic reform by expanding the institute's educational program and developing relationships with major political parties and media outlets. Prior to LIMS, she worked as a regional marketing specialist at iAXCESS, and with Al-Jadeed TV, a leading TV station in Lebanon. She holds a master's degree in communication and information from Saint Joseph University in Lebanon.
Yevheniya Kravchuck | Ukraine
Yevheniya is currently a member of the Vehkhovna Rada of Ukraine and Deputy Chair of the Servant of the People's Caucus in the Rada. As one of the parliamentary leaders in President Zelensky's newly established political party, she is heavily engaged in implementing the reform agenda of the Servant of the People Party, specifically focusing on economic and land reform. Prior to her election, she served in communications roles with both political parties and private sector firms after receiving her journalism degree from the Taras Shevchenko National University of Journalism.
Mustafa Dawood | Iraq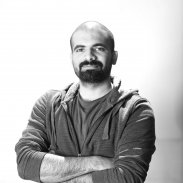 Mustafa has three years of experience working with NGOs, focusing on development, livelihood and entrepreneurship. He worked for two years in the Iraqi private sector and specialized in managing programs aimed at enhancing the Iraqi work private sector. He actively supports and promotes youth employment initiatives and is focused on helping a generation launch their own businesses. Mustafa is also launching his own startup, which is an education technology company, offering a platform for one-on-one online tutoring. Born in Baghdad during the war, Mustafa believes it is critical to promote youth civic engagement as the only way to create a prosperous and democratic Iraq.
Top