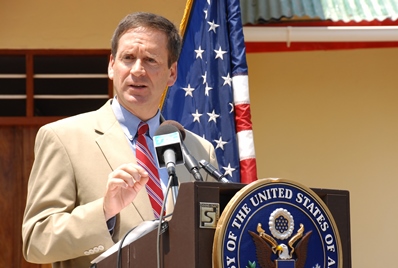 Washington, DC – U.S. Senator John McCain, chairman of IRI, today announced that Ambassador Mark Green has been named the Institute's new president by its Board of Directors. Green comes to IRI from the Initiative for Global Development where he served as president and chief executive officer.
"Ambassador Mark Green's leadership and expertise are well-known throughout the foreign policy and pro-democracy communities around the world. As a former congressman, ambassador and leader of the Initiative for Global Development, Mark is uniquely qualified to lead the International Republican Institute," said Senator John McCain.
Accepting the position, Green said, "I am honored to join the great team at the International Republican Institute and be part of the remarkable, historic mission of advancing democracy around the world."
Prior to joining IRI, Green served as president and chief executive officer of the Initiative for Global Development. Green also served as U.S. ambassador to Tanzania from mid-2007 to early 2009 and served four terms in the U.S. House of Representatives representing Wisconsin's 8th District. During his time in Congress, Green helped craft key policy initiatives including the Millennium Challenge Act and President George W. Bush's AIDS program. Green has also served as senior director at the U.S. Global Leadership Coalition.
Green serves on the Board of Directors of the Millennium Challenge Corporation, having been appointed to that post by President Barack Obama and confirmed by the Senate in 2010. He also serves on the Center for Strategic and International Studies Executive Council on Development and co-chairs the Consensus for Development Reform. Alongside many other activities, Green is a board member of WorldTeach and serves on the Former Members of Congress Association Diplomatic Advisory Council. He is a member of the Council on Foreign Relations.
Green holds an Honorary Doctor of Science degree from Georgetown University's School of Nursing and Health Studies, a juris doctor from the University of Wisconsin Law School and a bachelor's degree from the University of Wisconsin–Eau Claire.
Green will replace Lorne W. Craner, who served as IRI president from 1995-2001 and again from 2004-2013.
"On behalf of IRI's Board of Directors, I thank Lorne for his outstanding leadership," said Senator McCain. "He has served America with distinction and honor and led IRI with the values and principles established by President Ronald Reagan. We know that Lorne will continue to serve this nation in many capacities, as he has for many years."
Prior to returning to IRI, Craner served as assistant secretary for democracy, human rights and labor (2001-2004). For his work at the Department of State, Craner was awarded the Distinguished Service Award, the department's highest honor. Craner also serves on the board of the Millennium Challenge Corporation.
Top