Bakhtiyor Nishanov Interviewed in Foreign Policy on New President of Uzbekistan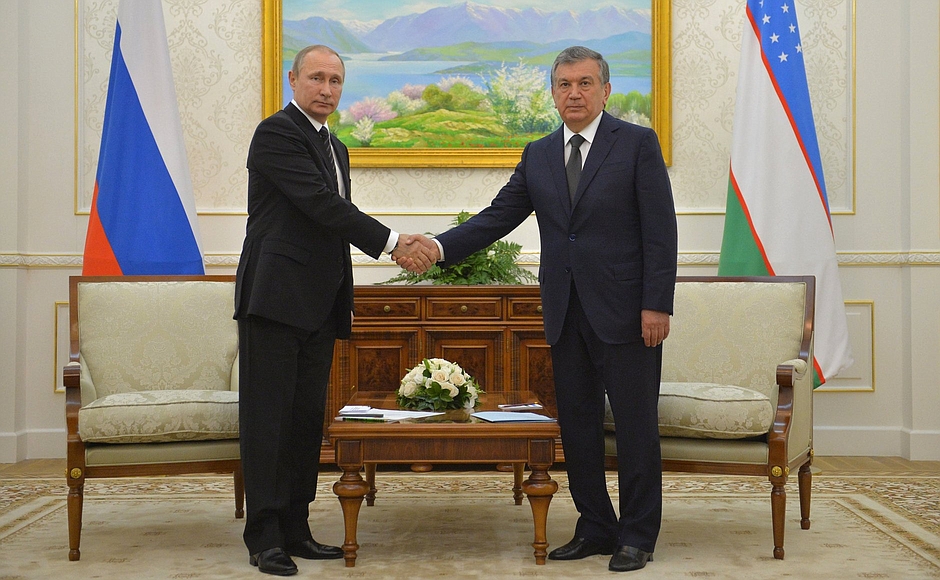 Can Uzbekistan's New Leader Balance China, Russia and the U.S.?
By Reid Standish
Nearly a week after Islam Karimov, Uzbekistan's longtime autocratic president, was officially declared dead following a stroke, the country's parliament appointed Prime Minister Shavkat Mirziyoyev acting president on Thursday, in the latest sign of growing consensus among the country's elites over succession.
Mirziyoyev, who has been Uzbekistan's prime minister since 2003, was widely considered the favorite to succeed Karimov, who was the former Soviet country's first and only president, and his appointment as the caretaker president is the clearest sign yet that Mirziyoyev is looking to make it permanent. During Karimov's lavish funeral, state TV showed footage of Mirziyoyev assuming official duties, including organizing the massive event and interacting with foreign dignitaries in attendance; as well as meeting Russian President Vladimir Putin, who visited Uzbekistan on Tuesday.Powered By
Under the constitution, Senate leader Nigmatilla Yuldashev should have taken over the interim position ahead of elections within three months, but reportedly declined. According to a statement released on the Uzbek government's official website, Yuldashev broke with procedure during theparliamentary session, and in an indication of Mirziyoyev's growing behind-the-scenes power, asked lawmakers to appoint the prime minister instead of himself due to the prime minister's "many years of [government] experience."
As interim president and Karimov's probable successor, Mirziyoyev will have to tackle a host of issues facing Uzbekistan, including economic stagnation, mass migration, and the shadow of Islamist extremism. But Mirziyoyev's most challenging task could be navigating Uzbekistan's complex, and often turbulent, relations with major powers like Russia, the United States, and China, as well as its four Central Asian neighbors — Kazakhstan, Kyrgyzstan, Tajikistan, and Turkmenistan — as Moscow, Beijing, and Washington jostle for influence across the region.
"Moscow is much more interested in Central Asia than anyone else," Bakhti Nishanov, deputy director for Eurasia at the International Republican Institute, told Foreign Policy.
"The Chinese see it as economically important, the Americans want regional stability, but for the Russians, it is almost part of their identity."
Mirziyoyev has already received a warm welcome from Putin. During his visit, Putin pledged his support for Uzbekistan and portrayed Russia as Karimov's closest ally, telling the interim leader that he could count on Moscow as one of his "most reliable friends." The Kremlin and Karimov had a complicated, and at times fraught, relationship during the 25 years after the collapse of the Soviet Union. In the 1990s, Tashkent was wary of its former patron in Moscow and sought to cement its own independence, even later becoming an unsavory ally of the United States in the global war on terrorism.
"Karimov was a very effective ruler that was able to carve out independence for his country," Paul Stronski, a Central Asia expert at the Carnegie Endowment for Peace, told FP. "Whether the next person is able to have that same sort of vision for a space that isn't in Russia or the West's pocket is the big question."
Uzbekistan's ties with Washington have also had their ups-and-downs. Closer relations were sealed with U.S. access to an air base used to move materiel and personnel to the ongoing war effort in Afghanistan. That relationship was derailed following Washington's criticism of the Andijan massacre, in which Uzbek security forces shot and killed unarmed protesters in 2005. Following the incident, Tashkent evicted the United States from the air base in Uzbekistan and Putin quickly moved to rekindle ties with Karimov and has been courting Tashkent ever since.
Yet China remains the largest economic player Central Asia and has heavily invested in infrastructure across the region to promote its "One Belt, One Road" project, a 21st-century version of the Silk Road that's intended to connect China to Europe through the Central Asian countries. But while Beijing is an important economic force, it has so far largely refrained from playing a larger political or security role in the region. The United States, meanwhile, has significantly scaled back its footprint in Central Asia following the drawdown of operations in Afghanistan and the closure of U.S. air bases in Uzbekistan and neighboring Kyrgyzstan.
Moscow, in contrast, has pushed to solidify its influence in Central Asia through regional organizations like the Collective Security Treaty Organization, a Russia-led military bloc, of which Kazakhstan, Kyrgyzstan, and Tajikistan are members, and the Eurasian Economic Union, which Kazakhstan and Kyrgyzstan have joined. Uzbekistan has so far resisted membership in these organizations, despite Putin's entreaties, and whether Mirziyoyev opts for closer ties with Russia will have a major effect on Uzbekistan's future.
"The Russians are playing a long game in Central Asia," said Nishanov. "Mirziyoyev is certainly the preferred candidate for the Kremlin as he is a product of the current system."
Relations with Uzbekistan's Central Asian neighbors will also loom large over Mirziyoyev in the coming months. Nursultan Nazarbayev, the president of Kazakhstan, and Almazbek Atambayev, the president of Kyrgyzstan, both skipped Karimov's state funeral in the ancient Silk Road city of Samarkand. Nazarbayev and Karimov have been competing for regional leadership. Kazakhstan, in large part thanks to its oil wealth, emerged as the richest country in Central Asia, fueling the rivalry between the two autocratic heads of state. Uzbekistan's relations with Kyrgyzstan have been even more delicate, with Karimov halting the supply of natural gas several times to his smaller neighbor to cow Kyrgyz leadership into changing policies that he did not like. In 1999, for example, the Uzbek leader demanded that former Kyrgyz president Askar Akayev stop democratic reforms he was carrying out or face having the country's energy supplies cut off.
According to Stronski, how Uzbekistan's next president decides to deal with other countries in Central Asia could be an important way for the new leader to leave his mark on the country and cement his hold on power.
"How will the next leader seek to solidify his legitimacy?" said Stronski. "He might want to pick a fight with one of the neighbors or have a standoff to make a point."
Top