Boston Globe Article features Governor Romney's Training for IRI in Afghanistan
Romney discusses democracy with young Afghan leaders
The Boston Globe
By Farah Stockman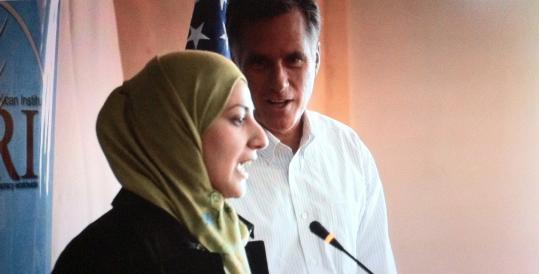 KABUL, AFGHANISTAN — Former Massachusetts governor Mitt Romney traveled aboard a private jet, slept in a trailer at a US military base, and met with this war-weary nation's top leaders. But the most telling moment of Romney's whirlwind foreign tour this week might have come when he stood before 120 young Afghans and talked about the benefits and potential dangers of democracy.
Speaking in a capital partly destroyed by personal militias, and rebuilt, in part, by opium profits, Romney said: "Democracy opens the door not just for good people but also for bad people. There will be those who will use freedom to take from others for themselves.''
Romney's advice: "Look for good leaders and support them. . . . Make sure the nation knows good from bad.''
Far from the sometimes-boiling partisan atmosphere back home, Romney sought to present a more nuanced side of himself during what his staff described as an important listening and learning tour — one that is bound to be seen as another step in his preparation for a likely second run for the presidency.
Yesterday , Romney had breakfast with Israeli prime minister Benjamin Netanyahu, and he is scheduled to meet today with Palestinian Authority prime minister Salam Fayad.
He is seeking advice on foreign policy matters, asking questions of foreign and US military leaders.
Throughout the trip, Romney has avoided public events and the press.
Steve Clemons, of the New America Foundation, a Washington-based think tank, said that in the past, Romney "was trying to out-neo-con the neo-cons,'' referring to a group known as neo-conservatives who were influential in the administration of former President George W. Bush.
Much of Romney's rhetoric remains hawkish. But Clemons said this week's trip shows Romney is trying to flesh out more nuanced and thoughtful positions on foreign policy.
"They are out there smartly going on a listening tour and not blabbing much and trying to understand these complex problems, which is a positive thing,'' he said.
Indeed, Romney spent most of his three days in Kabul asking Afghans what they think about the challenges ahead, according to Lorne Craner, president of the International Republican Institute, the nonprofit group that supports political engagement overseas and that organized Romney's travel to Afghanistan.
Romney arrived in Afghanistan on Sunday and held a discussion about governance with six Afghan governors, most of whom head provincial governments that are struggling against a Taliban resurgence and a faltering economy based on the illegal opium trade.
On Tuesday, he spoke to the Afghan Youth National Service, a nationwide organization of 18 to 35 year olds that includes several new members of Parliament.
Romney also held private meetings with some of the most powerful people in the country: President Hamid Karzai, US General David Petraeus, and US Ambassador Karl Eikenberry.
On Monday night, he dined at the home of Ashraf Ghani, a former Afghan finance minister who is now chief adviser to Karzai and cochairman of the committee charged with transferring security from NATO and the United States to Afghanistan by 2014. During the dinner, Romney fired off questions around the dinner table to Ghani, a former World Bank official.
Ghani said many of Romney's questions focused on how to ensure the best relations between the two countries, as if he were a head of state.
"His questions were that of a United States leader, with an eye to the highest office of the land,'' Ghani said. "But he was engaged, thoroughly prepared and was really looking to learn. His attitude was one of engagement, not of preaching from a position that was fixed.''
Although the media have not been invited to his events, a glimpse into Romney's thinking was provided by an individual who attended the meeting between Romney and the young Afghans and who allowed a reporter to view a video of the event.
At one point, Romney said he supports a longer-term US presence in Afghanistan and asked Afghans for their own suggestions about how the United States can help overcome the raging insurgency and endemic corruption here.
President Obama's administration has said it plans to begin reducing the number of US troops in July with the goal of handing over security to the Afghans by the end of 2014.
"It is my desire and my political party's desire to support the people of Afghanistan and not to leave,'' Romney said in response to a question about whether the United States was going to pull out of the country soon. "So we look to you to tell us the best ways that we can support you.''
During his speech Tuesday before an attentive audience, Romney urged his listeners to communicate their successes in government reform to the public. He urged the young Afghans to find their "own personal way of serving'' their country.
But one questioner quickly turned the tables on him. "Are you running for president in 2012?'' asked a man in a yellow turban, through an interpreter.
Romney reverted to political mode with his stock answer: "I have not yet made a decision about running for office again.''
Top