Cities Across Ukraine Join Together to Build a Brighter Future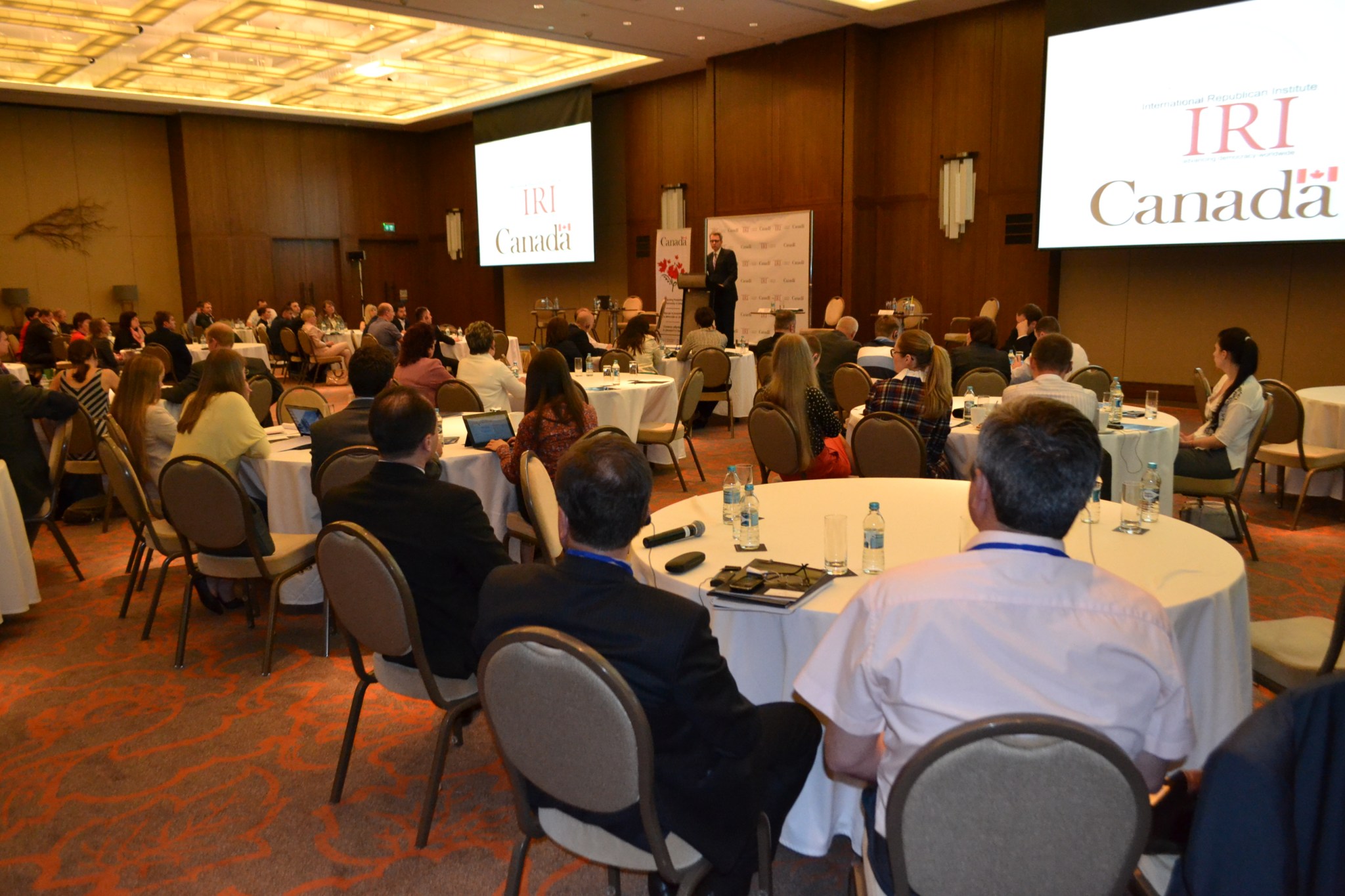 Kyiv, Ukraine – As the pro-democratic government in Ukraine implements critical decentralization reforms that would give more responsibility and authority to local government officials, IRI hosted its first-ever Democratic Governance Conference in Kyiv on May 19-20.
More than 80 local officials and civil society members from 20 major cities across Ukraine, including Mariupol and Severodonetsk in Donetsk and Luhansk oblasts, attended this two-day conference to discuss shared experiences and build a vision of a united and prosperous Ukraine. Working with high-level Ukrainian and international experts, the local officials discussed key issues such as economic development at the local level, public service delivery, energy usage, police reform and internally displaced persons, among others.
On the first day of the conference, polling experts presented attendees with an analysis of IRI's recent nationwide municipal public opinion survey and used the data to inform the officials of the opinions and expectations of their respective city's residents. One participant from Kharkiv noted, "The research data clearly shows where we are and where to aim. Also, when you see data for each city, it's very helpful as you can get a sense of the overall picture that we have in Ukraine."
The conference also featured remarks from Roman Waschuk, Canada's ambassador to Ukraine and Geoffrey Pyatt, the U.S. ambassador to Ukraine, who spoke to the attendees about their countries' strong commitment to supporting Ukraine's democratic transition. As Pyatt told the officials, "It's at the local level that the future of Ukraine's democratic revolution will be decided…We will be your partners."
This Democratic Governance Conference comes at a momentous yet difficult time for the country. Beyond providing a forum for officials to discuss critical government reforms, the event was critical for Ukraine's political development, as it united representatives of cities across Ukraine–from east to west and north to south–in their joint effort to find answers to the new challenges facing the country. As a delegate from Khmelnytsky told IRI staff, "The conference was very helpful. First of all, it facilitates communication. The event provides an opportunity to listen to others, to hear the experiences of other people."
In this regard, rumors of regional divisions were shown to be greatly exaggerated. For example, western Ukrainian cities asked to follow-up the conference with visits to the east and south, in order to learn more about other cities' transportation infrastructure and e-governance tools. Cities from the embattled Donbas region like Mariupol and Severodonetsk gave impassioned speeches thanking western and central cities for all the support and aid sent when they were under rocket fire from Russian-backed rebels.
Ukraine has suffered greatly from the Russian-supported war in the east of the country, and from bouts of inflation and economic instability. The national government, largely constituted in the wake of the Maidan movement, is embarking on an ambitious reform agenda which will see local governments take on a much larger role in governing the country. The great hope of the Maidan movement is that Ukraine will be able to unify the country and purge the massive corruption and inefficiency that has plagued the country since independence.
###
Top