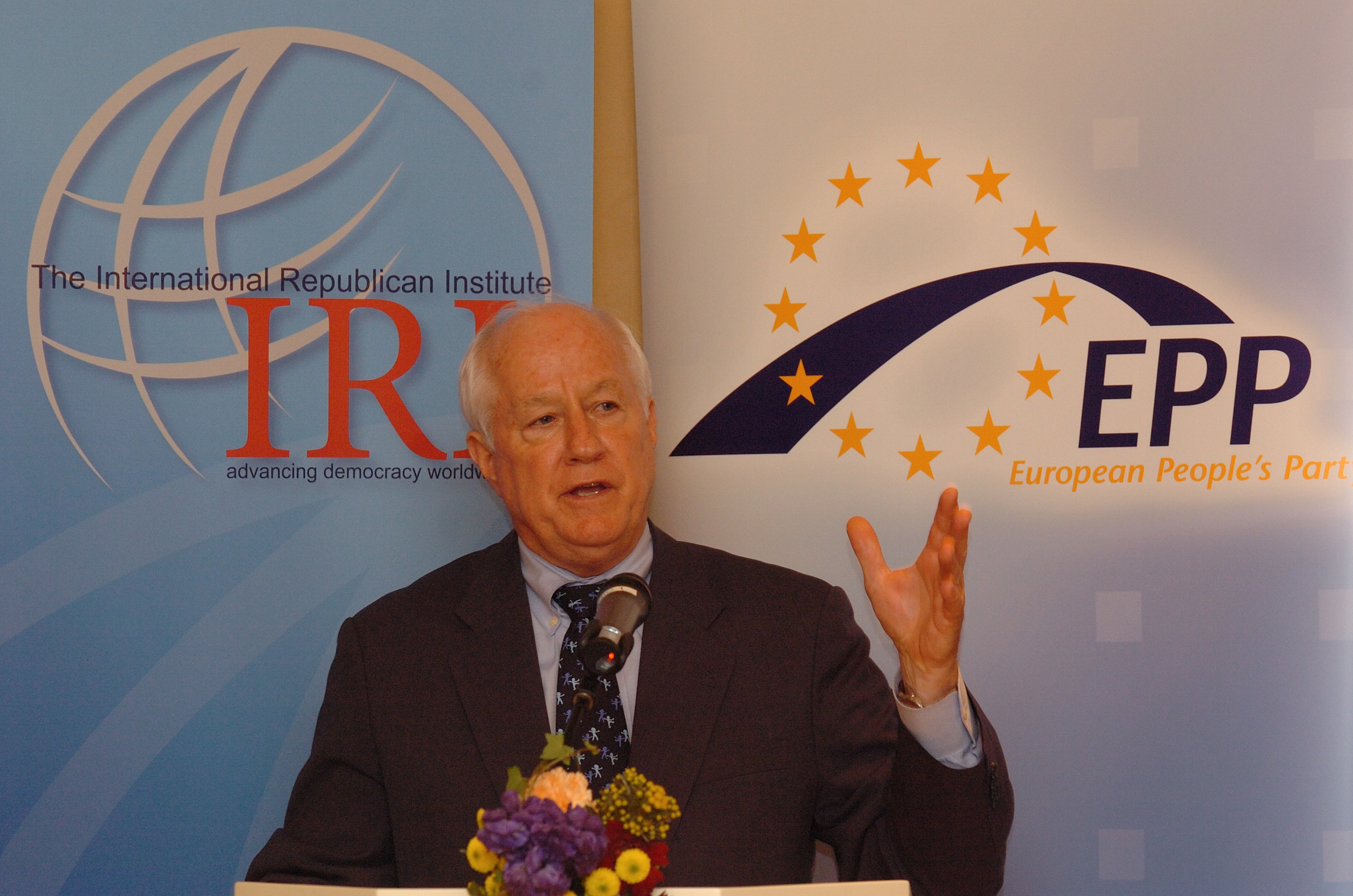 The International Republican Institute's (IRI) European Partnership Initiative hosted Congressman Jim Kolbe (R-Arizona), a member of the IRI's Board of Directors, in Europe October 9-12, 2006 as part of its speaker series on transatlantic issues. Congressman Kolbe visited Madrid and Brussels to discuss (PDF) the common challenges facing Europe and the United States in developing a workable immigration policy.
At an evening reception co-hosted by IRI and the Partido Popular's Foundation for Social Analysis and Studies (FAES) in Madrid, Congressman Kolbe drew on his personal experiences as a representative from Arizona to speak about the broader implications of crafting sensible immigration reforms. In his remarks, the Congressman acknowledged the political, historical and cultural differences that separate European and American constituencies and influence the debate on immigration policy. However, he stressed the importance of fostering a transatlantic dialogue on immigration issues, saying "European countries still struggle today with how they can assimilate large groups of people who are not, by nature, European. America faces similar challenges. I believe we can learn a great deal from each other."
While in Spain, Congressman Kolbe met with members of Partido Popular (People's Party) to increase the transatlantic dialogue on immigration reform. The Congressman had meetings with former Prime Minister Jose Maria Aznar, president of FAES, as well as Jorge Moragas and Alvara Nadal, International Secretary and Secretary for Economy and Employment of Partido Popular, respectively.
The European People's Party (EPP), which forms the largest bloc in the European Parliament and the European Commission, and IRI co-hosted a dinner discussion on immigration with the Congressman during his time in Brussels. Congressman Kolbe emphasized the crucial role that new immigrants play in the American economy, stating that "economic arguments for immigration will win out in the end." He noted that many economic sectors would suffer a shortfall of workers without a constant influx of immigrants, particularly the agricultural industry.
"Clearly, we need a steady supply of immigrant labor to replenish our workforces, just as we've needed them since the Pilgrims landed at Plymouth Rock," Kolbe said. "The question is whether we will get this supply legally or illegally, temporarily or permanently, and what we do with them once they are in our midst."
EPP President Wilfried Martens, EPP Secretary General Antonio Lopez-Isturiz, EPP Vice President Vito Bonsignore, and representatives from the Hanns-Seidel Stiftung, U.S. Agency for International Development, and the U.S. Missions to Belgium and the European Union attended the event in Brussels.

Despite the challenges facing both the United States and Europe over immigration reform, Congressman Kolbe was optimistic that immigration policy could only benefit from further thoughtful transatlantic dialogue. "Those of us who believe in the value of economic immigration, as well as immigration based on compassion, on opening our borders to the poor and persecuted should be far more vocal about that, more willing to trumpet the good news of immigration," he said.
Immigration reform remains a top priority for the European Union as it struggles with high unemployment, an influx of low-cost labor from new European Union member states, and an overburdened social welfare system. Spain, in particular, has grappled with a marked rise in illegal immigration; in the last year alone, illegal migration has more than doubled. The European Union has created a new border agency, Frontex, and promised increased funding for border control operations to assist Spain and other EU countries with large migration issues.
IRI's European Partnership Initiative was founded in July 2005 as a way to expand the institute's ties with colleagues in the governmental, party and nongovernmental institutions of the European Union and its member states. Under the auspices of the European Partnership Initiative, IRI has sought to use its pivotal role and unique contacts in Central Europe to increase the transatlantic dialogue and build alliances with European institutions for global democracy promotion.
Top