Former Congressman Tom Davis Trains Young Leaders in Cambodia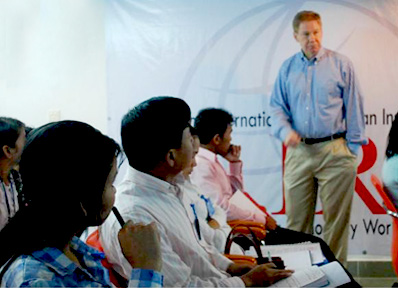 During a recent training mission in Cambodia Former Congressman Tom Davis (R-VA) spent four days working with young promising political leaders discussing leadership, party organization, career management and political strategy. He also shared some of his personal experiences on how he rose through his career and navigated the American political system. The training was organized by IRI.
In each training session, Davis stressed the importance of democracy in achieving political stability and the possibility that youth in Cambodia can achieve the stability that has eluded the country. Davis reminded the group that "democracy and competition provide outlets for public frustration; if the public loses confidence in its democratic institutions then the people are likely to revolt."
Mr. Tauch Norin, a former winner of IRI's "Youth Leadership Challenge" who joined the trainings, said, "Tom Davis' training was tremendously unique for Cambodian youth to learn some tips and successful cases on leadership, politics, governing, and democracy from such a successful, heroic politician."
Tauch also revealed the greatest lesson he learned from Davis was that he needs to start building a network, notoriety and political capital to become successful in politics. He also was quite impressed with Davis' insight on Cambodian and international politics.
While in Cambodia, Davis also consulted with leaders from the three largest Cambodian political parties – Cambodian People's Party, Sam Rainsy Party and Human Rights Party. During those sessions, Davis covered voter targeting, dealing with public criticism and fundraising. He worked with party leaders to use current events and IRI polling to develop issue-based agendas and communications strategies.
Davis represented Virginia's 11th district from 1995-2008. He served two terms as Chairman of the House Government Reform Committee and two terms as Chairman of the National Republican Campaign Committee. Davis currently teaches at George Mason University and is the Director of Federal Government Relations at Deloitte Consulting. He holds a political science degree from Amherst College and a law degree from the University of Virginia.
Top