As recent events in Egypt and Tunisia reverbera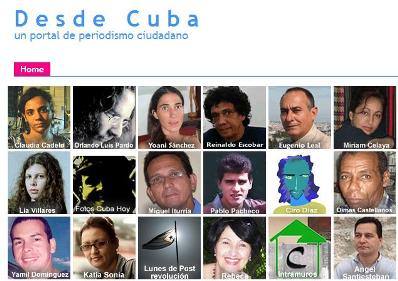 Cuban bloggers who defy the regime.te in the greater Middle East, one theme in particular is echoing around the world: The maturation of the Internet, mobile phones and social media as key instruments in the exercise of people power. Along with this new reality has come a new understanding that the freedom to connect is not just an economic development issue, but a universal, fundamental right. U.S. Secretary of State Hillary Clinton affirmed this most recently on February 15, arguing that the rights of free speech, assembly and association must all extend into the digital realm. This view is not limited to the U.S. government: A 2010 BBC poll of 27 countries found that nearly four out of five persons believes that access to the Internet is a fundamental right.
Torn by needing to stay connected to the global economy without risking revolution, repressive governments have used a range of approaches to maintain control. China, which has the world's largest online population, restricts its citizens' access to the internet using the most sophisticated digital censorship and propaganda mechanisms. This is in contrast to Cuba, which has the lowest Internet and cellular penetration, which limits its citizens' access to the internet by firewalls, but more by charging up to two week's salary for an hour online, which simply prices out all but the most privileged from getting online with any regularity.
While facing the same fear of arrest and imprisonment as their Iranian and Burmese counterparts and despite the restrictions – and the fact that they must conserve scarce dollars – Cuba's digital activist community is willing to take this risk by sneaking into hotel lobbies and using all manner of digital tricks simply to post messages or write blogs.
Despite the challenges, this is a propitious moment for Net Freedom advocates to turn their attention to Cuba. At the same time that an American, Alan Gross, is imprisoned for allegedly trying to facilitate Internet connections by Cubans, the Cuban government will for the first time have access to a new fiber-optic Internet connection. They have no intention of relinquishing tight control over who uses online resources and how. Cuba's leaders remain paranoid about its citizens' ability to connect to the Internet, as evidenced by a recently leaked video in which a security analyst provides Cuban officials with information on the dangers of bloggers and social media users. This makes it all the more imperative that, as this global strategy to support the freedom to connect is developed, the people of Cuba not be forgotten.
Top