Georgian Leader Shares Experience with Tunisian Rising Stars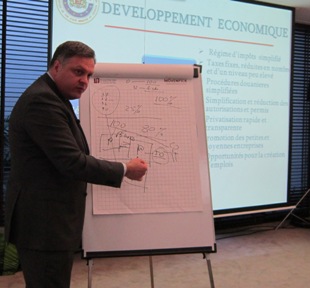 Representatives of Tunisia's government, National Constituent Assembly, leading political parties and civil society met with Giorgi Baramidze, Vice Prime Minister of Georgia and State Minister for European and Euro-Atlantic Integration to learn about Georgia's experience developing strong democratic institutions over the past decade. The program was hosted by IRI's Rising Stars program, which helps nascent democracies learn from the experience of democratic transitions in other countries.
Following the 2003 Rose Revolution, which brought a democratically elected government to power, Georgia has achieved notable successes reforming its economy, justice system and public services while strengthening democratic practices and increasing government transparency and accountability. Tunisia's transition today faces similar challenges – poor economic performance, endemic corruption and weak institutions hinder potential progress. The Georgian example provides a good analogue for Tunisian reformers who are eager to learn from similar transitional states in order to duplicate successful initiatives and avoid known pitfalls.
During the Rising Stars program, Baramidze met with approximately 60 representatives of six leading political parties and four civil society organizations – including three members of the National Constituent Assembly and two cabinet ministers – to discuss Georgia's reforms since the Rose Revolution and lessons that may be applied to the Tunisian case. Seminars on the challenges and opportunities of Tunisia's transition and the principles of democratic governance were also organized for participating parties and civil society groups. Training topics included executive management, policy development and anti-corruption reforms.
Each of Baramidze's presentations was followed by a lively question and answer session as participants asked for detailed explanations on each step of reform in Georgia, and discussed how to apply successful policies in Georgia to the Tunisian case. Minister of Social Affairs Khalil Zawiya and Minister of Women's Affairs Sihem Badi also met with Baramidze and expressed their hopes to continue cooperation with Georgia in the future and to work together to continue international exchanges like the Rising Stars initiative.
Since its historic elections in October 2011, Tunisia has continued to consolidate its democratic transition. A National Constituent Assembly is writing a new constitution, and has appointed a government to lead reforms and handle affairs of state in the interim period. Tunisian political leaders in the assembly, ministerial cabinet and civil society are now facing a diverse set of challenges including a shaky economy, high unemployment, continuing security threats and growing tension over the identity of the Tunisian state. While most members of the government agree on the necessity of reforms, there is little experience in democratic governance to draw from, and little margin for error with a public that demands improvement over the former regime.
Launched in 2007, IRI's Rising Stars program works to ensure the leaders of new democracies are equipped with skills in effective democratic governance. Since January 2011, IRI has worked in Tunisia to help build a more inclusive and representative political process by providing political parties the tools to reach out to youth and women, building the capacity of civil society to perform public advocacy, increasing transparency and citizen participation in the National Constituent Assembly, and providing timely public opinion research on changing political attitudes.
Top