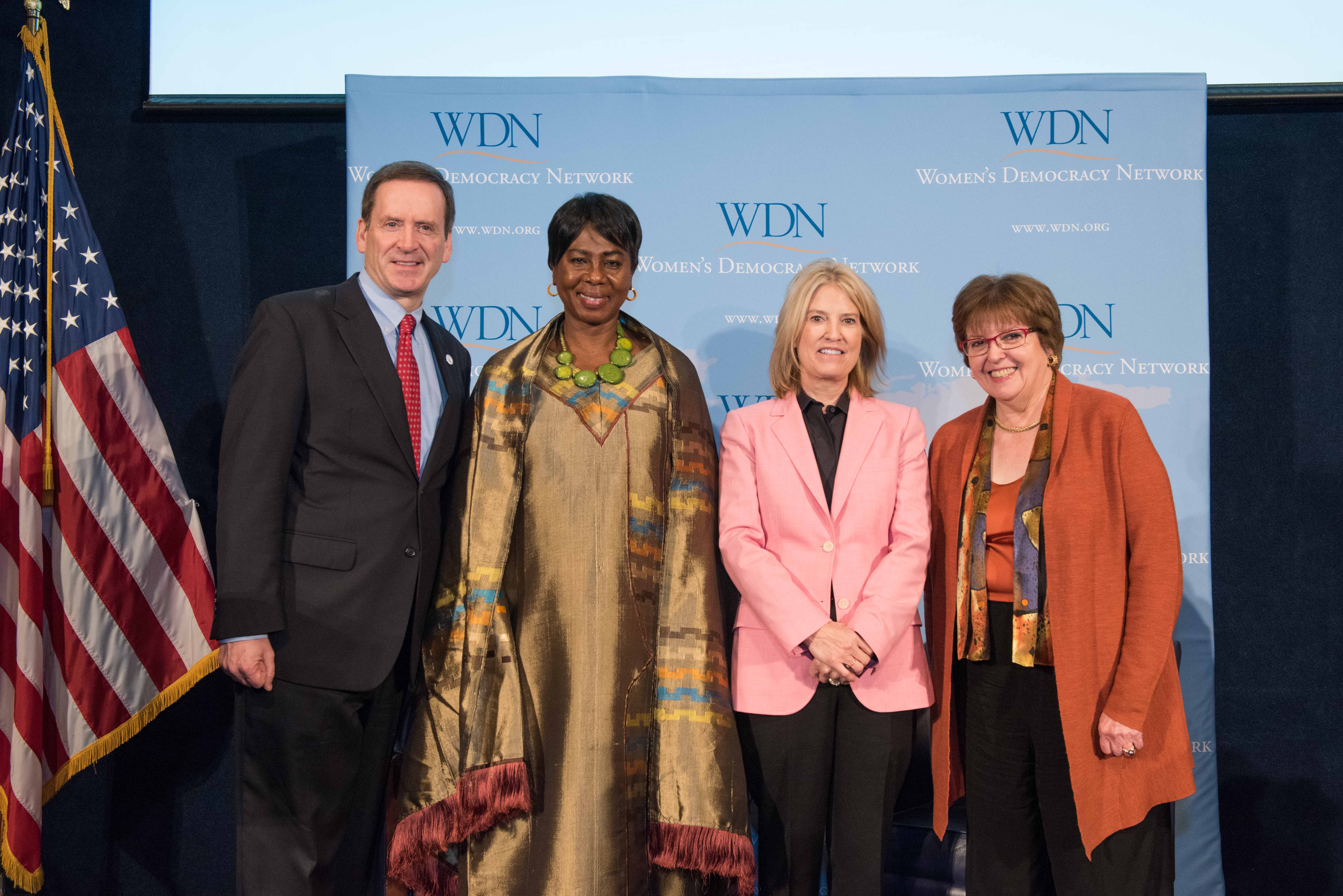 Washington, D.C.—Greta Van Susteren encouraged women to "set an example" for one another as she accepted an award for leadership from the Women's Democracy Network (WDN). The veteran journalist sat down for a discussion with former White House aide Anita McBride at the annual "Jeane J. Kirkpatrick Luncheon," which also honored Gambian leader Dr. Isatou Touray, the first woman to run for president in her home country.
Commending WDN's emphasis on mentorship, Van Susteren emphasized the importance of female role models: "It's not that hard to be a good role model. Be nice. Be kind. Do more. Make a difference." Praising Dr. Touray's example, she said "When I see someone like Dr. Touray I'm inspired to do more. She inspires us to be better, to do more for our country."
Referencing WDN's "She Speaks. She Votes. She Leads. We Are All Heard" campaign, Dr. Touray shared her experience working to restore democracy to The Gambia after 22 years of autocratic rule, culminating in the free and fair election of President Adama Barrow in December 2016. "I'm proud of what the men and women of the democratic opposition were able to achieve: restoring democracy to The Gambia, and opening doors for women to increase their participation in Gambian politics," said Dr. Touray.
WDN is a global initiative of the International Republican Institute (IRI) that empowers women to fully participate in public life. IRI President Mark Green said, "A basic principle of WDN is that women can contribute to democracy in many different ways. Greta seems to represent just about all of them." Introducing Dr. Touray, IRI Executive Vice President and WDN founder Judy Van Rest commended her "courage, vision and leadership."
Recently dubbed one of the world's 100 most powerful women by Forbes for the sixth consecutive year, Van Susteren has spent the past 25 years covering breaking news for outlets including CNN and Fox News before joining MSNBC in 2017. Prior to becoming a staple of cable news, Van Susteren was a successful attorney, and rose to prominence as a legal analyst during the O.J. Simpson trial. She has reported from countries including Afghanistan, Iraq, Pakistan, North Korea, Sudan, and has interviewed numerous world leaders throughout her career.
Dr. Touray was recently appointed Minister of Trade, Industry, Regional Integration and Employment. As Executive Director of the Gambia Committee on Traditional Practices Affecting the Health of Women and Children, Dr. Touray has led the fight against discrimination, forced marriages, and female genital mutilation.
About the Women's Democracy Network
Established by the International Republican Institute in 2006, the Women's Democracy Network (WDN) believes that a full and robust democracy depends on the equal participation of women. WDN empowers women around the world to participate in the political process and help them gain the skills needed to take on greater leadership roles in government, political parties and civil society. WDN connects aspiring and accomplished women leaders across the globe, creating forums for sharing ideas and experiences, providing technical training and resource materials.
Top