IRI Announces Delegation to Observe Tunisia's Presidential Election
IRI's delegation to observe Tunisia's first-ever presidential election will include Jim Kolbe, former U.S. Congressman (AZ-8); Marta González Vázquez, a member of Parliament for La Coruna, Spain; and Judy Van Rest among others.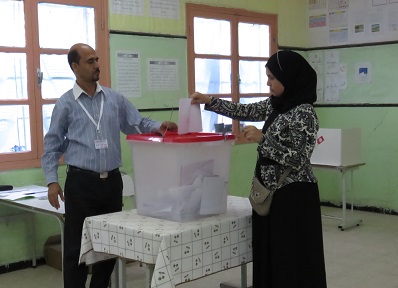 Washington, DC – IRI today announced its delegation to observe Tunisia's November 23, 2014 presidential election. Leading the delegation will be Jim Kolbe, former U.S. Congressman (AZ-8) who serves as vice chair of IRI's Board of Directors and is a senior transatlantic fellow for the German Marshall Fund of the United States; Marta González Vázquez, a member of Parliament for La Coruna, Spain; and Judy Van Rest, executive vice president of IRI.
Delegates will travel to Tunisia to monitor voting and ballot counting throughout the country. Following the voting, IRI will issue a statement on the findings of the delegation. This delegation follows IRI's observation of Tunisia's October 26 parliamentary elections, which found those elections to be "credible, transparent and allowed for genuine political competition among political stakeholders."
Other delegates who will observe the election are:
Martin Bayr, a partner at Kyle House Group and former foreign policy advisor to former Senator John E. Sununu;
Paul DeGregorio, senior advisor to the Association of World Election Bodies;
Alison B. Fortier, a member of IRI's Board of Directors and a member of the Board of Trustees of Freedom House;
Mary Katharine Ham, editor-at-large of Hot Air and a Fox News Channel contributor;
Christodoulos Ioannou of Cyprus, vice president of the Board of Directors of the Youth of the European People's Party;
Frank Kelly, a member of the Council on Foreign Relations and the International Institute of Strategic Studies and global coordinator for public affairs and head of government and public affairs for North and Latin Americas at Deutsche Bank
Stephen Lecce of Canada, deputy director of communications for theOffice of the Prime Minister; and
Chase Untermeyer, former United States ambassador to Qatar and former director of the Voice of America.
In addition to observers in Tunisia, IRI will also have delegates in England, France, Germany and the United States to witness voting of Tunisian citizens living overseas who have representatives in the country's parliament.
Those delegates include:
Cole Bockenfeld, advocacy director of the Project on Middle East Democracy;
Simon Hutzler, a political activist with the Christian Social Union in Germany;
Duncan MacFarlane, a consultant for the United Kingdom's Westminster Foundation for Democracy;
Evan O'Connell, communications officer for the French National Institute for Agricultural Research;
Alex Russell, a program associate at the Project on Middle East Democracy;
Christian Sandmeier, an assistant to the director of the international office of the Christian Democratic Union in Germany;
Arwa Shobaki, director of development and communications at the Project on Middle East Democracy; and
Vincent Talvas, former chief of staff to then French minister of budget, public accounts, public service and state reform.
Scott Mastic, director of IRI's Middle East and North Africa programs, will also assist in the mission. IRI's long-term observers, who have been in Tunisia since August, 2014 and have been monitoring the pre-electoral environment and election preparations, will also serve as observers on Election Day.
As with the October 26 parliamentary elections, delegates will be briefed by political party representatives and Tunisian election officials. They will also be briefed on the rights and responsibilities of international observers and Tunisian election law and will then deploy throughout the country where they will observe polling stations and identify and evaluate strengths and weaknesses in Tunisia's election system, including campaign regulations, the balloting process, vote tabulation and reporting.
IRI endorses the Declaration of Principles for International Election Observers and Code of Conduct for International Election Observers, and since 1983, through international election observation missions and assessments, has monitored 201 elections in 56 countries.
Past IRI Reports on this Election Cycle in Tunisia:
Top