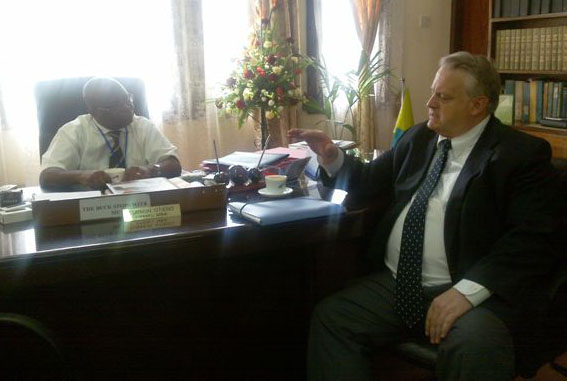 IRI Board Member Ambassador Richard Williamson and IRI President Lorne Craner visited Mombasa, Kenya to see IRI's new governance program, which was launched earlier this year to help local councilors improve upon basic service delivery and increase citizens' participation in the decision-making process. Through IRI's program local government officials and citizens, work together to development, coordinate and prioritize community improvement projects, which are then funded with money from the national parliament.
Ahead of the Kenyan government's October deadline for the submission of project ideas, IRI has helped established working groups to focus on the issues of water, sanitation and job creation, Mombasa's most pressing issues. During this visit, IRI's leadership met with working groups comprised of local government officials and civil society representatives. This cooperation among the groups is particularly significant given that government officials and civil society activists have historically viewed each other with distrust. Through the creation of these working groups, people have the opportunity to interact with one another to improve their working relationships and ability to address the needs of Mombasa residents.
To drive home the importance of working at the local level, Williamson and Craner visited a public works project that typifies the service delivery shortcomings. The Mombasa Citywide Residents Association, one of IRI's civil society partners, hosted the delegation at a local school that had been selected to receive new bathroom facilities and a concrete wall to mark the school's borders. While the projects were listed as "completed" in the official records, work on the improvements had not even begun. The visit highlighted the new focus government and civil society actors have towards improving their approach to project development and staying with the project until it is fully completed.
While these problems are not unique to Mombasa, they are becoming more pressing in light of Kenya's constitutional referendum on August 4. If passed more political power will be pushed down to the local level into the hands of regional and municipal officials.
Top