IRI Board Member Visits East Africa to Show Support for Democracy
Richard S. Williamson, former Ambassador and U.S. Representative to the U.N. Commission on Human Rights and member of the International Republican Institute's (IRI) Board of Directors traveled to Uganda, Kenya and Sudan, July 28-August 8, to assess the current state of democratic development in East Africa. Williamson was accompanied by Stephanie Blanton, Director of IRI's Africa Division.
In June 2005, Ugandans voted to legalize political parties and create a multi-party system for their country. The trip gave Williamson an opportunity to evaluate the progress of multi-party politics two years after the historic vote. While there, Williamson met with leaders of the three major Ugandan parties: the Forum for Democratic Change, the Democratic Party and the Uganda People's Congress. Williamson also met with representatives of the Uganda Youth Network and the People with Disabilities movement calling them inspiring for their courage in advocating for increased political representation and accountability.
Williamson also spent several days in Kenya meeting with political leaders in the midst of a heated campaign season leading up to national elections, scheduled for December 2007. Williamson met with two presidential candidates, Hon. Raila Odinga and Hon. Stephen Kalonzo Musyoka, as well as the Minister for Science and Technology, Hon. Noah Wekesa.
On the last stop on his tour, Williamson visited Khartoum, Sudan, where he was able to meet with Pagan Amum Okiech, the Secretary General of the Sudan Peoples' Liberation Movement (SPLM). Williamson also met with Secretary General Mustafa Mohamed Terab and other parliamentarians from the Sudan Liberation Movement (SLM), the Transitional Darfur Reconstruction Authority, the Darfur Reconstruction and Development Fund, and the Sudanese Women Empowerment for Peace.
Williamson offered IRI's support to both the SPLM and SLM as they make the transition from situations of chronic conflict in South Sudan and Darfur "against considerable odds." He emphasized the importance of successfully achieving this transition, as well as the significance of evolving into democratic and viable political organizations that are responsive to the views of the people they represent.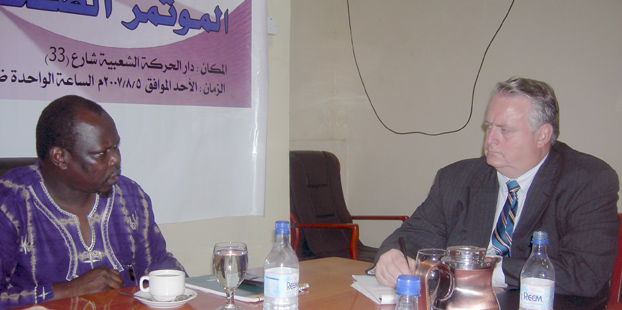 Top