IRI Brings Together Indonesian Women to Encourage Political Participation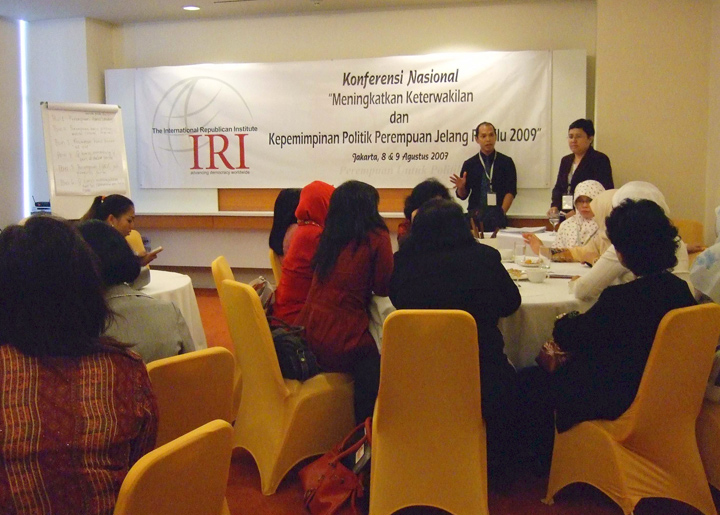 Political figures gathered in Jakarta, Indonesia, August 8-9, 2007, to discuss how to increase women's participation in Indonesian politics at a conference hosted by the International Republican Institute (IRI). The Advancing Women Representation and Political Leadership in the 2009 Election conference brought together aspiring provincial women legislative candidates as well as prominent women leaders from Asia and Australia to discuss challenges and identify ways to increase women's political participation.
Johanna Kao, Resident Country Director for IRI in Indonesia, opened the conference on August 8. Conference participants also heard from Stanley Harsha, Head of the Democracy Unit at the U.S. Embassy in Jakarta, representing the United States, who congratulated the women for their interest in politics.
Following the opening remarks, a presentation on current proposals for election law reform was given by election law officials, including Indonesian House of Representatives members representing the government's Special Election Law Committee, as well as election law experts from the academic community. The presentation was followed by training workshops on political party candidate selection process, campaign issue identification and fundraising.
U.S. Ambassador to Indonesia, Cameron Hume, attended the keynote address given by Dr. Siti Musdah Mulia who is internationally recognized for her advocacy on behalf of women's rights. Dr. Mulia discussed how the role of women in Indonesia can be enhanced throughout every level of government. She explained "in order to address the issues of discrimination in a patriarchal culture, women's agenda in politics should start to raise awareness about the importance of democratic principles that ensure equality, human rights and law enforcement."
Dr. Mulia, a lecturer at the Syarif Hidayatullah State Islamic University, recently received the International Women of Courage Award from the United States for her efforts to change societal conditions in favor of women's progress in Indonesia.
Following the keynote address, a panel discussion of international experts offered a comparative approach to the political challenges faced by women in Thailand, Mongolia and Australia. The panel included Dr. Pusadee Tamthai, from Thailand's Democrat Party, former Australian Liberal Party legislator, the Hon. Sue Knowles and former Mongolian Member of Parliament Hon. Banzragch Delgermaa.
At a forum on Thursday morning, conference participants, mostly local party activists, were provided a unique opportunity to directly question and talk with leadership from their national political parties, including members of parliament. Another panel highlighted the campaign and governance experience of three legislators from the local and national levels.
IRI is a nonprofit organization that is dedicated to the advancement of democracy worldwide.
The conference was made possible by funding from the United States Department of State.
Top