IRI Chair John McCain Calls for Strong Transatlantic Response to Threat to Democracy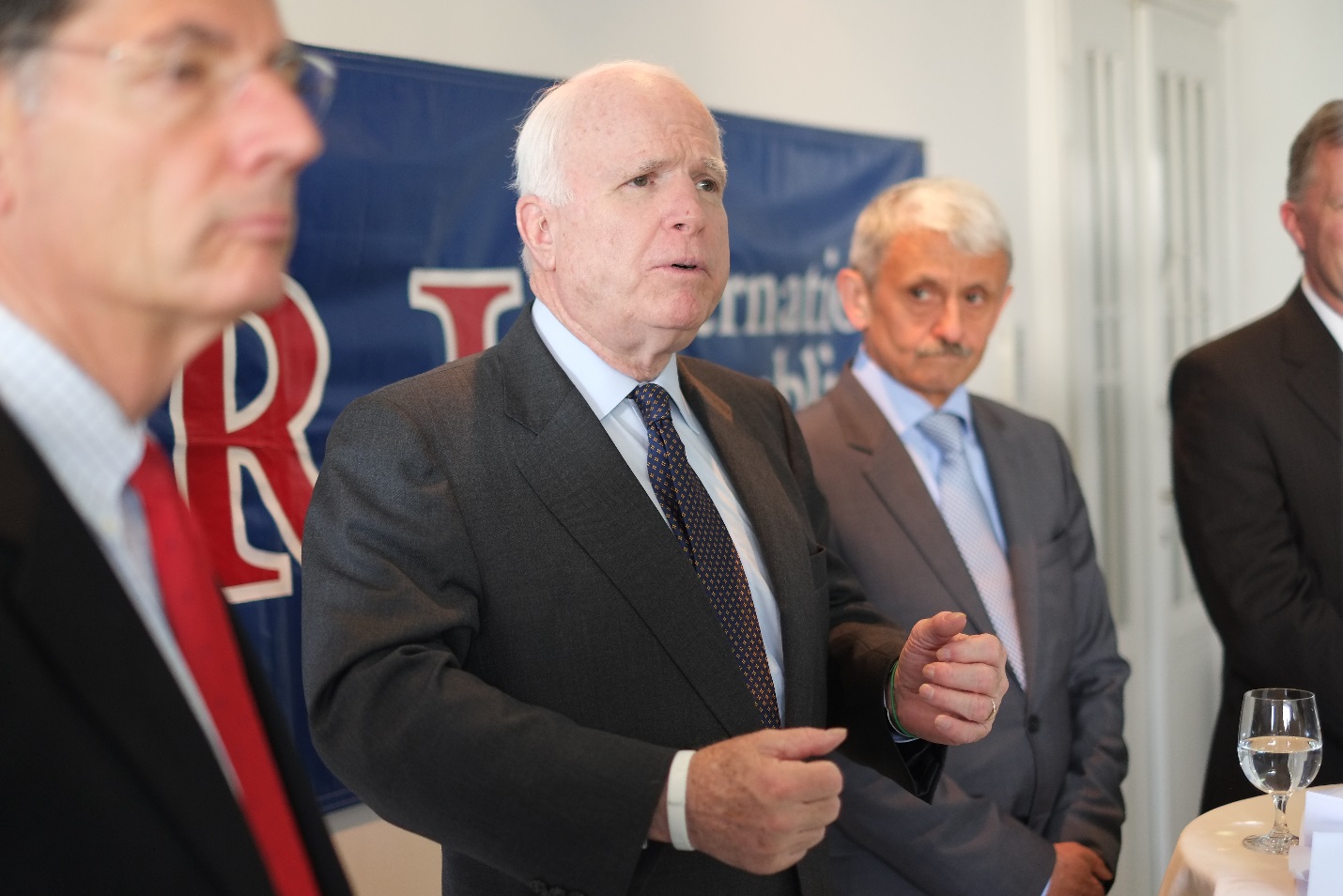 Bratislava, Slovakia – Senator John McCain, chairman of IRI's Board of Directors, and Senator John Barrasso, visited IRI's office in Bratislava on June 20 and spoke to a group of friends and partners of the Institute's from Austria, the Czech Republic, Serbia, Slovakia and Ukraine.
During the visit, McCain and Barrasso addressed the future of the transatlantic partnership, the security of Central and Eastern Europe and the situation in Ukraine, which they had just visited. On this issue, McCain made very clear that current struggle that Ukraine is facing is of direct concern to all Europeans and Americans, for "if we let our Ukrainian friends down, this will not stop – Georgia, Moldova and the Baltic States are next. And it won't stop there."
Answering questions regarding the West's response to Russian aggression in Europe, McCain referred to the leadership provided a generation ago by President Ronald Reagan and called for a much stronger reaction from Europe and the United States, including the need to counter Russian propaganda at home and abroad. "The West won the Cold War without firing a shot because we developed tools such as Radio Free Europe and Radio Liberty. We need to update these tools if we are to take up the fight in the 21st Century," said McCain.
Senators McCain and Barrasso were welcomed by Mikuláš Dzurinda, the former prime minister of Slovakia and chair of IRI's International Advisory Council, and Jan Surotchak, director of IRI's Europe programs. Participants in the meeting included Werner Fasslabend, former Austrian minister of defense, who is now president of the Austrian democracy institution PolAk, and other party leaders, policymakers and representatives of partner organizations in Central and Eastern Europe.
###
Top