IRI Graduates First Class of Leadership Development Program in Timor-Leste
The International Republican Institute (IRI) graduated its first class of eight Timorese in its Leadership Development Program at a ceremony on July 4, 2009 in Dili. IRI's Leadership Development Program developed the management and political skills of a select group of young Timorese professionals to strengthen their ability to become future leaders.
IRI chose participants from a range of agencies and organizations in Timor-Leste. Participants came from the Ministry of Foreign Affairs, the Ministry of Tourism, Commerce and Industry, the Armed Forces, the National Police, the Judicial System Monitoring Program, the Secretary of State for Defense Forces, the University of Timor-Leste and the Women's Business Association.
"We wanted to bring together a diverse group of young leaders to learn from experts but also from each other about cooperation and teamwork," explained Mr. Christopher Wyrod, IRI's County Director in Timor-Leste. "This program will help a new generation of Timorese leaders work together to strengthen the country's peace and democracy."
The program kicked off in January 2009 with a two-day retreat in Maubara on the key attributes of effective leaders and assessing the participants' leadership skills. Twenty-one training sessions were held over six months covering topics such as effective communication, public opinion polling, democratic governance, managing oneself and others, diplomacy and U.S. relations, private enterprise development, teamwork, security sector reform, ethics, eco-tourism development and crisis management. Participants also learned public speaking skills by delivering a presentation on their specific agency or organization. The program also helped participants sharpen their English and computer skills. For the program's final project, participants developed national response strategies to potential crises.
The Leadership Development Program concluded with a graduation ceremony with guest speakers including the special representative on international affairs to President José Ramos-Horta, the Rector of the National University of Timor-Leste, and the Commander of the national police force. Each participant received a certificate of completion and a laptop computer.
At the graduation ceremony, Leadership Development Program participant Flora Lebre said, "I can't express how much I got out of this program. It was inspiring and very useful and helped me in my personal and professional life." Another participant, Hergui Luina Alves, said the program was "a golden opportunity for us to develop our skills. It was a life-changing experience."
Following this program, IRI will help the graduates find international internships to gain hands-on experience and then return to Timor-Leste to apply what they have learned.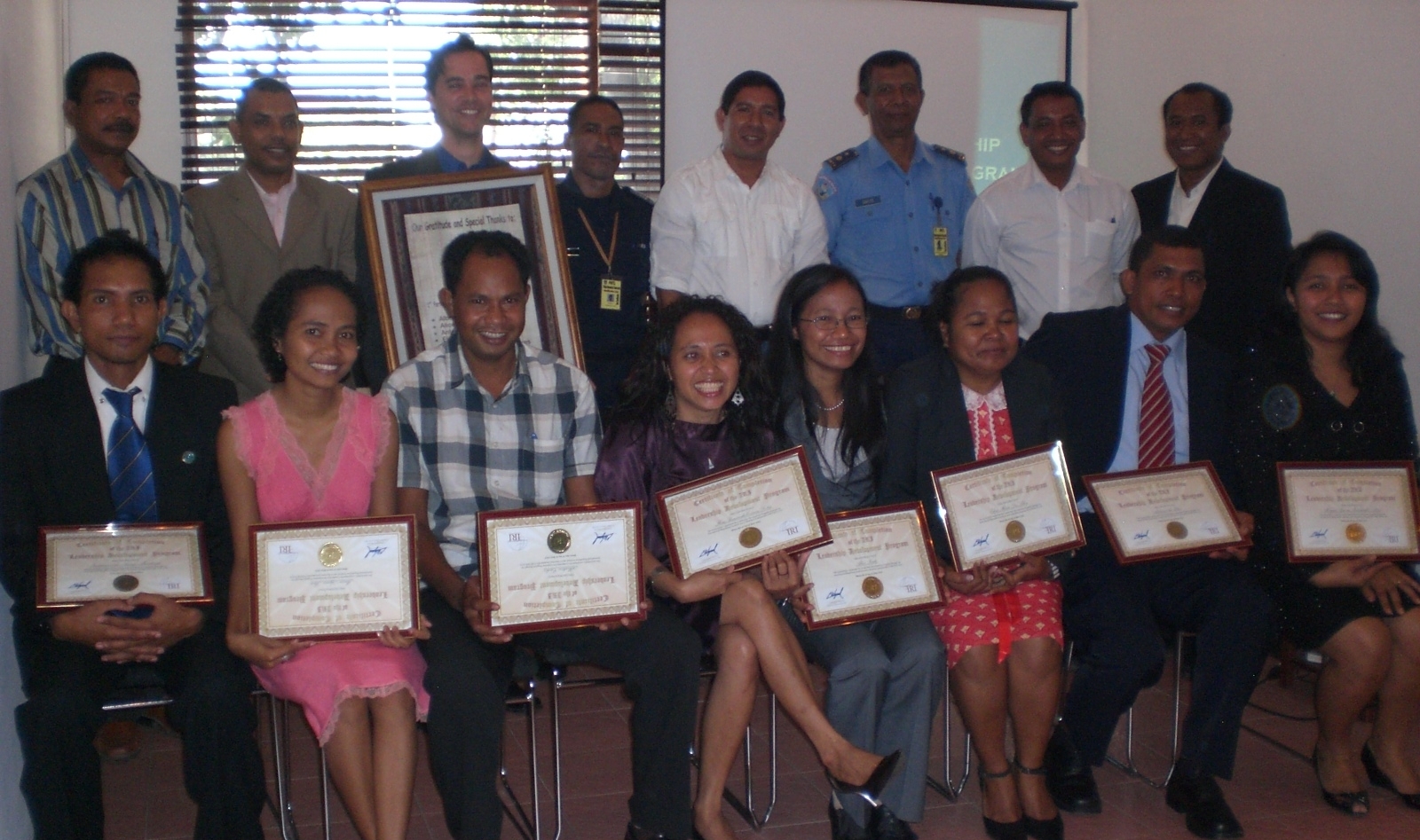 Top