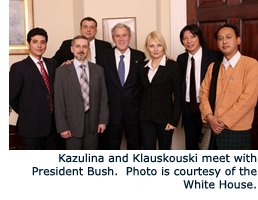 The International Republican Institute (IRI) hosted Aliaksandr Klaskouski, independent media journalist, and Olga Kazulina, daughter of former political prisoner Alyaksandr Kazulin, for the White House's Human Rights Day event on December 10, 2008. The event featured a roundtable discussion with President George W. Bush and eight activists from seven closed societies, including the two Belarusian delegates. The President specifically wanted to hear how the visitors were using new media, such as text messaging, cell phones, blogs and the internet, to fight the information blockades in their countries and spread their messages to their target audiences.

Following their time at the White House, the delegation met with David Kramer, Assistant Secretary of State for Democracy, Human Rights and Labor, and Ambassador Karen Stewart, his Principal Deputy Assistant Secretary and former Ambassador to Belarus. Mr. Klaskouski and Ms. Kozulina also participated in a television interview for Voice of America's Belarusian service and a radio interview at Radio Free Europe/Radio Liberty (RFE/RL). In addition to their interviews and meetings with the U.S. Government, IRI co-hosted a public event with the National Endowment for Democracy (NED) and RFE/RL. The event gave Mr. Klaskouski and Ms. Kozulina the opportunity to address a large audience in a public forum about current issues facing pro-democratic activists, including problems related to freedom of speech and political activity.
Aliaksandr Klaskouski is a long-time Belarusian journalist and political analyst. He was a founder of Belarus' first online independent newspaper Naviny.by and served as editor-in-chief between 2002 and 2004. He is currently the director of analytical projects for the news agency BelaPAN, editor-in-chief of BelaPAN's Elections site, anchor of a popular blog site for the Nasha Niva weekly, and a columnist with Naviny.by. As a political analyst, Mr. Klaskouski regularly contributes to the Belarus Service of RFE/RL, and BelSat, a Warsaw-based satellite television channel.
Olga Kazulina is the daughter of Alyaksandr Kazulin, a former political prisoner and 2006 presidential candidate in Belarus. She is a member of the Belarusian Social-Democratic Party Hramada, is active in politics and was a candidate in the September 2008 parliamentary elections. Ms. Kazulina has a law degree from the Belarusian State University and works as a lawyer for a trade union. Over the past few years, she has traveled throughout Europe and the United States highlighting the dismal human rights situation in Belarus and advocating for the release of political prisoners.


Top