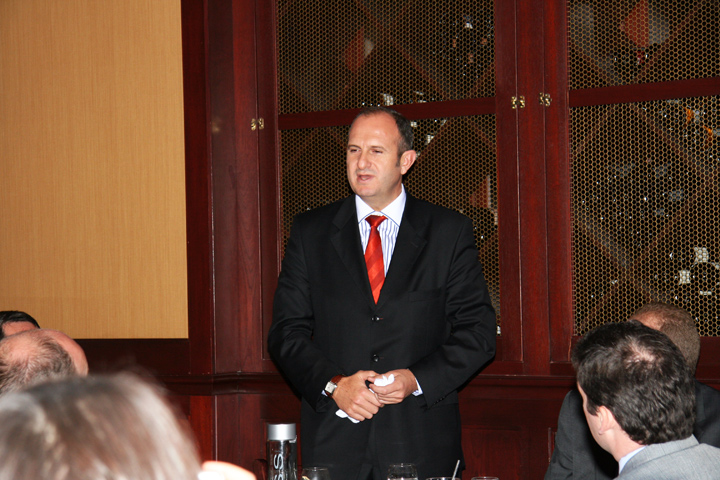 The International Republican Institute (IRI) today hosted Macedonian Prime Minister Vlado Buckovski for a luncheon during his trip to the United States. The Prime Minister traveled to Washington to dedicate his country's new Embassy. He is also meeting with President George W. Bush, Secretary of State Condoleezza Rice, Secretary of Defense Donald Rumsfeld, IRI Chairman Senator John McCain and World Bank president, Paul Wolfowitz.
In his remarks, the prime minister stressed Macedonia's positive role in the region, saying that his country was "small, but constructive," and pointed to his recent meetings with newly-elected prime ministers in neighboring Albania and Bulgaria. Buckovski said that his conversations with U.S. leaders have included discussions on the final status of Kosovo and he has reassured the United States that Macedonia will play a positive role, noting that Macedonia is a successful, multi-ethnic democracy that can serve as a role model for the region. He also pointed to Macedonia's ongoing contributions to the war on terror, saying he was proud that his country was allied with the United States.
Also in attendance at today's lunch were Minister of Foreign Affairs Ilinka Mitreva, Minister of Economy Fatmir Besimi, Macedonian Ambassador to the United States Nikola Dimitrov and Slovak Ambassador to the United States Rastislav Kacer.
Vlado Buckovski has served as prime minister of Macedonia since December 2004. During the conflict in 2001, he served as defense minister in the coalition government and was elected as a member of parliament in the historic 2002 elections. In November of 2002, Buckovski was selected the defense minister for the government and served that post until November 26, 2004.
IRI began working in Macedonia in 1990 following the break-up of Yugoslavia. Today, IRI's efforts in Macedonia include strengthening political parties, working with elected officials to improve communications and outreach, developing policy research institutions, and supporting women, youth and Roma participation in civic and political life. IRI's programs in Macedonia are funded by the U.S. Agency for International Development.
Top