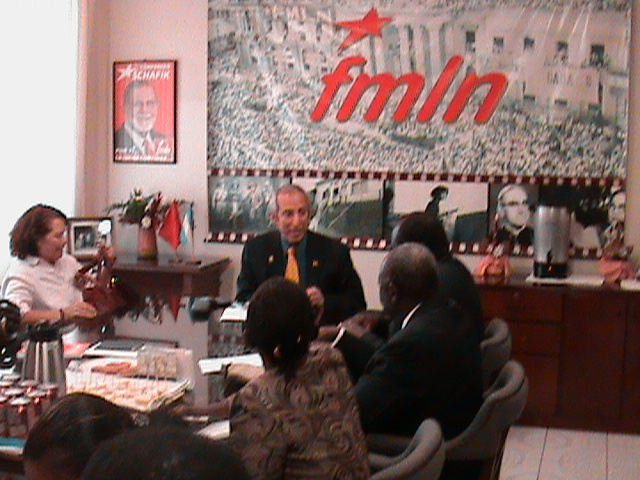 IRI hosted six members of the Sudan People's Liberation Movement (SPLM) in El Salvador on December 8-13, 2008, for a one-week study-tour. The goal of the study tour was to provide SPLM with insight into the democratic transformation of El Salvador, and to give the party the opportunity to observe election management processes and campaigns in this post-civil war democracy.
While in El Salvador, the delegation was able to interact with the some of the political leaders who managed and finalized El Salvador's peace process in 1992, as well as individuals who were involved in the reconstruction and implementation of the peace agreement, including former President Armando Calderón Sol. They also met with top-level executive and legislative leaders including Vice President Ana Vilma de Escobar; the Committee on Foreign Affairs, chaired by Carmen Elena de Calderon; and various party leaders and campaign experts from Nationalist Republican Alliance (ARENA), the ruling party; Farabundo Martí National Liberation Front, the former guerrilla group turned major opposition party; and Revolutionary Democratic Front, a leftist opposition party.
In January 2005, the Comprehensive Peace Agreement was signed, ending Africa's longest civil war between the Sudanese government in Khartoum and Southern rebels. The SPLM – a former rebel group turned political party – is a member of the Government of National Unity and is the majority political party in the semi-autonomous Government of Southern Sudan. National elections in Sudan are scheduled for February 2010. The signing of El Salvador's Chapultepec Peace Agreement in 1992, followed by three successful elections in which the former rebel movement has participated with notable successes, offered valuable lessons to the SPLM delegates on how to create and maintain peace dividends.
The delegation, led by SPLM Secretary General Pagan Amum Okiech, included Abdel Aziz Adam El-Hilu Tallo, National Secretary for Political Affairs and Mobilization; Suzanne Jambo, National Secretary for External Affairs; Keji Roman Jermalili, Northern Sector Secretary for Culture, Information and Communication; Acuil Malith Banggol, Southern Sector Secretary for Popular and Syndicated Organizations; and Sophia Pal Gai Laam, Southern Sector Secretary for Administration and Organization.


Top