IRI Inks Cooperation Agreement with Austrian Democracy Institution PolAk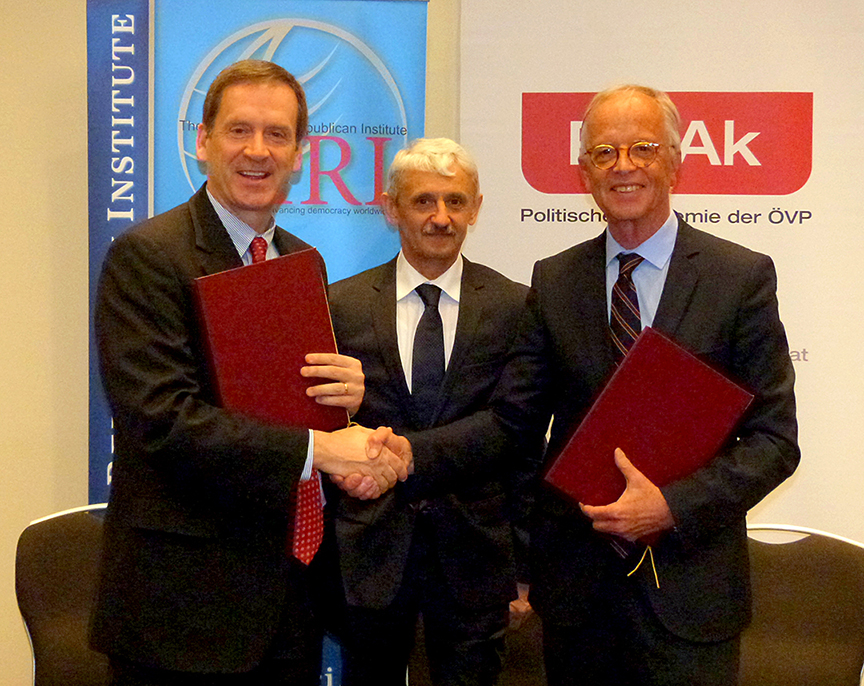 Vienna, Austria – The Austrian democracy institution PolAk and IRI signed a memorandum of understanding (MOU), building on 20 years of cooperation following the fall of the Berlin Wall. The MOU symbolizes closer cooperation on common democracy promotion goals worldwide and provides for coordination of programming resources for democratic activists in countries transitioning to democracy.
"Having cooperated with IRI on countless political training programs for democratic activists from such countries as Bosnia and Herzegovina, Tunisia and Ukraine, I knew that it was only a matter of time before we would formally come together to promote democratic values," stated Werner Fasslabend, former minister of defense and president of PolAk.
IRI's ongoing cooperation with PolAk has strengthened both organizations' diversity of expertise offered to democratic activists in transition countries, increased the credibility of program curriculum and provided invaluable in-kind contributions, offsetting Institute funding. IRI and PolAk will work together to provide training and technical assistance to countries in Central and Eastern Europe that are undertaking reforms necessary for further integration into the transatlantic community. This effort will focus in particular on programs designed to increase the participation of youth and women in politics.
In 2013, an Arab Women's Leadership Institute delegation of women campaign advisors from Lebanon, Libya and Tunisia completed an intensive, 10-day campaign training program coordinated with PolAk during the parliamentary election cycle. The delegation emphasized the unique value of shadowing an active political campaign and highlighted the use of new campaign tactics, an insight they shared with nearly 600 women candidates in their home countries. The program was sponsored by Foreign Affairs, Trade and Development Canada and PolAk.
"We live in challenging times geopolitically and I feel strongly that we need to work together to promote our common values of democracy, freedom and economic prosperity. The more cooperation we have between the United States and Europe, the better," said Mikuláš Dzurinda, former prime minister of Slovakia, president of the Wilfried Martens Centre for European Studies and the co-chair of IRI's International Advisory Council, who witnessed the signing of the MOU.
The MOU was signed at the PolAk headquarters located in the historic Springer-Villa near Schoenbrunn Palace in Vienna. Fasslabend signed the MOU on behalf of PolAk along with Ambassador Mark Green, president of IRI, who signed on behalf of the Institute.
"We at IRI believe that the strength, the health and the success of the transatlantic relationship is what will determine the future of democracy around the globe and is the key relationship in the world today. It is that important," emphasized Green.
IRI works closely together with a wide range of nongovernmental organizations, foundations, institutes and parties across the European Union, and especially with those active in the new democracies of the EU, to strengthen these important transatlantic ties.
A nonprofit, nonpartisan organization, IRI advances freedom and democracy worldwide by helping political parties to become more issue-based and responsive, assisting citizens to participate in government planning, and working to increase the role of marginalized groups in the political process – including women and youth.
###
Top