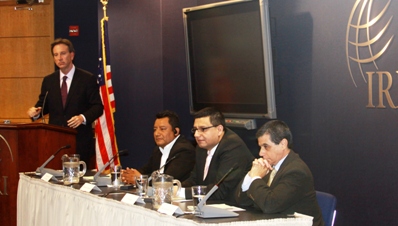 IRI hosted the inaugural event of the Democratic Governance Speakers Series, a public forum designed to bring together policymakers, practitioners and stakeholders to discuss and share experiences in addressing contemporary challenges to governance. The event, Is Mexico Governable? Perspectives on Narco-violence, Corruption and Other Challenges to Governance in Mexico, gathered people from the Washington policy and development communities, and featured remarks by Domingo Enriquez, IRI partner and former mayor of San Jacinto Amilpas; Luis Najera, formerly a Ciudad Juarez based journalist; and professor Ricardo Chavira, a recipient of the Pulitzer Prize for Journalism. The discussion was moderated by former United States Ambassador to Mexico, Antonio Garza.
Domingo Enriquez spoke of initiatives carried out during his administration to enhance effective governance such as improving municipal performance and accountability, and engaging citizens in decision-making processes. Luis Najera spoke to the situation confronting journalists in Mexico and shared his unique personal experience having been forced to flee Mexico for his reporting on narco-penetration of law enforcement in Ciudad Juarez. Najera underscored the issue of impunity in Mexico, and the lack of efficient institutions to prosecute attacks against journalists, allowing those who have the resources, power and intention to attack journalists to do so without consequence. Finally, Ricardo Chavira shared his views on governance in Mexico through the lens of his thirty years of experience writing about Latin America.
While speaking to the complexity of violence and organized crime, panelists pinpointed ways in which democratic governance may yet attain a reduction in the violence and an affirmation of the rule of law. Panelists recognized that effective governance is a necessary condition to achieving success and as such put forth recommendations regarding initiatives that governments and citizens can collectively apply to build stronger communities and representative institutions that can ensure Mexico's democracy delivers.
Around the world, IRI conducts democratic governance programs, working alongside political and government actors, citizens and civil society, to bring government closer to citizens, transforming government into a responsive, transparent and effective institution. IRI's experience includes the design, implementation and evaluation of democratic governance initiatives in closed, transitional and consolidating democratic political systems.
IRI has been active in Mexico since 1997, carrying out programs to strengthen democratic governance and political parties, and fostering the participation of women, indigenous groups and youth in the political process.
Top