IRI North Macedonia Poll Finds Dissatisfaction with Country's Direction, Support for EU Membership, Increase in Positive Perceptions of Turkey and China
Skopje, North Macedonia – A new poll in North Macedonia by the International Republican Institute's (IRI) Center for Insights in Survey Research (CISR) found dissatisfaction with the direction of the country, strong support for membership to the European Union (EU), and an increase in positive perceptions of China and Turkey.
When asked about the direction of the country, only 13% of Macedonians said the country was moving in the right direction while 58% said it was moving in the wrong direction. Twenty-eight percent remained neutral.
"With inflation and the price of energy rising and other economic challenges facing North Macedonia right now, our data shows that people do not believe the country is moving forward in the right direction," said Paul McCarthy, Europe Regional Director for IRI. "Policymakers at the national level will need to remain focused on economic issues if they want to see those numbers turn around."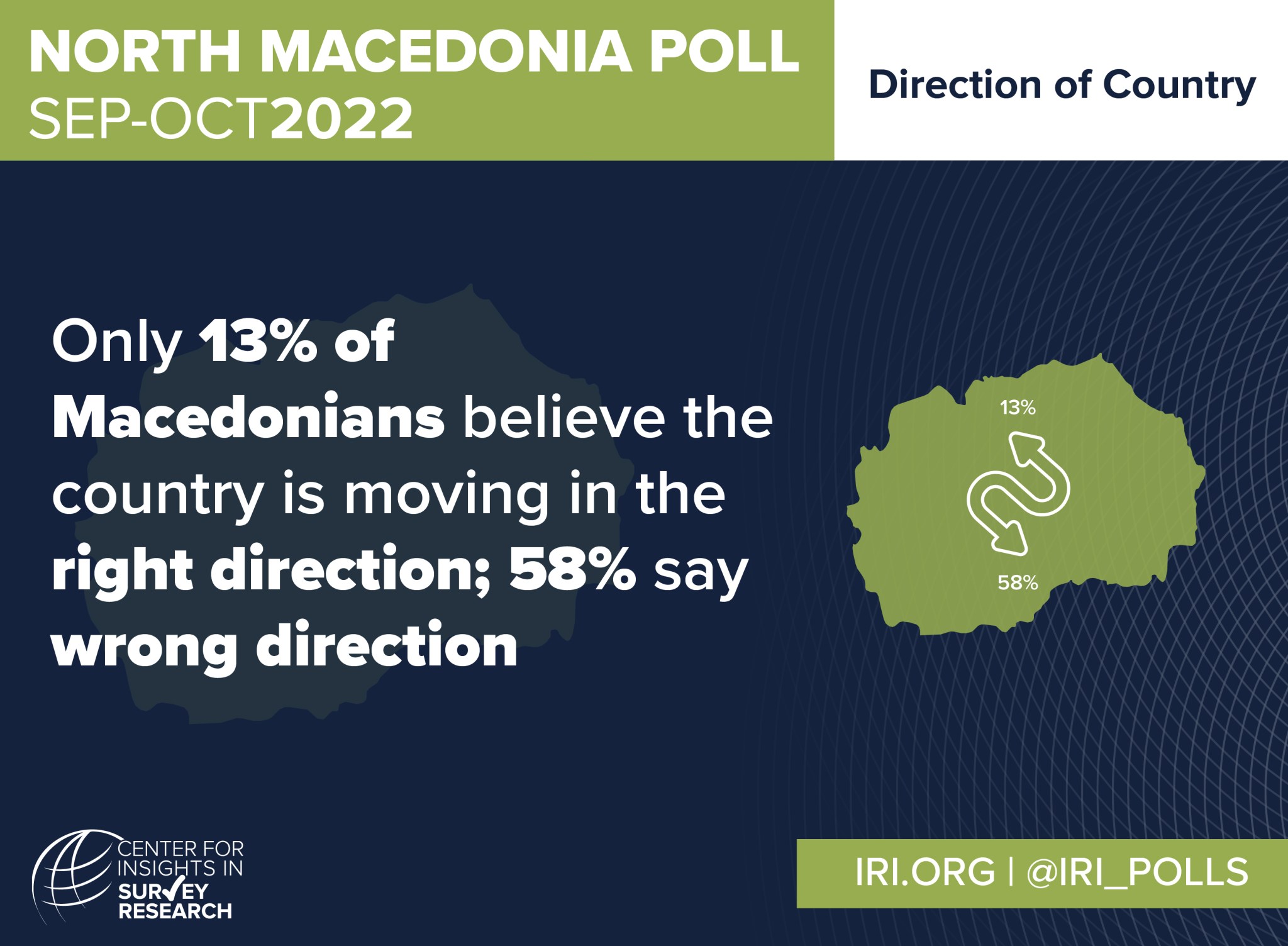 The poll also found strong support for EU membership, despite a decline of 11 percentage points from November 2021. Seventy-three percent of Macedonians want to join the EU while only 24% prefer not to join.
"It's very encouraging to see such strong support for EU membership because there are other non-democratic actors working hard to improve their standing within the country," said McCarthy.
The poll found that 87% of Macedonians strongly agreed or somewhat agreed that the country's interests are best served with strong relations with Turkey. Sixty-five percent felt the same way about China. These numbers represent a slight increase from a previous IRI poll for both Turkey and China.
Methodology  
The survey was conducted on behalf of the Center for Insights and Survey Research by Brima market research firm (member of Taylor Nelson Sofres and Gallup International). Data was collected between September 23 through October 13, 2022, using a stratified multistage probability sampling method through in-person, in-home interviews. A nationally representative sample size of 1,207 respondents aged 18 and over was surveyed. The data was weighted for age, gender, education, region, urban/rural residence, and ethnicity. The margin of error was ± 2.8 points at a 95% confidence level. The response rate was 69%.
This poll was conducted with support from the National Endowment for Democracy.
Top