IRI Panel Looks at the Role of Civil Society in Democratic Governance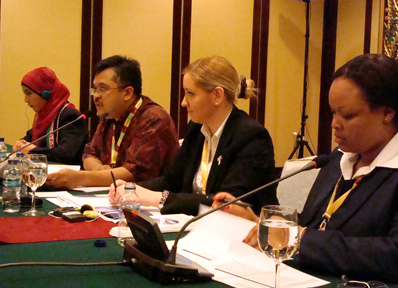 Panelists from Jordan, Macedonia, Malaysia and Zimbabwe explored the role of civil society in ensuring government responsiveness and the role of citizens in community decision-making processes at IRI's panel, How Can Civil Society Effectively Influence Government to Help Ensure Its Responsiveness?. The panel was part of the World Movement for Democracy conference held in Jakarta, Indonesia.
The panel was moderated by Ibrahim Suffian, with the Merdeka Center for Opinion Research in Malaysia, and included examples of civil society's active participation from panelists Hailana Ka'abneh with the Rusaifeh Municipality Citizens' Committee in Jordan, Biljana Janeva with the Ohrid Institute in Macedonia and Sally Dura with the Assembly of Women of the Movement for Democratic Change (MDC) in Zimbabwe.
Sally Dura began by discussing the challenges of equal representation for women in the Zimbabwean constitution making process. While the government acknowledged women were underrepresented, the ultimate blame fell to political parties for submitting party candidate lists that were disadvantageous to women. After meetings with the parties proved unfruitful, women activists had to rethink their advocacy strategies in getting their issues heard. The process taught MDC several important lessons: 1) while it is valuable for civil society organizations to coordinate their efforts, this collaboration needs careful management in order to maximize usefulness; 2) key individuals across entities need to be identified to ensure all issues of concern are well-represented; and 3) strategic planning is needed to establish effective targeting and follow-up strategies.
In a local context, Hailana Ka'abneh outlined the creation of the Rusaifeh Citizens' Committee and challenges of resolving an environmental problem stemming from phosphate mining residues. With support from IRI, the committee conducted research to assess the effects of phosphate mining in the community and, with data in hand, collected 5,000 signatures on a petition that was delivered to the governor requesting public parks be built. The petition was a risky tactic in a country where citizens often shy away from signing petitions. The local government and other relevant authorities initially promised to construct several parks, but were slow to respond. Following persistent efforts by the committee, the municipality eventually established the parks. The campaign was groundbreaking in Jordan in that it helped shatter the fear among citizens about lobbying for issues that concern them.
Biljana Janeva highlighted the Ohrid Institute's effort to monitor government officials and their policies. The Monitoring of Leadership Project involves citizen monitoring of the Macedonian government in 10 fields, including financial affairs, foreign policy, education, health, agriculture, transport and construction. The project has introduced the principle of holding a government responsible for its actions, opened it up to public input, and made the government accountable to citizens by measuring what is delivered against what was promised. In its first year, the project met with difficulty in getting the government to comply with requests for information; despite a law allowing for freedom of information, the responses that were received were not timely or transparent. However, after the Institute became more visible, the government became accustomed to the idea of being monitored and measured, a result aided by Ohrid's strategic use of the media and public opinion.
A few challenges each panelist highlighted were: getting the government's attention without appearing threatening, educating citizens that they too have a responsibility to outline their priorities to government officials, and reprisals from repressive governments.
The panel's recommendations were for civil society to be persistent and vigilant in its efforts; build relationships with government officials; build coalitions with other civil society groups; learn to work more strategically with political parties; learn to influence society at large; and finally, while advocacy is most effective in a context where there is both good governance and democracy, civil society can achieve results where political space is less than ideal.
The World Movement for Democracy, established by the National Endowment for Democracy, is a global network of democrats, including activists, practitioners, academics, policy makers, and funders, who have come together to cooperate in the promotion of democracy. The Sixth Assembly was held in Jakarta, Indonesia, April 11-14, 2010 and brought together people from more than 100 countries. The theme of this year's assembly was "Solidarity Across Cultures: Working Together for Democracy."
Top