IRI Participates in U.S.-Indonesia Comprehensive Partnership Forum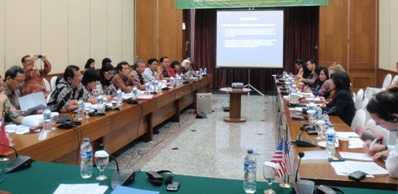 As part of the U.S.-Indonesia Comprehensive Partnership the Indonesian National Development Planning Agency (Bappenas) recently held a forum discussion entitled Indonesia-United States: Civic Engagement and Transparency in Governance. IRI was invited to lead the May 6 forum's discussion on civil society engagement in participatory governance. The Jakarta forum was the first in a series of discussions that will develop the U.S.-Indonesia Comprehensive Partnership announced by President Barack Obama and Indonesian President Susilo Bambang Yudhoyono in November 2010.
The spirit behind the partnership is a common desire by both countries to increase collaboration and cooperation, not only to deepen their bilateral relationship but also to address regional and global challenges. Through the Comprehensive Partnership, the two countries seek to support democratic institutions, improve governance and foster respect for human rights. As part of the political and security cooperation of the partnership, Indonesia and the United States agreed to, "deepen and broaden cooperation in promoting good governance, democracy, and human rights, by enhancing dialogue and capacity building."
The forum brought together representatives from the Indonesian and U.S. governments, and local and international civil society organizations to share best practices in the field of democracy development and participatory governance. The discussion focused on civic engagement in both the U.S. and Indonesia. The U.S. was represented by IRI and the United States Agency for International Development (USAID), while Indonesia was represented by Bappenas and Pergerakan, a local civil society organization that works on participatory governance programs throughout Indonesia.
The gathering was highly interactive, with participants eager to share their experiences and lesson learned. The IRI-led discussion focused on civil society best practices in the United States with IRI sharing experiences from the U.S. perspective on the role of civil society organizations and their interaction with policy makers at the federal level. IRI stressed that through civil society people find solutions to community problems, demand changes in government policies, raise public awareness and increase citizen participation – all critical components of a thriving democracy.
In Indonesia, IRI has an active provincial-level program sponsored by USAID that pairs civil society with political parties and their legislative counterparts to address public concerns through the policy-making process.
Since 1998 IRI has worked in Indonesia to support the country's transition to a stable democracy. IRI has supported the democratic consolidation process by strengthening the country's governing institutions, assisting political parties in better addressing voter concerns and promoting greater women and youth involvement and leadership in the political process.
Top