IRI-Sponsored Town Hall Meetings in Iraq Improve Democratic Governance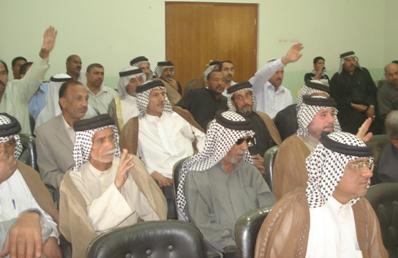 Through town hall meetings, Iraqis are communicating directly with their elected officials in order to improve democratic governance in their communities. Working with civil society organizations, IRI has supported 115 town hall meetings in 15 of the Iraq's 18 provinces since July 2010. The town halls have been attended by more than 6,000 Iraqis.
These town hall meetings facilitate the two-way communication between constituents and elected officials that is critical to successful democratic governance. These town halls have allowed elected officials to hear directly from their constituents, leading to concrete steps by these officials to address the concerns of their citizens.
For example, following an October 30, 2010, town hall meeting in Muthanna province, a provincial council member who participated in the town hall investigated a constituent concern about the lack of quality teachers in Muthanna schools. The official discovered that an existing law mandating the employment of the top 10 graduates of the Teachers Institute was not being enforced, and as a result, 10 more qualified Iraqis are now employed as teachers in Muthanna schools.
Similarly, during a town hall in Baghdad on August 9, 2010, facilitated by IRI's partner the Baghdad Youth Center (BYC), Baghdad University students criticized the remote location of the university dormitory, requiring students to travel more than four hours round-trip to attend class because of checkpoints along the route. Following this meeting and subsequent follow-up by BYC, by September 10, 2010, a building near the campus was rented and opened as a dorm for the students.
In Anbar, the IRI-funded youth center conducts radio talk shows to facilitate a dialogue between elected officials and constituents. On October 27, 2010, a show was aired featuring Ms. Ibtisam Mohamed Darub, chair of the Anbar provincial council education committee. One of the callers to the radio program complained about the lack of books available in many of the province's schools. Darub relayed the concerns to other members of the education committee and 4,500 textbooks on physics, English and math were purchased for schools in Habania, al-Khalidia and Saqlawi.
These three stories are just a small sampling of the impact of IRI-sponsored town hall meetings and how they have improved the day-to-day lives of Iraqis.
Top