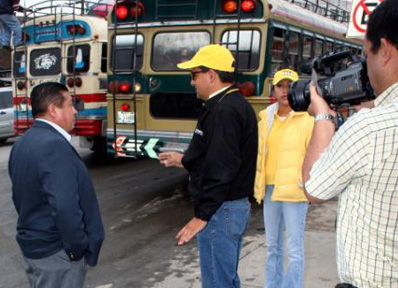 Each week citizens in San Cristobal Totonicapán (Sancris for short) tune into watch the IRI-sponsored Tú Eres El Cambio, Si Cambias Tú, Cambia Sancris (You Are The Change: If You Change, Sancris Changes), a live local cable television show that provides a forum for the mayor and town council members to report on municipal projects and discuss issues important to the community. The show encourages citizens to call in or send text messages with questions and comments, affording the public a rare opportunity to directly question elected officials and provide important feedback on critical local issues. The show is a part of IRI's efforts to improve municipal governance in Guatemala.
In one episode, Mayor Carlos Say used the hour-long show to address citizens' concerns regarding damage to one of the municipality's main bridges caused by heavy rains. In response to citizen demands, the mayor secured the donation of a temporary "bailey" bridge to be installed while funds were raised for a permanent bridge. By responding to priority issues openly and in a timely manner, the municipal government has been able to demonstrate that it is aware of their concerns and is working to respond to the most pressing needs in the community.
You Are The Change is the first television show of its kind in Guatemala, and viewership continues to grow. The show has been so successful that in the spring of 2010, IRI transferred all responsibility for production of the show to the municipal government, thus institutionalizing this innovative communication mechanism that promotes government responsiveness.
IRI has been working in partnership with the municipality of San Cristobal Totonicapán since early 2008 on improving government outreach with citizens and local economic development.
Top