Washington, DC—The International Republican Institute (IRI) issued the following statement in response to news of the passing of former IRI Chairman Senator John McCain: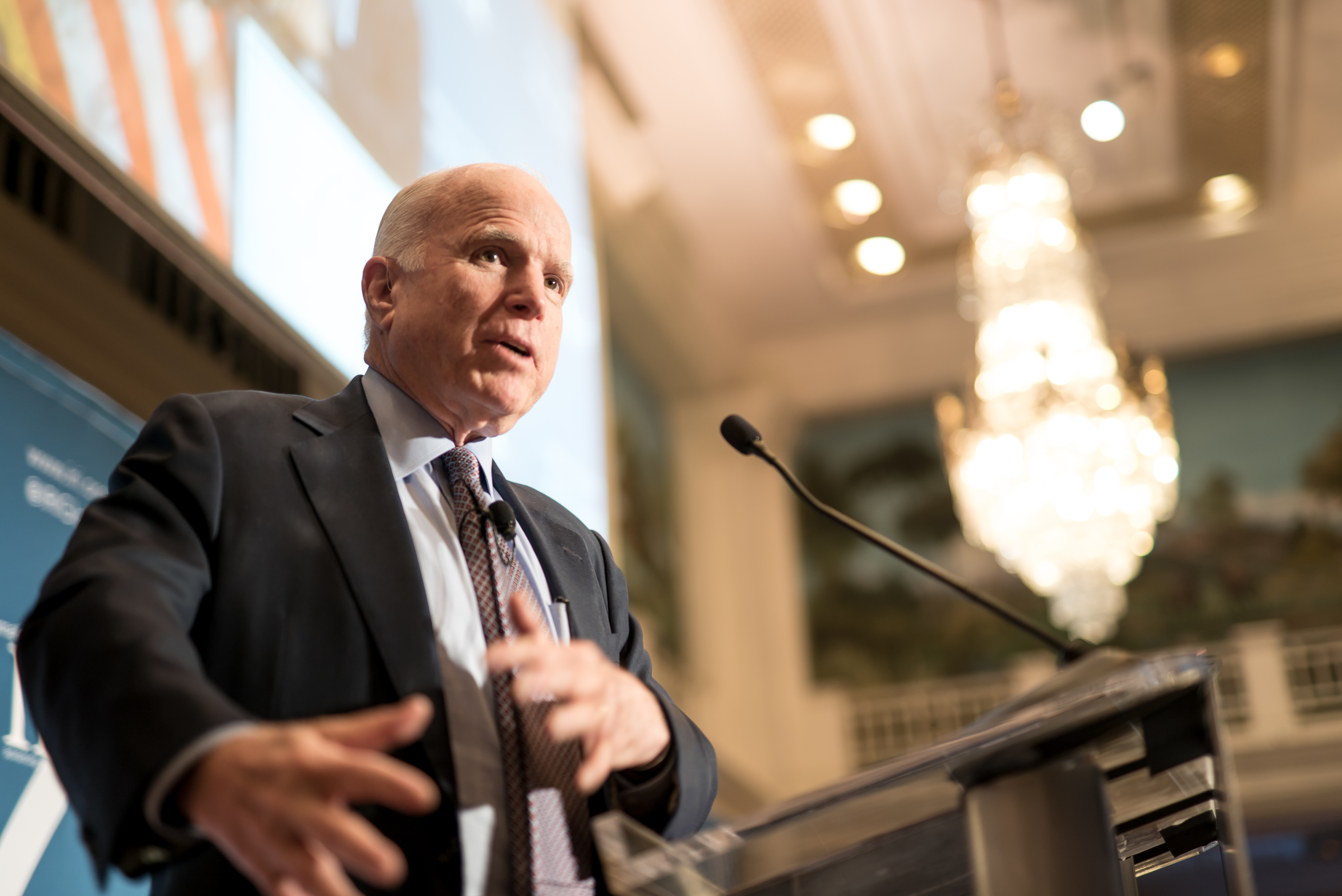 It was with profound sorrow that IRI learned of the death of Senator McCain, who served as IRI Chairman for 25 years. During that period, he was a tireless advocate for human freedom around the world. His vision animated IRI's work to support democratic leaders, institutions and networks in nearly 100 countries.
"Today we lost a true American hero," said IRI Chairman Senator Dan Sullivan. "John McCain's life embodied steadfast patriotism and sacrifice in the service of a cause greater than self. His courage and indomitable spirit inspired millions in America and across the globe. Our prayers go out to his wife Cindy, and the entire McCain family.
"To my friend John: Godspeed. Semper Fidelis. Fair winds and following seas. May you rest in peace."
"With the passing of John McCain, I have lost one of my closest and dearest friends, an individual I have been privileged to be associated with for more than thirty-five years," said IRI board member Jim Kolbe. "The nation has lost one of its greatest public servants. John McCain's entire life—from his first day as a midshipman at the Naval Academy to his last day as a United States Senator—has been devoted to public service.
"Through all his trials and tribulations, John McCain never lost sight of the values that form the core of our country and never wavered in advancing those principles of democracy and freedom around the world. He will be missed by all of us, but we are reassured by the knowledge that his legacy will live in the centuries that follow."
"Around the world for decades, the name of John McCain was inseparable from the defense of freedom," said IRI Vice Chairman Randy Scheunemann. "No cause was too difficult or too distant for John McCain to embrace liberty and stand steadfast against tyranny. His legacy of optimism, courage and ferocious defense of democratic values will endure forever and continue to inspire millions and especially those who, like John McCain for a time many years ago, are involuntarily deprived of their own freedom."
"John McCain's love of his country and American values sustained him throughout his life—from his years as a prisoner of war in Vietnam to the end of his days," said IRI President Daniel Twining. "He never faltered in his belief that freedom and democracy are the prerogative of all humankind, and he was an implacable foe of tyrants everywhere. He worked tirelessly to advance these principles around the world, including through his leadership of IRI—where this work will continue."
Our thoughts and prayers are with Senator McCain's family.
Top