Rival political parties setting up information tables side-by-side, students peacefully mingling with political parties representatives, two-minute stump speeches and high-ranking government officials heralding a new day for political life – that was the scene at the first ever political party fair on the campus of the University of Jordan on March 4.
IRI-supported fair the university's main campus in Amman broke new ground by creating an opportunity for political parties to introduce themselves to an estimated 700 students who took part in the event. Just three years ago, party members were suspended from school for conducting party activities on campus, part of the legacy of the 30-year ban on parties that existed until 1989. "Now, I can distribute the same leaflets that my fellow party members were disciplined for handing out," said a member of National Current Party and a University of Jordan graduate. "This is an important step forward."
Twenty-three of Jordan's 32 registered parties participated in the fair after attending an IRI pre-fair training on public speaking.
IRI worked with them on the elements of a two-minute speech, body language and voter contact. While parties initially objected to the two-minute time limit as artificial and unnecessarily restrictive, at the fair most parties kept within the limit, with the help of a stopwatch and buzzer. Other parties stood out by showcasing their outreach to persons with disabilities; both a blind woman and man in a wheelchair gave stump speeches for their parties.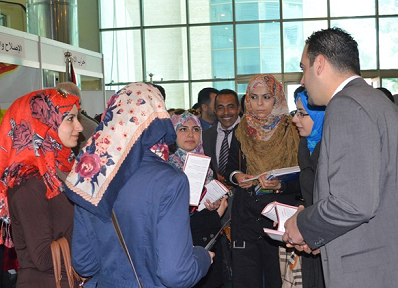 The University of Jordan fair is the first of a series that IRI will help organize around the country under an agreement between IRI and the Ministry of Political and Parliamentary Affairs. It follows on the heels of the National Democratic Institute's successful political discussion clubs at 18 universities across the country.
Currently, political parties in Jordan face significant obstacles, including an election system that largely excludes them and a political system that sidelines them from having a voice in parliament and forming the government. But in line with King Abdullah's vision of a party parliament in the coming years, party life has a chance to revive if key laws affecting them are further reformed.
For one day at the University of Jordan, that promise looked closer to being fulfilled. No longer do students need to shy away from party leaflets – now they can collect as many as they want.
Top