La Prensa Editor Testifies at Congressional Hearing on Press Freedom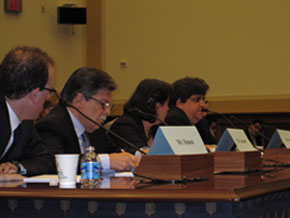 Eduardo Enriquez, managing editor of the Nicaraguan newspaper La Prensa, recently visited Washington, DC, and testified before the House of Representatives Foreign Affairs Subcommittee on the Western Hempishere about the state of freedom of the press in Latin America. La Prensa is the most widely-circulated newspaper in Nicaragua.
At the Press Freedom in the Americas hearing, Mr. Enriquez spoke specifically about the challenges journalists and editors face in Nicaragua. In his testimony, he discussed how President Daniel Ortega and his advisors have stifled the local press and its freedom of speech, in part by purchasing televison and radio stations and subsequently converting them into voices for the government. There are few remaining independent newspapers in Nicaragua, and Mr. Enriquez expressed his opinion that President Ortega's administration is moving to silence the remaining independent media outlets in the country. Mr. Enriquez also highlighted the ways in which the administration circumvented constitutional roadblocks in order to win reelection in the 2006 election, and the immediate implementation of further constitutional reforms that would allow him to remain in power indefinitely.
The panel for the hearing also included Joel Simon, Executive Director of the Committee to Protect Journalists; Marcel Granier, President and Director General of Radio Caracas Television Internacional (RCTV); Alejandra Nuno, J.D., Program Director for Central America and Mexico at the Center for Justice and International Law; and Alejandro Aguirre, President of the Inter American Press Association and Deputy Editor and Publisher of Diario Las Americas.
Eduardo Enriquez began his career in the journalism field in the early 1990s, when he worked first as a reporter and eventually as deputy editor of La Tribuna, a then newly-established Nicaraguan daily newspaper. He later worked on the news program for the station Televicentro Canal 2, hosting various news broadcasts and programs, and now writes a weekly column in addition to his role as managing editor of La Prensa.
Top