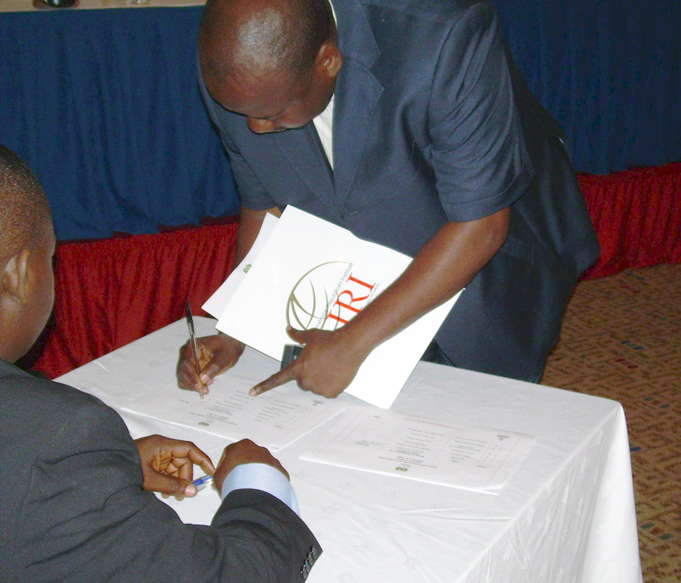 On February 8, 38 Nigerian political parties gathered in Nigeria's capital city to sign an agreement to follow an party code of conduct in advance of April 2007 elections. The agreement commits Nigeria's political parties to free, fair and peaceful elections.
The code of conduct is the culmination of a series of roundtable discussions hosted by the International Republican Institute (IRI) which began in October 2005. At the roundtables, political party representatives deliberated over such critical issues as mitigating the prospects of electoral violence and establishing rules governing inflammatory political rhetoric.
The signing ceremony for the code of conduct attracted representatives from Nigeria's political parties and member of the Nigerian Electoral Commission, including Chairman Maurice Iwu. United States Ambassador to Nigeria John Campbell also attended, remarking that the code of conduct "will be crucial to holding a successful and credible election."
The code of conduct also provides for an inter-party advisory council to monitor and observe the implementation of the code and resolve disputes. Ambassador Campbell noted IRI's contribution to the effort to ensure transparent elections by adding that "the U.S. Embassy is honored to witness the presentation and signing of the political parties' code of conduct…developed in partnership with the International Republican Institute." IRI is currently preparing to sponsor a national election observation mission for the April elections.
The April parliamentary and presidential elections are critical to the future of Nigerian democracy; if held in a transparent and legitimate manner, they will mark the first time one democratically elected government has voluntarily turned over power to another democratically elected government in Nigeria in more than 40 years.
Top