Political Experts Speak with IRI on Election Reform and Communications Strategies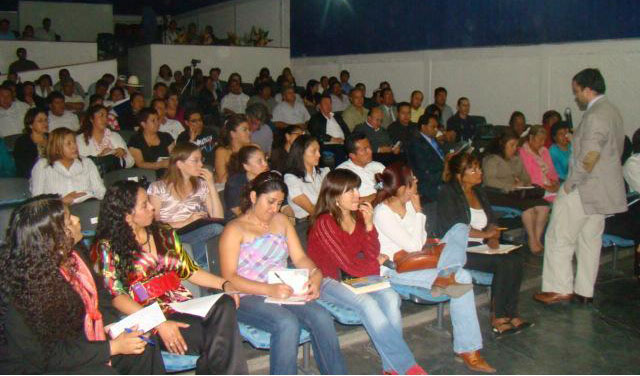 As Mexico debates a proposed political reform package, political experts from Chile and the United States, hosted by IRI, led a series of discussions with political party leaders on election reform and communications. Robert Osorio and John Fortier spent several days sharing their expertise and, using the experiences of other countries, leading discussions on election reform. They also worked with elected officials on how they can improve their overall communications efforts with both their constituents and fellow elected leaders.
Chilean political expert Roberto Osorio led a series of seminars, trainings and meetings with Mexican governors, mayors, think tanks, nongovernmental organizations (NGO) and academics in Mexico City and Morelos state. He worked with close to 600 participants on effective communications strategies for governments, citizens, think tanks and NGOs. Osorio also spoke with state and municipal governments about responsiveness, innovation and creativity in reaching populations and proposed ways in which think tanks and NGOs could improve their own communications with elected leaders, such as investing in focus groups and roundtables to get a better understanding of citizen needs and foster a dialogue with elected officials.
In January, a political reform package was introduced by President Felipe Calderon, which sparked extensive debate among legislators, civil society organizations and political parties. In an effort to help political leaders understand the implications of such reforms, IRI hosted American Enterprise Institute elections expert John Fortier. Fortier met with approximately 250 individuals representing various party foundations to lead discussions on referendums and plebiscite, which are also being considered for inclusion in the Mexican political system. In addition, he met with members of the lower chamber's Governance Committee on behalf of the civil society organization Hagamos Quorum to brainstorm how to build up the legislative and policy experience for local political activists, as well as how to strengthen their re-election bids. Fortier also led discussions with university students from political science, international affairs and law programs on the American re-election process and the meaning of future electoral reforms in Mexico.
IRI has been active in Mexico since 1997, carrying out programs to strengthen democratic governance and political parties, and to foster the participation of women, indigenous groups and youth in the political process.
Top