On September 11, 2016, Belarusians will go to the polls to vote in parliamentary elections. The authoritarian government has not undertaken the fundamental reforms necessary to deliver free and fair elections, and President Alexander Lukashenka is not expected to significantly loosen his grip on power. However, small openings in the system may be possible.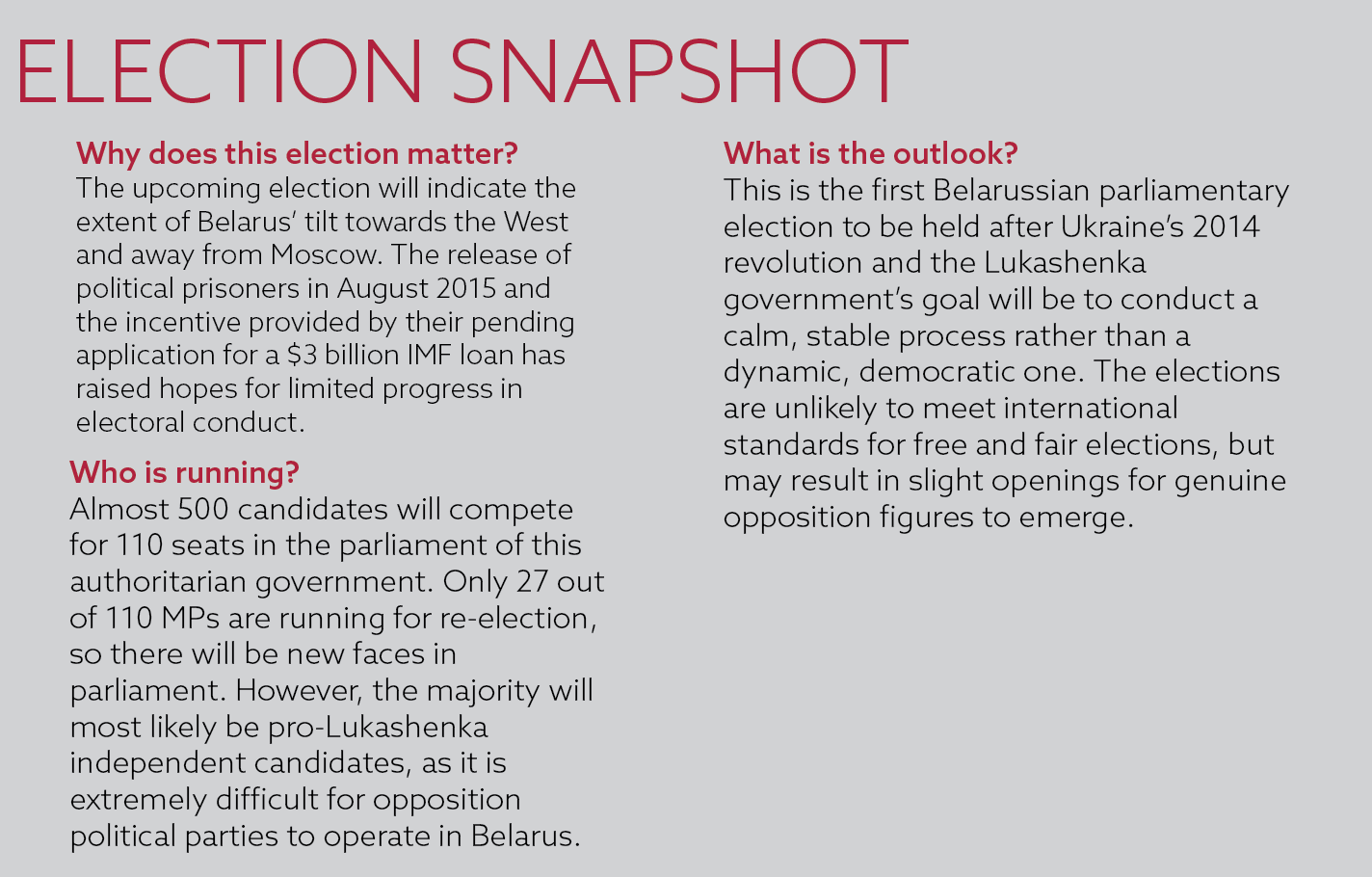 CURRENT CONTEXT
Belarus has consistently failed to receive positive evaluations by election observers for more than two decades. The media is heavily censored and most outlets are state-owned and freedom of assembly is heavily restricted. In addition, strict registration requirements for political parties and candidates have made it all but impossible for independent, pro-democracy politicians to compete effectively.
As part of its conciliatory campaign towards the West, Belarus hosted the Minsk negotiations intended to bring an end to hostilities in Eastern Ukraine. This effort played a significant role in the EU decision to lift sanctions imposed in 2010. In addition, the growing distance between Russia and Belarus in the wake of the 2014 invasion of Ukraine and Russia's economic downturn has fueled speculation that the regime in Minsk may continue on the path of geopolitical realignment.
ELECTION OUTLOOK
Over the past several years, IRI's public opinion research and analysis has consistently indicated that the Belarusian electorate is cynical about the prospects of elections delivering change, indifferent to the parliament, and inclined to favor stability over change.
In light of these attitudes, the Lukashenka regime's continued monopoly on power, and the absence of substantive electoral reforms, it is unlikely that significant changes will emerge as a result of these elections. In the past, the regime has hinted at liberalization to appease the West and secure concessions, only to revert to authoritarianism—making improvements in the electoral environment an unreliable indicator of political progress. However, it is possible that even small openings in this election will provide the basis for pro-democracy parties and groups to build upon in terms of competitiveness and recognition among the electorate.
Top