On June 4, 2017, Cambodians will go to the polls to vote in local elections against a backdrop of mounting political tension between the government, opposition parties and increasingly frustrated young voters.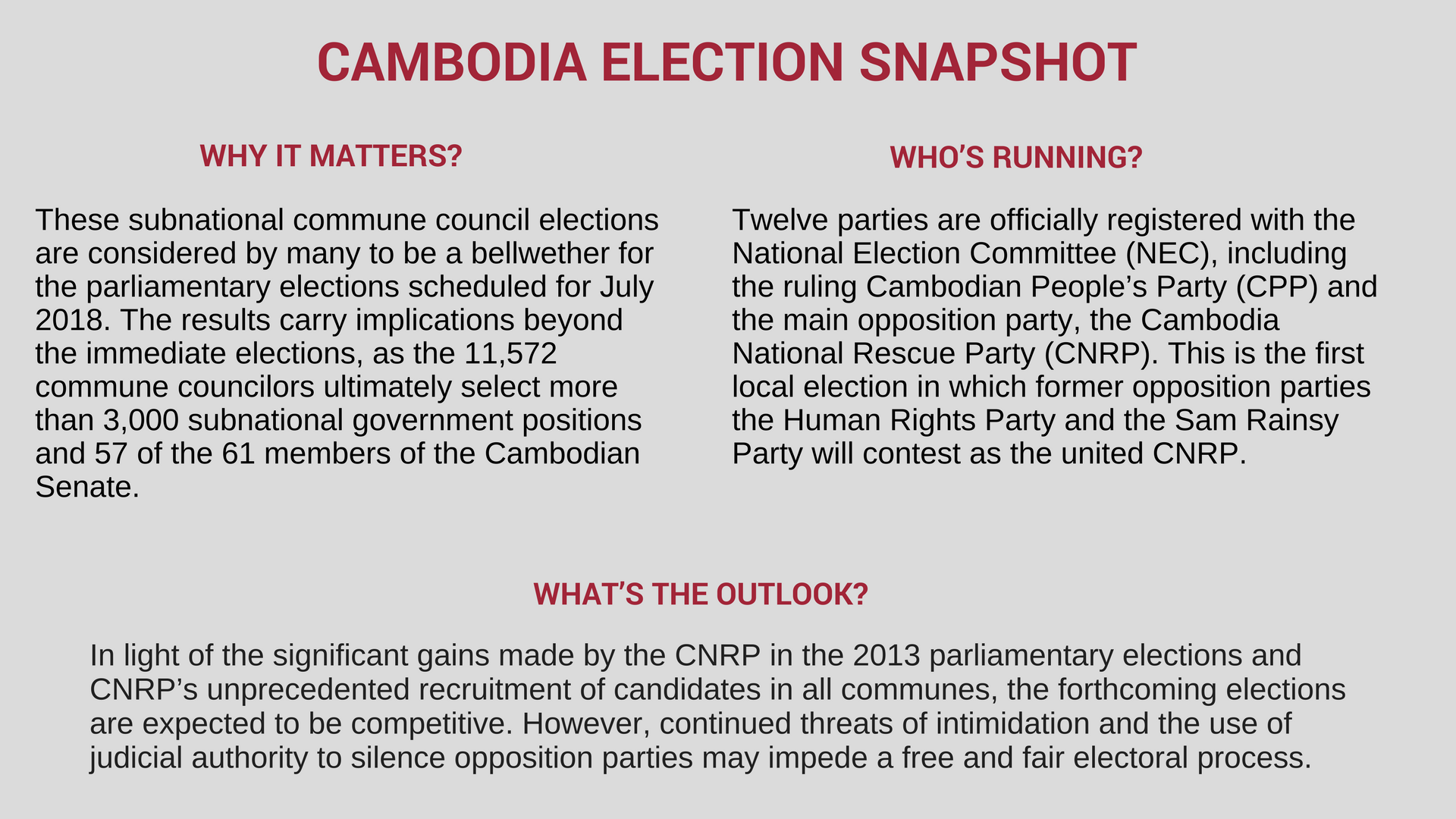 CURRENT CONTEXT
The past year has seen an uptick in political tensions with the arrest and detention of numerous human rights activists; the assassination of prominent political commentator Kem Ley; and parliamentary maneuvers to undermine the power and position of the CNRP within the National Assembly.
While the government has undertaken some measures to address citizen concerns, reforms have not kept pace with demand. Key issues include corruption, land rights and forced land evictions, deforestation and illegal luxury timber smuggling, poor service delivery and lack of employment opportunities for young people. Many young Cambodians are becoming increasingly politically active, and there are a number of young candidates competing in the local elections.
ELECTION OUTLOOK
The elections are anticipated to feature intimidation tactics and foresee potential electoral violence. However, the technical aspects of the election process are expected to proceed relatively smoothly. The CPP is projected to see a decrease in the total number of seats held at the local level, but may ultimately maintain a diminished majority of the 1,646 commune councils (comprising between five to eleven councilors each) being contested.
According to the NEC, 7.8 million of Cambodia's 9.6 eligible voters (81.47 percent) have registered to vote. Voter turnout in 2012 was 65.13 percent and has steadily decreased since the first elections were held in 2002. However, new reforms to improve the integrity of the voter list may improve turnout.
Top