Expectations are high for the Central African Republic's (CAR) February 14 presidential runoff and legislative elections. The elections mark the end of CAR's transitional government and the start of what voters hope will be a more peaceful and secure future.
Current Context
The people of the Central African Republic are set to cast their ballots in the country's third democratic election in just under three months. While voter turnout in recent elections has been high and enthusiasm strong, the situation is complex and the threat of violence remains.
The first vote, held December 13, 2015, was for a constitutional referendum replacing the transitional charter. The referendum—which set presidential term limits to two five-year terms, diminishes the power of the military and protects religious freedom—passed with an overwhelming 93 percent of the vote and a nearly 40 percent voter participation rate. While the vote was largely peaceful, some violence erupted in the capital of Bangui where five people died and 20 others were injured, including two United Nations peacekeepers. Still, despite the sporadic violence, the high voter turnout was seen as a positive development and citizens' eagerness to participate was praised by the U.S. Ambassador.
Two weeks later, on December 30, 2015, CAR held its presidential and legislative elections. The Constitutional Court validated 30 of the 45 intended presidential candidates; however, former President Francois Bozize, whose 2013 overthrow by Muslim Seleka fighters led to the country's brutal conflict, was among those candidates the Court rejected. Some intermittent violence was again experienced in the aftermath of the rejection of Boizize's candidacy.
Ultimately, the top two presidential candidates were Anicet-Georges Dologuele and Faustin Touadera, both former prime ministers. Dologuele was prime minister from 1999-2001 and is the former head of the Development Bank of the Central African States. Touadera, a former academic, was prime minister under Bozize from 2008-2013. Because neither candidate received 50 percent of the vote they will head to a runoff on February 14.
The legislative assembly results, meanwhile, were less clear cut. More than 1,700 candidates running for 140 seats across the country made for significant logistical challenges. Issues with the printing and delivery of ballots were extensive; in many instances, ballots featured the wrong candidates, listed rejected candidates, omitted approved candidates or listed some candidates in multiple constituencies. Challenges were so widespread the Constitutional Court cancelled the results and called for a new legislative election on February 14.
Election Outlook
While both presidential candidates are former members of one of CAR's most powerful political parties, Kwa Na Kwa, it remains unclear who will win on Election Day. Dologuele is broadly associated with those who are more economically and educationally well-off, while Touadera appeals more to the working-class and low-income voters. Moreover, groups of supporters and coalitions formed around the original 30 presidential candidates do not necessarily correlate directly to one of the two remaining candidates, making it difficult to determine where their support will go.
Similarly, the sheer number of candidates for the legislative assembly makes it nearly impossible to determine the ultimate election outcome. The political parties are broke after spending their money on the original legislative elections only to have the results unexpectedly tossed out. This leaves them scrambling to form coalitions and makes predicting the results challenging.
What is known, however, is that voter interest and expectations are high. War weary and eager for security, the citizens of CAR are optimistic this election will finally bring an end to the violence that has ravaged their country for the last few years. Voters should expect long lines, high turnout and logistical challenges.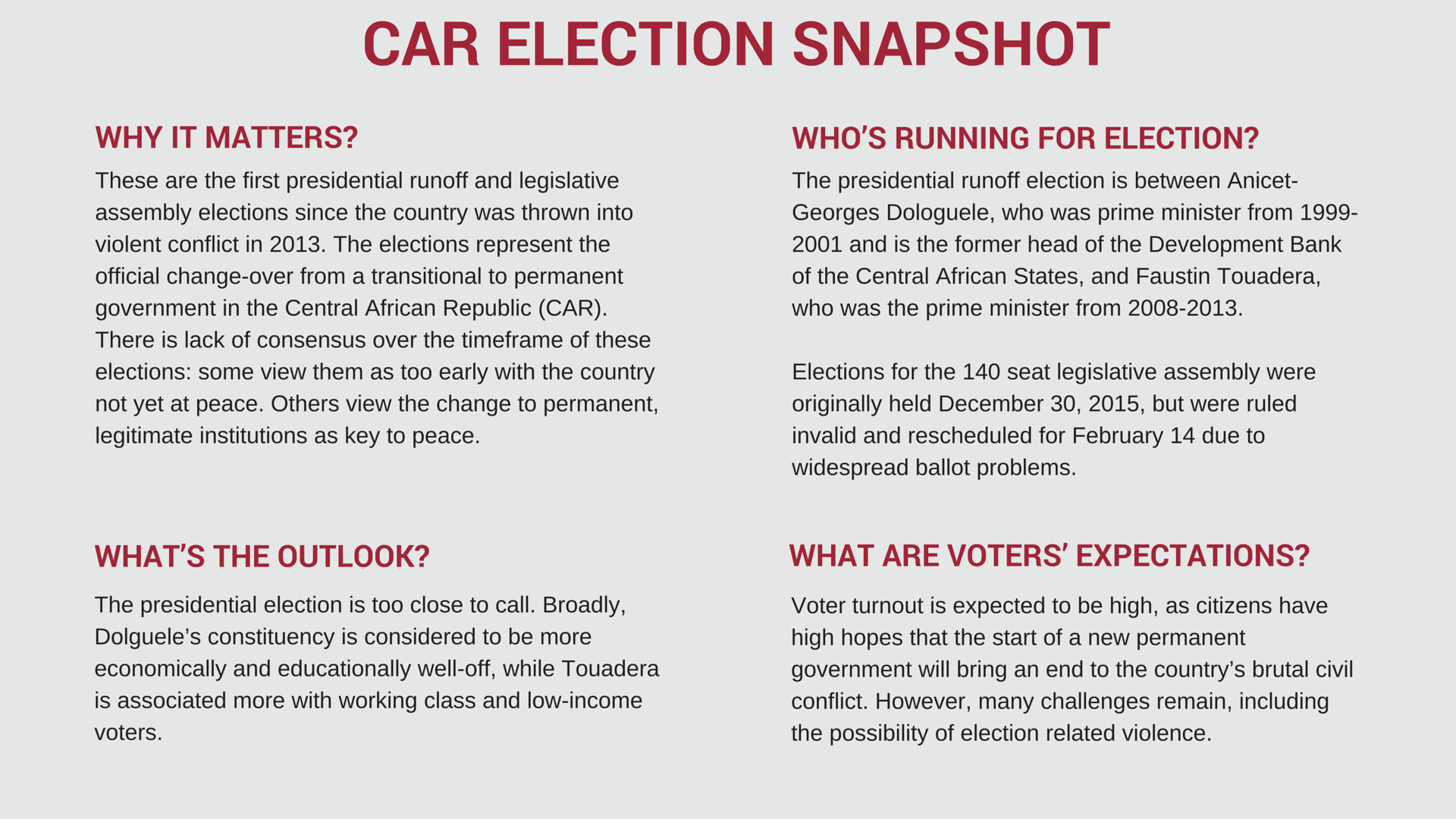 IRI in CAR
With its partners Internews and Mercy Corps, IRI has been conducting pre-electoral activities to provide citizens with information on the electoral process and empower citizens, particularly women, youth, internally displaced persons and other marginalized groups to participate in elections. IRI also supports citizens, civil society activists and political actors to mitigate electoral violence. IRI has worked in CAR since November 2015 with support from the United States Department of State Bureau of Democracy, Human Rights and Labor.
Top