Mexico to hold local and gubernatorial elections amidst corruption scandals, controversial campaign tactics and low confidence in politicians.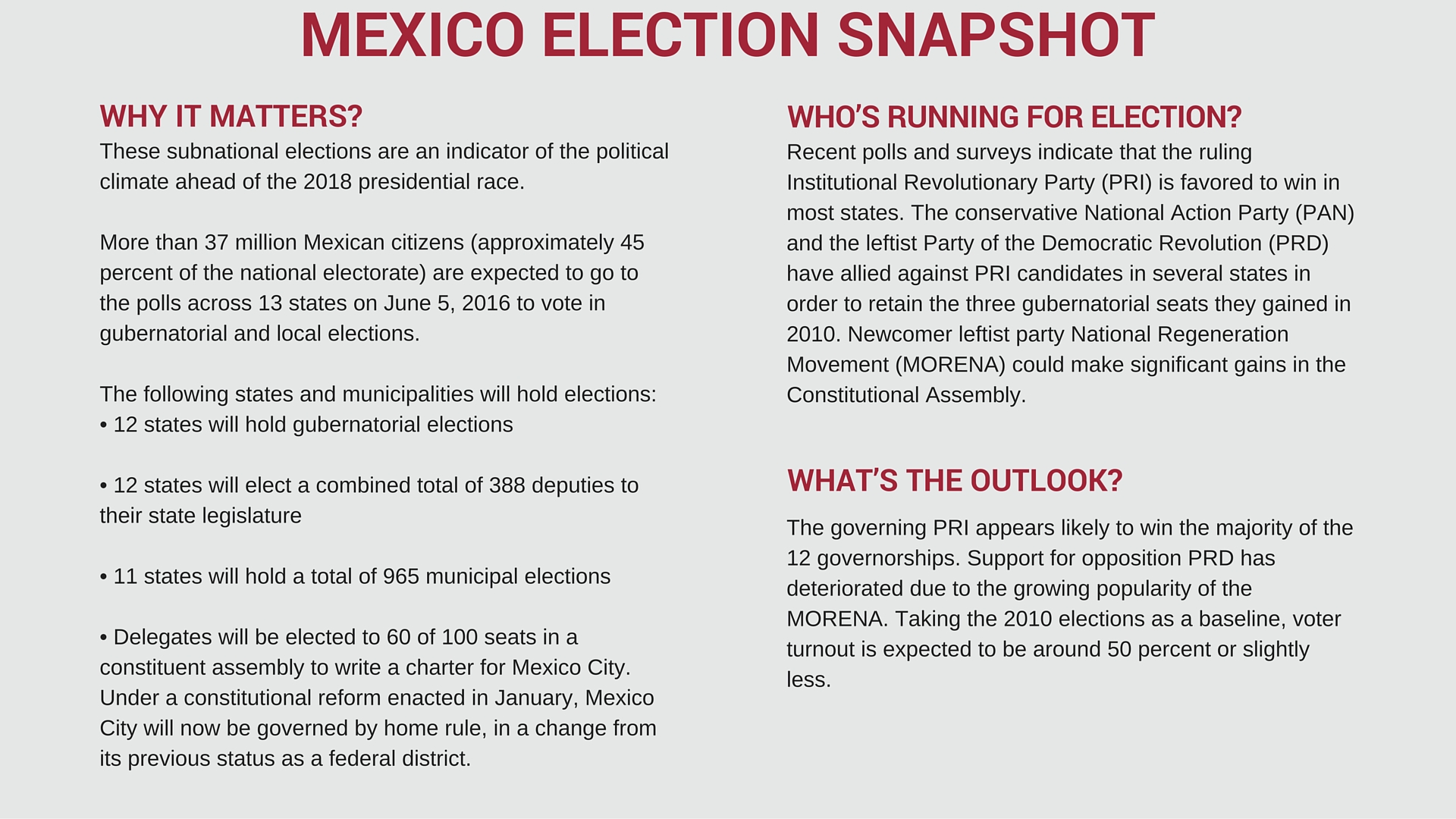 CURRENT CONTEXT
Elections will take place in a climate influenced by a series of corruption scandals in government, and rising insecurity due to the parallel governments controlled by drug cartels in several states. Recent contests have been marred by allegations of vote buying and attempts by candidates to conceal their campaign finances.
Although the PRI is expected to carry most of the states holding elections, discontent with the administration of President Enrique Peña Nieto could erode the party's support. The next most popular parties are PAN, PRD and MORENA. The election will be an important indicator of MORENA's status as a major political force. Created in 2015 by former Mexico City head of government and presidential candidate Andrés Manuel López Obrador (known as AMLO), MORENA has gained momentum among traditional PRD supporters. A survey by the national daily El Financiero puts the party in the lead for Mexico City's constituent assembly.
ELECTION OUTLOOK
The governing party, PRI, is anxious to hold on to its gubernatorial seats in nine of the 12 states holding elections. Surveys predict that PRI will win the majority of the 12 governorships. In the PRI stronghold state of Hidalgo, the PRI candidate is expected to win partly due to the inability of rival parties PAN and PRD to consolidate opposition. Support for PRD has deteriorated by the growing popularity of the MORENA, which has become the dominant leftist party since the 2015 election.
IRI in Mexico
Since 2008, IRI has worked with state and local officials and civil society groups to strengthen governance, accountability and awareness in Mexico. IRI's work with PAN, PRI and PRD has helped strengthen the country's multi-party political system. IRI has helped municipalities adopt best governing practices and aided the development of local transparency commissions. Working in Hidalgo and Nuevo Leon, IRI helps Mexico's civil society build its capacity to influence local policy and advance awareness of criminal justice, crime prevention and human rights reforms.
IRI also helps local congressional leaders, municipal authorities, private sector actors and university partners raise public awareness of judicial reform and related issues. Through federal-level policy forums on criminal justice, crime prevention and human rights, IRI is enhancing communication between the federal government, political actors and civil society groups on justice reform.
Top