With a slowing economy, ongoing social tensions and a rise in drug trafficking, Peruvians have important issues to tackle, yet remain apathetic about their upcoming presidential and congressional elections.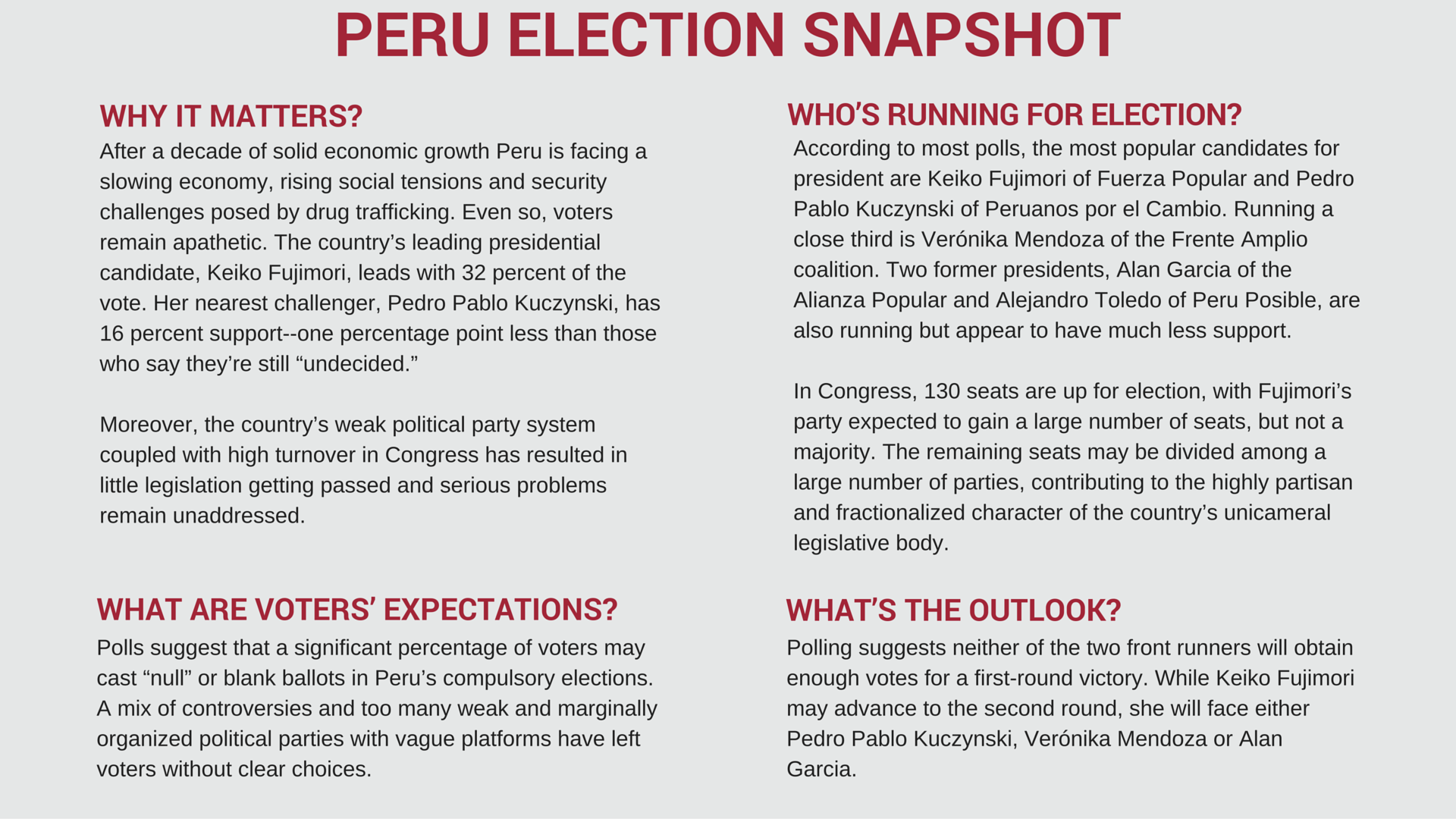 CURRENT CONTEXT
With less than a week before the April 10 election, a large percentage of Peruvian voters remain undecided about whom they'll support for president or congress. A weak and disorganized political party system coupled with sensational media coverage of numerous political scandals has left the electorate unenthused about their prospects for political leadership, according to a recent Ipsos opinion poll.
Recent polls show Keiko Fujimori leading the race for president with 32 to 37 percent support; not enough to avoid a runoff in Peru's two-round electoral system, but twice as much support as her nearest competitor, former prime-minister Pedro Pablo Kuczynski.
Similarly, there is no clear consensus in the race for Peru's 130 congressional seats. During the last two congressional elections nearly 80 percent of those elected were new to congress. This legislative inexperience coupled with high turnover and weak party affiliation has left Peru's unicameral Congress fragmented. Many members, aware that their personal appeal is greater than their party's strength, simply abandon their party or alliances thereby contributing to a lack of consensus and legislative stagnation.
This sense of disarray and voter antipathy comes at a difficult time for Peru. After a decade of solid economic growth driven in large part from extractive industries, the country is facing a slowdown. Global commodity prices are declining and the uneven growth between coastal Peru and the interior is exacerbating social tensions. Districts where there are ongoing social and environmental concerns need attention, especially near extractive industries, where violent protests in the past have resulted in deaths and injuries.
An uptick in drug trafficking and associated urban crime has made citizen security another top concern. Other issues include corruption, the quality of social and educational services, economic growth and the need for political reforms, such as the development of a democratic model of party governance and establishing links between legislative representatives and their constituencies.
ELECTION OUTLOOK
Voting is mandatory in Peru, however voters can cast blank or "null" ballots. According to Ipsos polling, many voters appear ready to cast such ballots, which is an indicator of the deep dissatisfaction with the current system.
Still, voter education drives are ongoing, including a joint venture between the National Electoral Court (JNE), which oversees elections, and civil society organizations that are trying to educate voters on the different party platforms and policy choices.
Also, the Office for National Electoral Processes (ONPE), which organizes and carries out Peru's elections, has announced plans for increased use of electronic voting and has launched an effort to ensure voters know how to use the electronic ballot. It's estimated nearly three million Peruvians, or 14 percent of the country's eligible voters, will use electronic voting machines this year.
This will also be the first national election since Peru passed a law making it more difficult for candidates to "import" voters from neighboring districts to cast ballots in their favor. This issue has been considered mostly as a local election problem, but it remains to be seen how much of an effect it might have in the congressional elections.
IRI in PERU
Since 2007, IRI has worked to strengthen the capacities of all Peruvian political parties to represent their constituents and has encouraged members of congress to adopt sound governance practices and build institutional oversight capacity. In 2015, IRI began a pilot program to strengthen dialogue between citizens, municipal and regional authorities and industry representatives in extractive resource zones so that each sector can peacefully reconcile its interests with one another and work toward mutually acceptable goals in effective resource management. In these localities, IRI also works with civil society organizations to strengthen their capacity in public dialogue, participation and impact.

Additionally, IRI assisted in establishing the Women's Peruvian Parliamentary Caucus in 2006, whose members work across party lines to ensure a gender perspective in discussions on education, employment, access to justice and respect for human rights. Through town hall meetings across the country, the caucus has engaged constituents in order to listen to their concerns and develop sound policy solutions. In 2010, IRI worked with the Women's Caucus and the Special Committee for the Revision of the Domestic Violence Law to revise and strengthen several provisions of the national law against domestic violence.
Top