Municipal elections to be held amid declining support for ANC and increased tensions.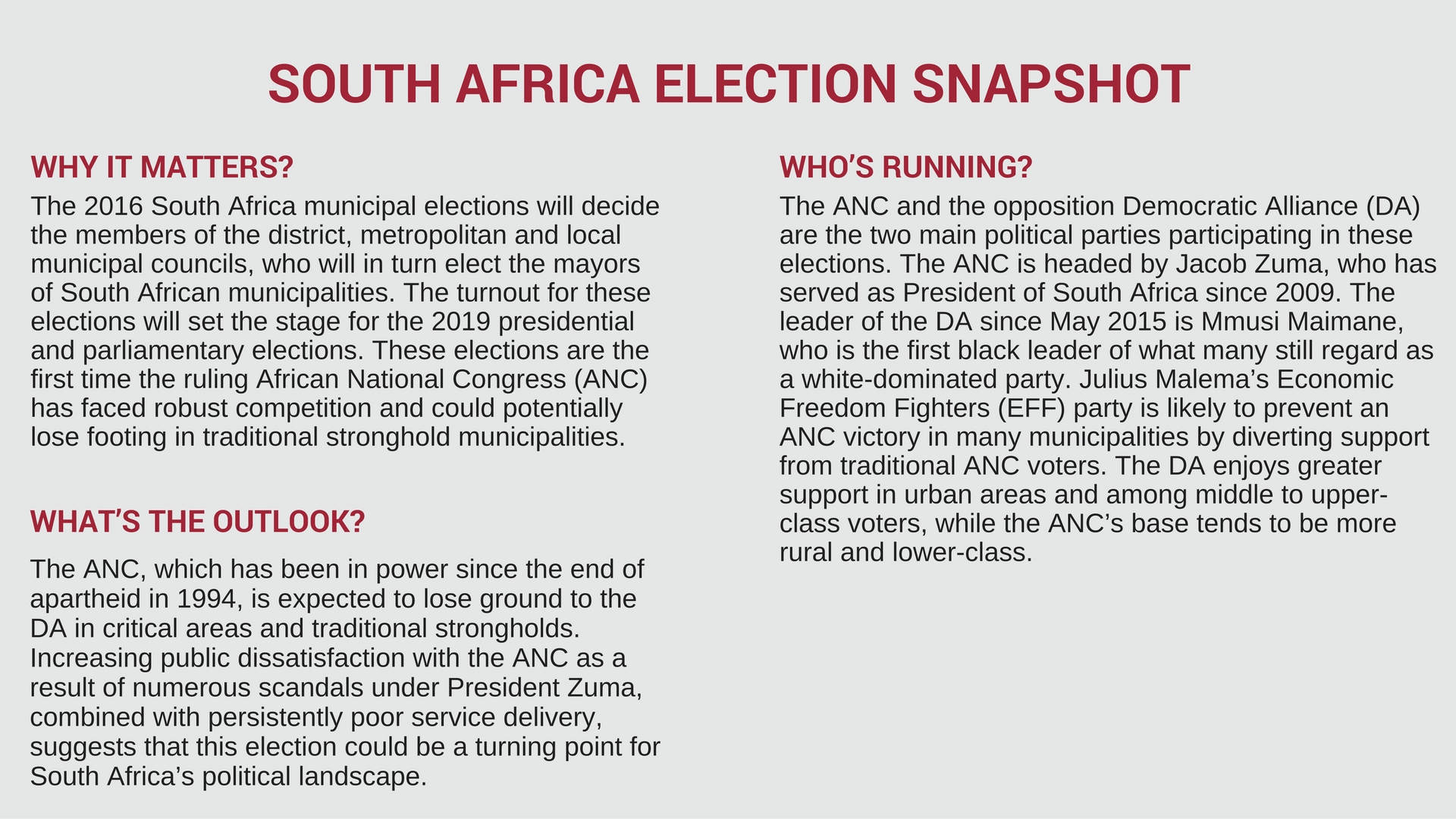 CURRENT CONTEXT
The elections will take place in an environment of increased tensions nationwide. Public outrage over a series of corruption scandals related to President Zuma, persistent inequality, and frequent stand-offs over labor rights in the extractive industries have created a politically-charged atmosphere that has seen 12 people killed in election-related violence. Election-related violence is not new in the country. As a result of the 2011 municipal elections, the ANC's municipal power base was reduced—a development that was partly attributed to the selection of unpopular candidates for mayor in Cape Town and Tshwane, which inspired deadly riots.
ELECTION OUTLOOK
The ANC is expected to sustain losses in municipal elections, though the extent is unclear. A July poll by South African news network eNCA showed a 5-point lead by DA over the ANC in Johannesburg (36 percent to 31 percent), a 16-point lead in Tshwane (40 percent to 24 percent), and a 15-point lead in Nelson Mandela Bay (42 percent to 27 percent). Between 14 and 16 percent of people polled were undecided. The rise in support for the opposition party aligns with a general trend of dissatisfaction with municipal and national government. A May 2016 poll by Afrobarometer found that six out of ten South Africans disapprove their local councilors' performance over the past year. The ANC focused its campaigning in the Western Cape District and the City of Cape Town, while the DA has targeted Tshwane, Johannesburg, Nelson Mandela Bay, and Tlokwe and will seek to increase its majority in Cape Town.
The ANC has dominated South African elections for the past 20 years, but their deteriorating support base—combined with widespread dissatisfaction with the performance of municipal governments in key areas such as service provision— could deliver a substantial reduction in their power. Considerable gains by DA would suggest that the population is losing faith in the ANC and the party's ability to govern. If the ANC suffers heavy losses, the party's heavy reliance on Jacob Zuma in campaigning against the opposition could portend his removal as the leader of the ANC.
IRI in South Africa
Since 1994, IRI has worked with civil society organizations and academics in South Africa to highlight the challenges facing the country and the ways its government and citizens can work together to find solutions.
IRI's most recent program focused on local government service delivery provision in informal settlements in mining areas of the North West province. The program identified challenges faced by residents of the informal settlement, particularly migrants, when seeking to engage their local representatives and access basic service delivery, and provided recommendations as South Africa prepared for local elections.
Top