On March 20, Timorese citizens will go to the polls to vote in the presidential election in a contest likely to be dominated by issues surrounding infrastructure, education and employment.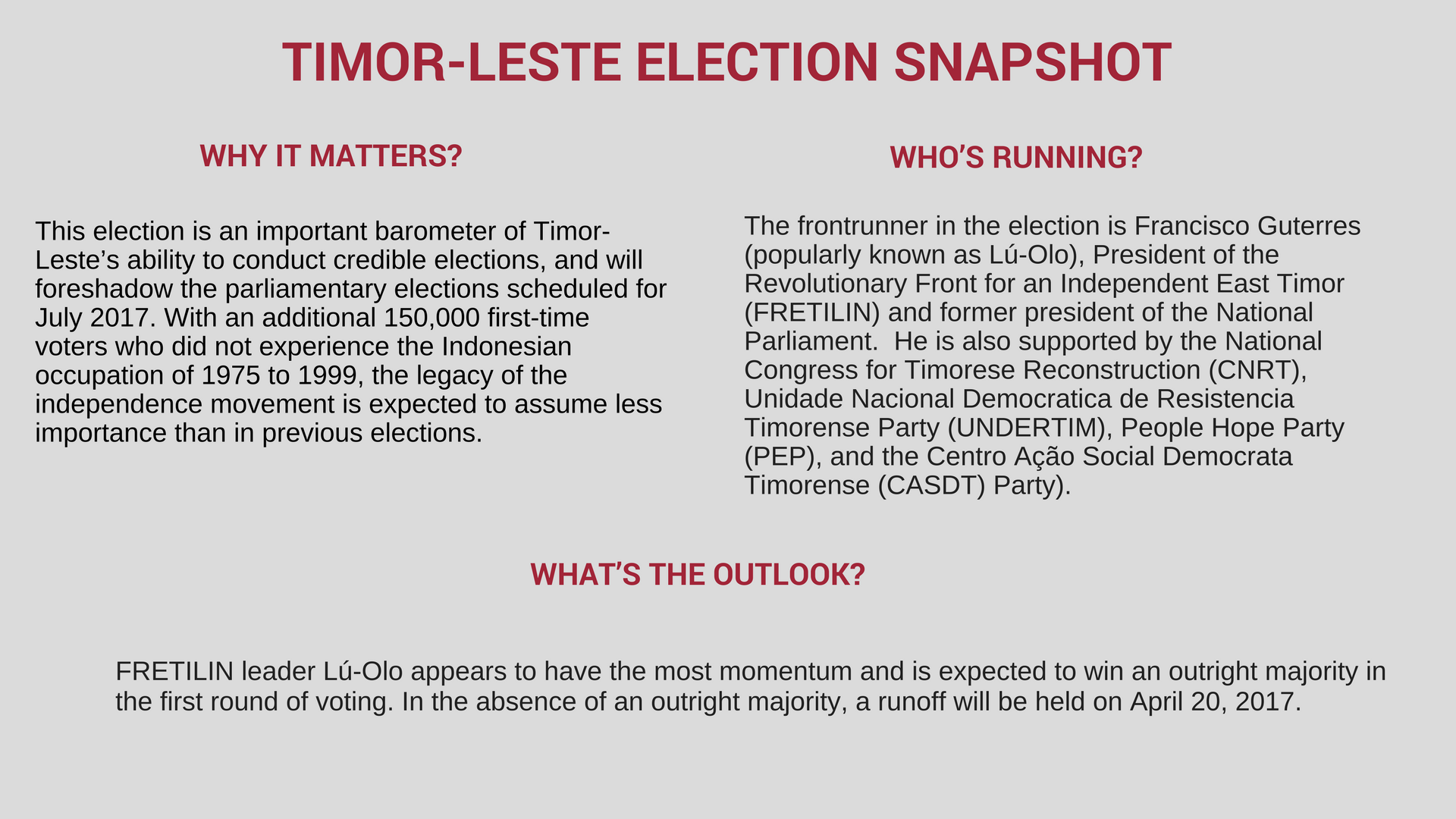 CURRENT CONTEXT
This is the fourth election to be held in Timor-Leste, and the first to be independently organized by local election management bodies and to permit absentee voting for expatriates. According to IRI's November 2016 survey, the most important national issues are the condition of the country's roads (29 percent), employment (11 percent) and education (8 percent).
Previous elections have been marred by small-scale violence and voter intimidation, particularly in remote areas. According to IRI's November 2016 poll, 66 percent of respondents stated that they are "very concerned" that violence may take place in their district during the upcoming presidential and parliamentary elections. State officials have called on political leaders, candidates and citizens to ensure an environment of tolerance, stability and peace during this year's elections. Júlio Hornay, the commander-in-chief of the National Police, assured the public that security forces are prepared to guarantee security throughout the country during the election period.
ELECTION OUTLOOK
According to IRI's November 2016 survey, more than half of respondents were undecided about their choice for the next preference, though 21 percent favored FRETILIN leader Lú-Olo. Lú-Olo has been endorsed by Xanana Gusmão, an influential former president and Prime Minister and the current Minister of Planning and Strategic Investment, and won the support of the CNRT party—increasing his chances of winning the presidency. Turnout is expected to be significant: previous elections have attracted 70 percent of voters, and 98 percent of respondents in IRI's poll said they were "very likely" to vote in the presidential election.
Top