Rising Stars Learn About Democratic Transitions from Czech Republic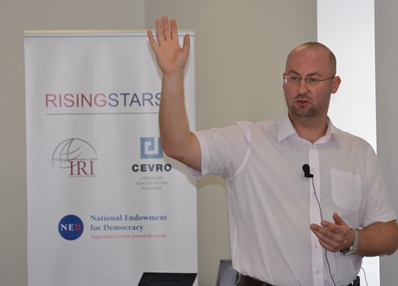 Democracy activists from Belarus, Bhutan, Bolivia, Burma, South Sudan, Sudan and Syria recently visited the Czech Republic for a two-week program on topics ranging from democratic governance to executive management and macroeconomic policy.
Hosted by IRI's Rising Stars program and CEVRO-Liberal Conservative Academy, the Czech think tank and academic institution, the program allowed participants to meet with and learn from experts, academics, government officials and civil society organizations who spoke of the Czech Republic's successful democratic transition.
In the period immediately after a democratic transition, newly formed governments often struggle with economic issues. In an effort to better understand the importance of sound economic policy during the post-transition period, Josef Sima, former member of the National Economic Board and current President of CEVRO Institute, provided a practical lecture on economic challenges faced by the Czech Republic during the early years of its transition. In particular, he discussed the use of vouchers to transform the country's nationalized businesses and industries into private entities, allowing for the free market to set the availability and prices of goods.
Another area in need of immediate reform during a post-transition period, though often neglected, is a state's education system. Ondrej Matejka, director of Masaryk University's Civic Education Center, delivered a lecture on how to transform an education system that has been shaped by an authoritative society. Under the communist regime, civic education was absent from primary and secondary school curriculums; as a result, a large segment of the population had no understanding of the basic tenets of democracy. Matejka discussed the process of developing a new social contract that not only introduced civic education to students but to all citizens. He further added that society must reflect on its history, build a civil society and provide education to its citizens to increase their capacities.
Other sessions focused on topics related to a democratic transition such as media freedom, anti-corruption, reconciliation, transparency, developing a constitutional framework and civic participation. The goal was for participants to take this knowledge home and apply it to their specific political situations.
In addition to learning about the experience of the Czech Republic, participants attended a workshop held by Giorgi Baramidze, Deputy Chairman of the Parliament of Georgia and a member of the Rising Stars Advisory Council, which is composed of reform-minded senior level politicians who played an important role during their country's democratic transition.
Before holding one on one mentoring sessions with participants, Baramidze spoke to the Rising Stars about measures to address corruption during Georgia's transition process, which pervaded all sectors of society prior to the Rose Revolution. Baradmidze led the participants through the approach his country used to combat corrupt practices, which, according to Baramidze, have contributed to a vastly improved institutional environment to do business and for citizens to go about their daily lives. Despite being faced with both external and internal challenges, Georgia has remained committed to the reform process it began in 2004.
Launched in 2007, IRI's Rising Stars program ensures the leaders of new democracies are equipped with skills in effective democratic governance.
Top