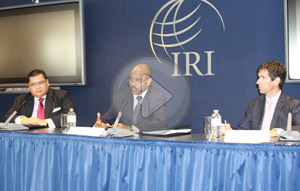 Crisis in the Horn of Africa: A Somaliland Perspective was the topic of an event featuring Dr. Mohamed Abdullahi Omar, Somaliland's Minister of Foreign Affairs. The event hosted by IRI was moderated by Dr. J. Peter Pham, Director of the Michael S. Ansari Africa Center at the Atlantic Council.
In his remarks, Dr. Omar highlighted Somaliland's successes in holding democratic elections and conducting a peaceful transition of power from one political party to another, the country's support in the fight against terrorism and piracy, and its growing economy with a private sector as the country's main employer.
Although lacking international recognition, Somaliland has avoided the chaos characteristic of south-central Somalia. Dr. Omar credits Somaliland's success and stability to good governance. Even as the Horn of Africa faces the worst famine in 60 years Somaliland has been able to stave off famine conditions despite widespread drought. However, Dr. Omar warned increased foreign assistance was required to ensure that catastrophe in Somaliland is avoided.
Dr. Omar also discussed Somaliland's efforts to gain international recognition, drawing attention to the fact that South Sudan was recently recognized as an independent state and the two country's situations are not that different. Somaliland gave unity a chance for 30 years before declaring independence in 1991 from greater Somalia. While he understands the international community's focus on Somalia, he warns that it should not be used as a reason to ignore Somaliland and that its successes – successes of peace, stability and democracy – cannot be sustained without international support.
Dr. Omar assumed the position of Somaliland's Minister of Foreign Affairs in November 2010. Prior to his service as Foreign Affairs Minister, he handled foreign relations for Somaliland's Peace, Unity and Development Party. A self-proclaimed but internationally unrecognized independent state, Somaliland is located in the northernmost third of Somalia and enjoys a level of governance in stark contrast to that provided by the Somali central government.
Top