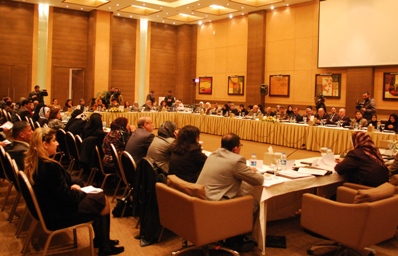 Though laws protecting the rights of women exist in Iraq, many are unenforced or have loopholes that undermine their effectiveness. To help protect women's rights and reform statutes that endanger and disenfranchise women, IRI has helped Iraqi partners launch the Iraq Taskforce on Discrimination Against Women.
Work on establishing the taskforce began in the autumn of 2011 at IRI sponsored workshops focused on women's rights, the legal statutes covering women's rights and possible reforms. Interest in the effort grew rapidly, and in December IRI hosted large gathering to officially launch the campaign.
The taskforce convened its inaugural conference January 7-9, 2012. Among the national and local officials in attendance were a number of high-level participants, including the Secretary-General of the Council of Ministers Dr. Ali Al-Allaq, and the Secretary-General of the Kurdistan Regional Government (KRG) High Council for Women Affairs Ibtihal Al-Zaidi. Also in attendance were chairwomen of the provincial councils' women's affairs committees, representatives from the Ministry of Human Rights, members of parliament, judges from the Supreme Federal Court, representatives from KRG ministries, nongovernmental organizations and women's rights activists. The event was covered in local Iraqi media outlets, demonstrating the broad interest shared by the public in the taskforce's mission.
Perhaps most significant was the participation of Iraq's former Prime Minister and current leader of the al-Iraqiya parliamentary bloc, Dr. Ayad Allawi. Allawi's participation, given the current political crisis in Baghdad, highlights the importance of the work of the taskforce and the high-level interest it has generated among Iraq's political class. Allawi commended IRI's work on the issue, specifically noting the importance of protecting women's rights and ensuring that they are active participants in Iraq's development.
The three-day conference focused on reforming Iraq's legal landscape in relation to protecting women's rights. Over the course of the three days, members of the taskforce proposed draft language for legislative reforms, debating their merits and discussing ways to reconcile potential conflicts between Iraqi and Sharia law. The proposed language received broad support from the participants, who requested that the final language be approved by both Sunni and Shia religious scholars.
To ensure that its work continues beyond the conference, the taskforce formed a committee to review and finalize proposed changes to the draft legislation. The committee, which has already begun its work in the brief period since the conference, is composed of the Secretary-General of the Council of Ministers, judges from the Supreme Federal Court, two religious scholars and the Minister of Women's Affairs. Upon adoption of the final language the taskforce will turn its attention to introducing the landmark reforms in individual provincial councils, and advocating for their passage.
Top