Tunisian Elections Mark Democratic Milestone, Much Work Remains
IRI's observation delegation found Tunisia's historic parliamentary elections on October 26th to be credible, transparent and allowing of genuine political competition. However, numerous challenges still remain for this transitioning democracy.
Tunis, Tunisia – Tunisian citizens at home and abroad spoke strongly in favor of democracy on October 26 to elect the country's first post-revolution parliament. An international delegation from IRI said the process was "credible, transparent and allowed for genuine political competition among political stakeholders."
Tunisian citizens should be proud of the significant strides the country has made since the 2011 revolution. The October 26 elections represent a key milestone in the country's consolidation of democratic institutions and practices. Nearly 60 percent of Tunisia's 5.2 million registered voters cast their ballots in the October 26 parliamentary elections that delegation chairman Andrew S. Natsios called a "step forward in Tunisia's difficult path to democracy."
Natsios, who served as administrator of the U.S. Agency for International Development from 2001-2006, said he was impressed with the ability of Tunisians to conduct these elections during challenging times for the country. "Not only was Tunisia facing threats of violence from extremists who would like to stop democracy from gaining a new foothold in the region, but the country also had to tackle the logistical challenges of holding these elections while simultaneously preparing for the presidential election that is just a few weeks away."
Despite these challenges, IRI said the October 26 elections place Tunisia on a solid course to consolidate its new democratic institutions with a presidential election on November 23 and a potential presidential run-off election in December. These elections occurred in the context of a new constitution passed in January 2014, the creation of an independent election administration and approval of an inclusive election law, all of which indicate a commitment to pluralism and respect for human rights.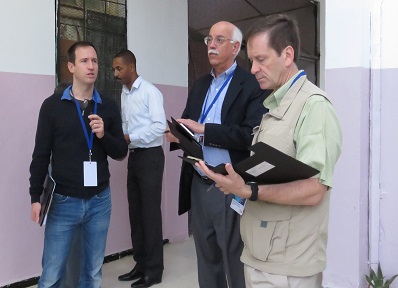 Mark Green, president of IRI, and former ambassador and U.S. Congressman commented, "These elections were an important step in Tunisia's democratic transition, one that still faces numerous challenges if Tunisia is going to fulfill the hopes of those who took to the streets in 2011 to demand a greater voice in their government and greater freedom in their daily lives."
IRI reached its own milestone on October 26 observing its 200th and 201st elections with delegations in both Ukraine and Tunisia. The nonprofit Institute also unveiled its new Election Snapshot (Arabic and French), which gives citizens and media an easy to use reference on how Tunisia preformed across a number of categories including:
Electoral laws, guidelines and processes
Electoral environment
Electoral integrity
Voter empowerment
Freedom to campaign
Women and youth participation
Freedom to participate
Election Day logistics
Counting and tabulation process
The Snapshot utilizes key indicators based on international standards for the conduct of open and transparent democratic elections and assigns basic value to the indicators based on the observations of IRI observers.
IRI's Election Snapshot Analysis
Electoral Integrity and Election Day Logistics
IRI commends the Independent High Authority for the Elections(ISIE) and respective Independent Regional Authorities for Elections (IRIE) for administering a credible process that was well organized and orderly, and which allowed voters to express their will at the ballot box in a manner that was unfettered and private. ISIE and IRIE election workers appeared to be aware of the electoral procedures and had received training in advance of Election Day.
Independent and political party observers were granted full access to the process, including vote counting and tabulation lending to the overall impression of transparency of the election.
Although IRI observers often witnessed security personnel inside polling centers, which is a violation of the election law, the presence of security forces did not appear to interfere in the voting process or appear threatening.
IRI noted several areas where future elections could be strengthened. Although an improvement from the 2011 national constituent assembly (NCA) elections, the delayed issuance of electoral procedures resulted in delayed training of election workers.
Improved Transparency
Coming elections would be strengthened with timely publicizing of electoral rules and procedures. IRI's observation efforts during the voter registration and pre-electoral period also noted that a more proactive public communications effort by ISIE would have resulted in greater transparency of its decisions and improved awareness on the part of electoral stakeholders of electoral procedures.
Improved Efficiency
A key process point of improvement that IRI would encourage ISIE to make before the presidential election is a more equitable distribution of registered voters within polling centers. The assignment of voters to polling stations within a center according to a sequential listing of national identification numbers on the voter registry, whether intended or not, had the effect of separating older voters who have lower identification numbers from younger voters.
In essence, this resulted in longer lines in lower numbered stations earlier in the day and fewer voters in higher numbered stations. Not only did this lengthen wait times for some voters but also created greater workloads for some election workers. Coming elections will go more smoothly and the burden on poll workers will be reduced if polling stations are assigned in a different fashion, such as by surname, a randomization of voter identification number or by home address.
Vote Counting and Tabulation
Although vote tabulation and counting were conducted according to established electoral procedures, the efficiency and orderliness of future elections would be strengthened with additional training of polling workers. Greater adherence to electoral rules to ensure non-interference in the counting and tabulation process is also required of independent and political party observers.
Making these changes, and changes to the distribution of registered voters within polling centers would also more equitably distribute workloads for election workers and reduce fatigue at the end of the day.
Voter Empowerment and Participation
The increase in voter turnout from the 2011 NCA elections from 51 to nearly 60 percent suggests that Tunisians are engaged in their democratic transition and enthusiastic about newfound freedoms. Still, voter participation for the October 26 elections represented a little more than half of eligible voters, suggesting there is still more work to be done in fostering an inclusive, fully participatory electorate. Anecdotal evidence suggests young voters may not have turned out in as large of numbers as older voters. Regardless, it is clear that there must be a greater emphasis placed on the civic engagement of young Tunisians if the country is to realize its full democratic potential.
Role of Civil Society
Many people believe that conducting a successful election simply consists of citizens casting ballots and votes being counted. However, elections are ultimately embodied in countless citizens both inside government and in civil society. The role of Tunisian civil society is especially important in elections with more than 1,300 political party and candidate lists and since this is only Tunisia's second democratic election since the 2011 revolution.
The widespread presence of independent observers representing civil society contributed to the transparency of Election Day. They also helped educate voters, held political parties and candidate lists accountable for their electoral promises, raised awareness of violations of campaigning rules, and added to the strength of the overall process.
Freedom to Campaign
Although political campaigning intensified over the course of the 21-day campaign period, political parties and candidates appeared to struggle to outline clear platforms based on policy. This was partially due to the large number of political parties and candidate lists, but was also due to an overly restrictive campaign calendar that made it more difficult for voters to distinguish between political competitors.
IRI's long-term observation effort revealed that many parties engaged in campaign-like activities prior to the start of the official campaign period and that this practice occurred widely without respect to a particular party or group. Relaxing campaign rules in future elections would provide Tunisian voters with more opportunity to make informed choices and would likewise ease the burden on electoral institutions forced to administer unnecessarily burdensome rules about campaign activities.
Campaign Finance
IRI heard a number of accusations about illicit campaign financing during the pre-electoral period. In future elections, greater clarity from electoral authorities on use of campaign funds and more realistic reporting and expenditure rules would produce a more vibrant campaign environment with greater clarity and improved enforcement of campaign finance rules.
Looking Toward the Future
Tunisian leaders will need to work hard to meet the expectations the public has for freedom, prosperity and stability. As Tunisian Prime Minister Mehdi Joumaa recently told IRI, Tunisia must turn the lofty language of the constitution into behavior if it is to advance its democracy.
Tunisians have told their political leaders that they expect them to work together to achieve a successful democratic transition and bring about the desired political stability and economic reforms needed. This was the hope of the democratic activists who took to the streets in 2011, but their dreams will not be realized without the cooperation of all political stakeholders.
Background
IRI's international delegation of 43 observers witnessed voting and ballot counting at more than 200 polling stations throughout the country. In addition to observing the elections in Tunisia, IRI had teams in Belgium, France and the United States owing to the country's unique system of allowing Tunisian citizens living overseas to have representatives in Tunisia's parliament.
Additionally, IRI long-term observers witnessed the voter registration process, pre-electoral preparations and electoral campaign period to gain a complete perspective of the October 26 elections.
IRI's delegation was led by Andrew S. Natsios, former administrator of USAID and currently executive professor and director of the Scowcroft Institute of International Affairs at the Bush School of Government and Public Service at Texas A&M University. Natsios was joined on the delegation by Ambassador Mark Green, president of IRI, former U.S. ambassador to Tanzania and former U.S. congressman representing Wisconsin's 8th District.
Other delegates were:
Rep. Tom Petri, member of the U.S. House of Representatives representing Wisconsin's 6th District;
Tami Longaberger, chief executive officer of the Longaberger Company, chair of the Arab Women's Leadership Institute's Board of Directors and a member of IRI's Board of Directors;
Max Boot, the Jeane J. Kirkpatrick senior fellow for national security studies at the Council on Foreign Relations;
Scott Carpenter, deputy director of Google Ideas;
Bruce Chapman, chairman of the board of the Discovery Institute;
Barbara Haig, deputy to the president for policy and strategy at theNational Endowment for Democracy;
Amy Hawthorne, resident senior fellow at the Atlantic Council's Rafik Hariri Center for the Middle East; and
Pierre Prévôt-Leygonie, strategic and campaign communications consultant and former Director of Fundraising and Communications for Mobilisation Directe in France.
Judy Van Rest, IRI executive vice president, and Scott Mastic, director of IRI's Middle East and North Africa programs also assisted in the mission.
Prior to the elections, delegates were briefed by political party representatives and Tunisian election officials. They were also briefed on the rights and responsibilities of international observers and Tunisian election law. Delegates were then deployed throughout the country where they observed at polling stations to identify and evaluate strengths and weaknesses in Tunisia's election system, including campaign regulations, the balloting process, vote tabulation and reporting.
In addition to the findings of its international delegation, IRI long-term observers have issued reports available at Tunisia Elections Dispatch No. 1: Voter Registration, Tunisia Elections Dispatch No. 2: Voter Registration and Tunisia Elections Dispatch No. 3: Pre-Election Period.
From September 9-12, an IRI-National Democratic Institute pre-election assessment mission reported that Tunisia was on a decidedly democratic path, but cautioned that to maintain public confidence, it must ensure parliamentary and presidential elections are free of undue partisan interference and manipulation. The full report is available in English, Arabic and French.
IRI endorses the Declaration of Principles for International Election Observers and Code of Conduct for International Election Observers, and since 1983, through international election observation missions and assessments, has monitored 201 elections in 56 countries.
Top