Tunisians Hold Credible, Democratic Election, Lack of Youth Participation Cause for Concern as Country Moves Forward
On December 21, Tunisia completed the final election of a cycle that saw it elect its first permanent parliament and its first democratically elected president.  After witnessing the October parliamentary elections and the first round of the presidential elections, IRI's delegation said of this round, "While the election was a success, the lack of youth participation continues to be a cause for concern as Tunisia moves forward."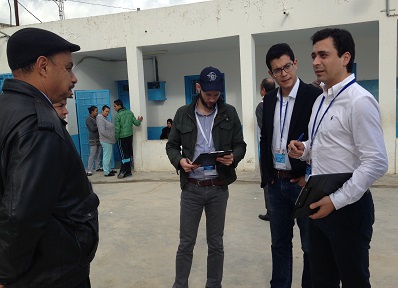 On December 21, Tunisia completed the final election of a cycle that saw it elect its first permanent parliament and its first democratically elected president. After witnessing the October parliamentary elections and the first round of the presidential elections, IRI's delegation said of this round, "While the election was a success, the lack of youth participation continues to be a cause for concern as Tunisia moves forward."
Luís Vales, the leader of IRI's delegation and a member of the Portuguese Parliament, who himself, at 35, represents the impact of young political leaders, noted the lack of youth participation. "The continued absence of young voters is an especially troubling factor that Tunisians need to address in future elections," Vales said. "However, the country should be proud that they decided their future course without fear and through the ballot box, a victory that remains elusive in most of the Middle East and North Africa region."
"Civil society and candidate observers played an important role in the election process," said Thomas E. Garrett, co-leader of IRI's delegation and vice president for programs at the Institute. "The strong participation of these groups has helped ensure an open and credible process."
Along with the lack of youth participation, another area of concern was voter turnout. Scott Mastic, IRI's director of Middle East and North Africa programs noted, "Although this third and final election of 2014 ended without major incident and Tunisians should be commended on the process, voter participation decreased with each successive election. While much remains unknown about the voting behavior of the electorate, given the lack of democratic elections prior to 2011, the potential for growing disillusionment with the country's politics is a concern and something Tunisia's new leaders must be prepared to address."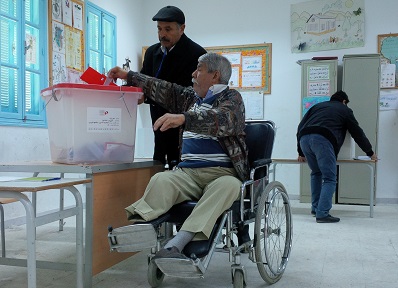 IRI's international delegation of 40 observers representing Great Britain, Italy, Portugal, Romania, Serbia and the United States witnessed voting and ballot counting at more than 280 polling stations. In addition to observing in 16 voting districts in Tunisia, IRI delegates also witnessed voting in Belgium, England and the United States.
As with the October 26 parliamentary elections and the first round of the presidential elections on November 23, IRI issued its Election Snapshot (Arabic and French), that gives citizens and media an easy-to-use reference on how Tunisia performed across a number of categories including:
The Snapshot utilizes key indicators based on international standards for the conduct of open and transparent democratic elections and assigns basic value to the indicators based on the observations of IRI observers.
IRI's Election Snapshot Analysis
Electoral Laws, Guidelines and Processes
Electoral Administration
The Independent High Authority for Elections (ISIE) is to be credited with administering another successful, nationwide election. Election officials conducted the voting process with a high degree of professionalism and transparency, which itself contributes to the new democratic culture that is emerging in Tunisia. Addressing concerns and recommendations from Tunisian and international groups in the first two elections, ISIE enabled a smooth voting process with few major complaints. However, IRI did hear reports from civil society observers of miscommunication between ISIE and polling center staff in several governorates about who could be present in polling centers and stations and where they were allowed to be.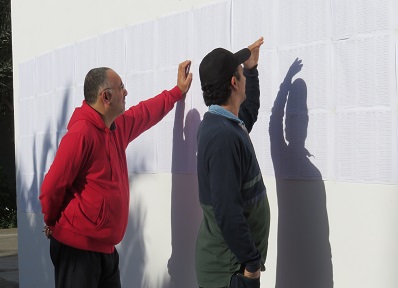 While there were no reports of polling officials prohibiting civil society observers from witnessing the voting process, ISIE's late announcement on December 19 specifying observers' presence and movement inside polling centers was confusing and appeared unnecessary. It also caused confusion regarding the treatment of international observers and, on a number of occasions, IRI's observers were given contradictory guidance by polling officials. In future elections, straightforward guidance should be given earlier in the process, and it should be based on genuine need.
IRI notes that in all three 2014 elections, ISIE did not provide demographic information on voter participation. The release of demographic-specific information would provide an invaluable resource to help political parties and civil society better engage voters in future elections. Such transparency would also help election observers, the media and ISIE better appreciate gaps in voter turnout for future voter education related efforts.
Vote Counting
Although vote counting appears to have improved, IRI, as it did in previous statements, recommends that ISIE issue specific guidelines on counting procedures to create more uniformity in Tunisia's more than 10,000 polling stations. In addition, ISIE should provide clearer guidelines on civil society and candidate observers' role during the counting process.
Electoral Integrity
Campaign Financing
As in the first two elections in 2014, IRI observers heard complaints of unlawful campaign financing in the lead up to the presidential run-off election. Stringent campaign finance rules created challenges for presidential campaigns seeking to share their political messages with voters while adhering to overly rigid fundraising regulations.
Tunisia's campaign finance law should be improved to allow campaigns to more freely raise money and conduct campaigns in a manner that encourages transparency. IRI recommends that Tunisia's incoming parliament examine current rules regulating public financing limits, individual donations and financial expenditure reporting to determine whether a simplified system that more realistically reflects campaign spending could be instituted. Clarifying and simplifying campaign finance rules would encourage legal behavior and allow for fair, thorough regulation.
Vote Buying
IRI observers heard far fewer accusations of vote buying for the December 21 presidential run-off election. Nonetheless, the extent to which this complaint colored the October 26 parliamentary elections and the first round of the presidential elections on November 23 suggests future efforts to remove ambiguity in the campaign finance law and to strengthen enforcement measures related to vote buying are warranted.
Electoral Environment
Negative Campaigning
More than in the previous two elections, the candidates ran campaigns built on rhetorical hostility. Both the Beji Caid Essebsi and Moncef Marzouki teams spent the bulk of the campaign period attacking each other rather than speaking about their solutions for Tunisia's major challenges. The heavy emphasis on rancor rather than policy may have disillusioned voters, a number of whom were already uninspired with either political option.
It is crucial that in the early stages of Tunisia's new democracy, campaigns be defined by rigorous, policy-oriented debate focused on the country's mounting economic and security problems rather than on acrimonious attacks. Tunisia's voters are desperately waiting for answers to the problems that plague their daily lives.
Role of Civil Society
Tunisia's burgeoning civil society has taken up the mantle of responsibility in holding campaign activists and election commission officials accountable. From observation to reporting, civil society groups have actively engaged in Tunisia's electoral process and are to be commended for having played a major role in its success. The Mourakiboun parallel vote tabulation merits specific mention for presenting a meticulous, well-organized effort that contributed to confidence in the election. The positive role these young civil society activists have played in Tunisia's electoral process will hopefully, encourage more youth participation in the country's new political environment.
The Road Ahead
As Tunisia's well-administered election season comes to a close, newly elected decision makers must take seriously the challenges facing the country. Peaceful elections in Tunisia have given a mandate to a new class of political leaders, and while credible elections are an important step in Tunisia's democratic consolidation, considerable work remains for the country.
Tunisia's high unemployment rate and stagnant economy represent not only an economic problem but also a security problem. The large population of unemployed young Tunisians that need access to jobs is a major issue the incoming government is well advised to address. Tunisia's unnecessarily complex bureaucracy also suppresses business growth and discourages innovation, and corruption still plagues the nation's administration. The new government must move quickly and creatively to begin addressing these admittedly difficult challenges if it is to build on the political success achieved since the revolution.
Background
Leading IRI's delegation was Luís Vales a member of the Portuguese Parliament and deputy secretary general of the Social Democratic Party; and Thomas E. Garrett, IRI's vice president for programs. Other delegates who observed the presidential run-off were:
As with the previous elections, IRI's
long-term observers
, who have been in Tunisia since August 2014 monitoring the pre-electoral environment and election preparations, served as observers on Election Day.
IRI again had delegates in Belgium, England and the United States to witness voting of Tunisian citizens living overseas. Those delegates included:
Past IRI Reports and Statements on this Election Cycle:
Top