Turkey: Focus Group Research Shows Distrust of International Community; Affirms Unique Path to Democracy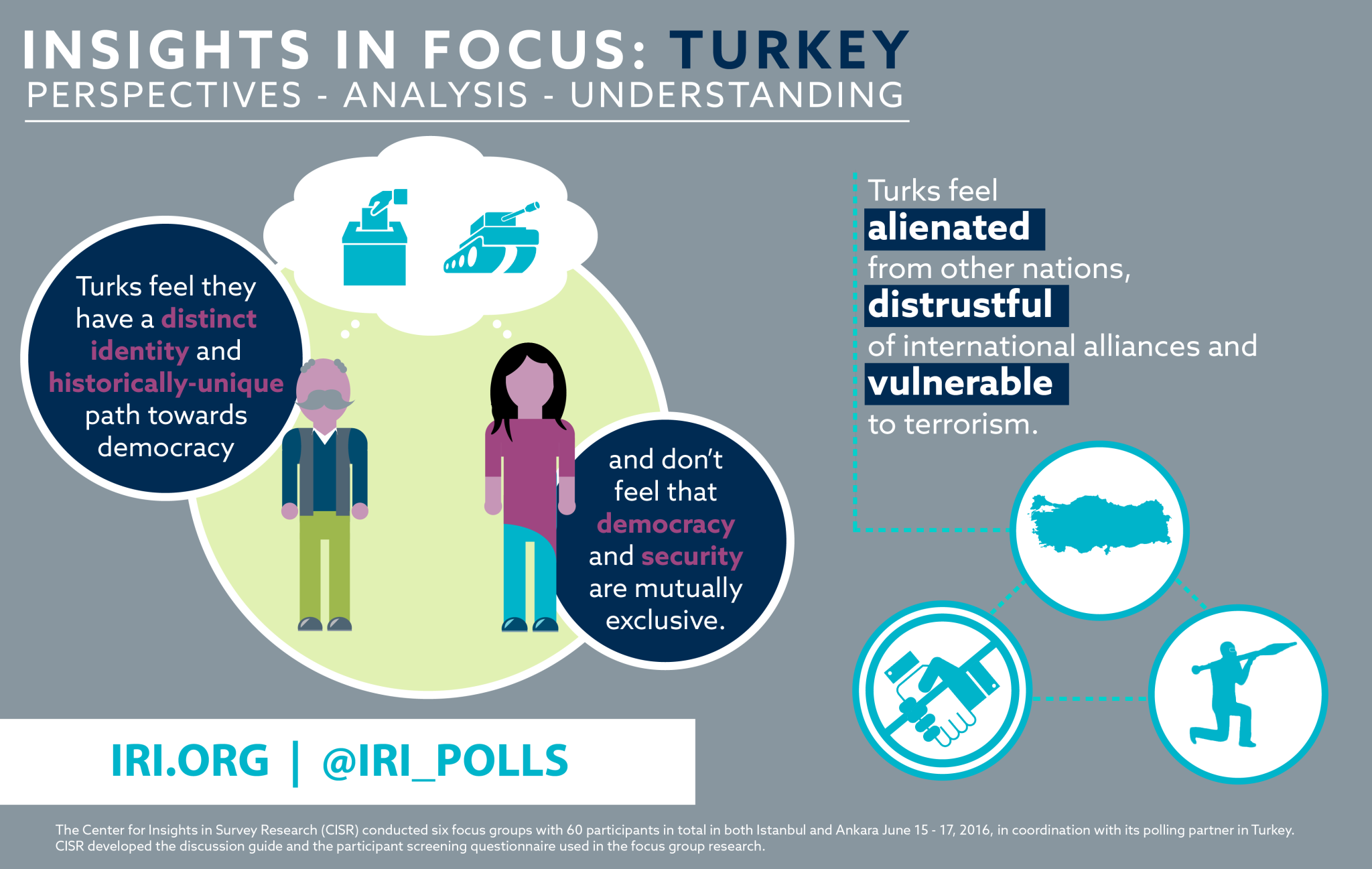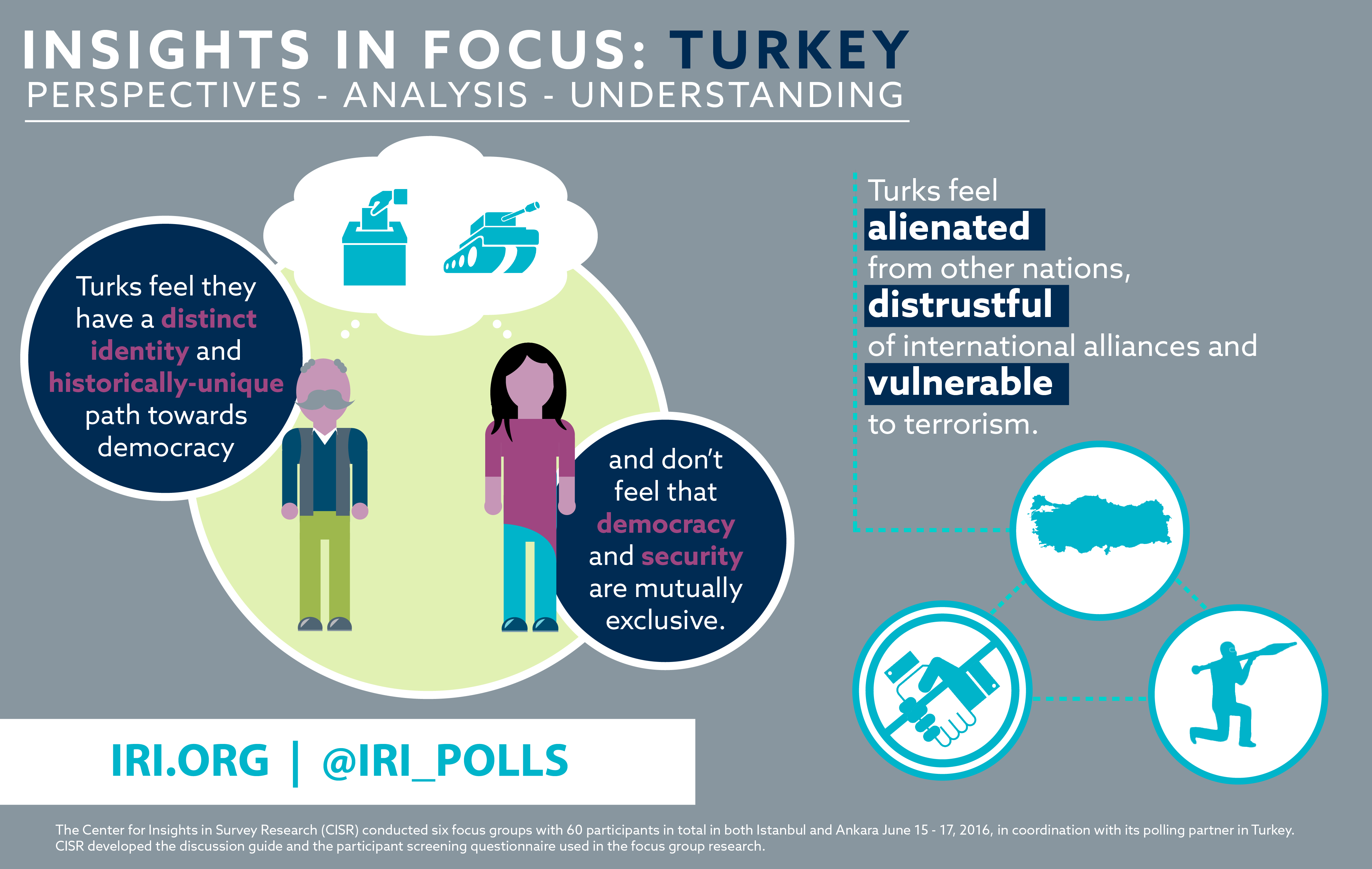 Istanbul, Turkey— Focus groups convened in Turkey by IRI expressed alienation from the international community but affirmed the country's unique path to democracy, according to a report released today.
This research is the inaugural focus group under IRI's Center for Insights in Survey Research.
"The intensification of anti-Western rhetoric we've seen following the failed military coup raises concerns about Turkey's future status in the democratic community," said Jan Surotchak, IRI Regional Director, Europe. "Going forward, it will be crucial for the international community to understand the origins of the distrust and alienation Turks feel from other nations, and to support them in their clearly-expressed desire to continue on the path of democracy."
Conducted just weeks before the attempted takeover by members of the Turkish military, the focus groups presage many of the issues thrown into sharp relief since July's failed coup, including heightened feelings of vulnerability to security threats and distrust of international alliances. Cynicism towards Western partnerships was evident in the lack of confidence in NATO and affirmations of the economic benefits of a rapprochement with Russia. The groups also expressed a strong sense of historical and cultural distinctiveness, and a commitment to a uniquely Turkish democracy.
IRI has used focus groups for years to dive deeper into issues not easily identified through quantitative research. This method of research allows IRI, through the Center for Insights in Survey Research, to take into account culture, values and beliefs in the research; assess the efficacy of campaign messages; identify barriers to participation by marginalized populations; and inform the development of IRI programs. The focus group research will be entitled Insights in Focus, and reports produced will be available on IRI's website under the Center for Insights in Survey Research.
Methodology
The focus groups were conducted from June 15-17 by Metropoll Stratejik ve Sosyal Arastirmalar Merkezi (Metropoll), on behalf of IRI's Center for Insights in Survey Research. Participants were recruited through the Computer-Assisted Telephone Interviewing system using a screening questionnaire developed by IRI.
Four focus groups were conducted in Istanbul, and two were held in Ankara. These locations were chosen because they offered a greater possibility to assemble groups of citizens which could be considered representative of Turkey's overall population. Each focus group lasted two hours, was led by a trained moderator, and consisted of 10 participants. Participants were reimbursed for their time with a small stipend, and were observed by IRI staff.
Participants were screened to select individuals who were at least "somewhat informed" about political trends in Turkey; "somewhat interested in" the country's political affairs; considered security to be either the most important or second most urgent problem facing Turkey; and would not exclude the possibility of voting for a political party other than the one they are supporting now. Participant screening was also undertaken to match voting preferences with the overall voting ratio in public opinion, and the educational breakdown of participants followed official census data in Turkey. The participants were separated into younger (18-35) and older (36-60) age groups, and were divided equally between men and women.
Top