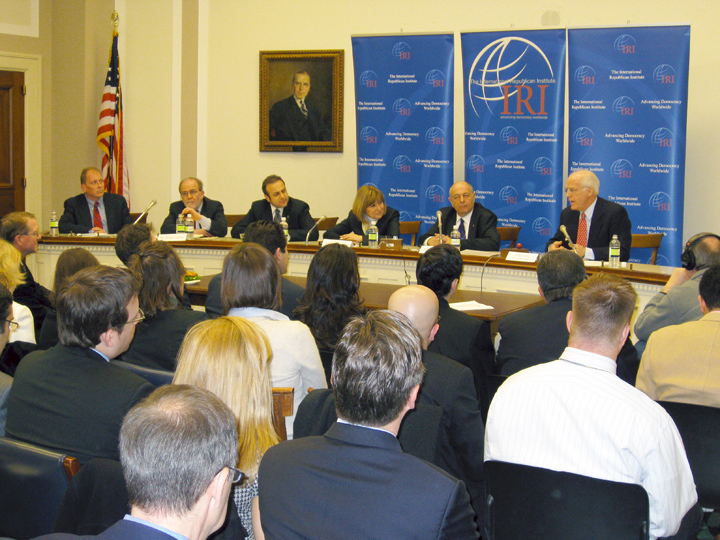 The International Republican Institute (IRI), in cooperation with the Center for Strategic and International Studies (CSIS), hosted its fourth in a series of roundtables exploring Turkey's role in international affairs. The roundtable, entitled The U.S. and Turkey: Another Honeymoon?, was held on February 28 on Capitol Hill. Speakers included Congressman Christopher Shays (R-CT); Egemen Bagis, Member of Parliament from Turkey's ruling Justice and Development Party (AKP); Fatma Nur Serter, Member of Parliament from the Republican People's Party; Mithat Melen, Member of Parliament from the Nationalist Movement Party; Lindsay Lloyd, IRI Europe Division Director; and Bulent Aliriza, Director of the CSIS Turkey Project. More than 100 experts, government officials, academics and media representatives attended the event.
The roundtable examined the opportunities and challenges of the recently revitalized U.S.-Turkey relationship, which had deteriorated in 2007. The United States' perceived indifference to terrorist attacks in Turkey by the Northern Iraq-based Kurdistan Workers Party (PKK), combined with the House Foreign Affairs Committee's passage of a bill "recognizing the Armenian Genocide," pushed Turkish support for the U.S. down to single digits and led to widespread calls for retaliation. It was only in the past few months that relations rebounded, following the visits of Turkish Prime Minister Recep Tayyip Erdogan and President Abdullah Gul.
Participants at the roundtable focused on three major challenges for the U.S.-Turkish relationship, balancing interests between Turkey, the U.S., and the Iraqi Kurds while rooting out the PKK was deemed the most prominent. Another important feature of the alliance will be continued U.S. support for Turkish membership in the European Union. Many fear that anything less than full European Union membership will drive a wedge between Turkey and the West, leading Turkey to deepen ties with less democratic neighbors. Lastly, participants noted that if Congress renews efforts to recognize the Armenian genocide, it will likely cause a relapse into frostier relations.
Despite these challenges, the roundtable provided reason for optimism as Congressman Shays and his Turkish counterparts recognized the two countries' strengthening friendship. As AKP's Egemen Bagis stated, "Turkish-American relations are mature, productive, based on mutual respect, and they have a long history; both countries share more now than five or ten years ago.
Top