WDN Honors Frances Fragos Townsend and Sherry Rehman with 2011 Jeane J. Kirkpatrick Award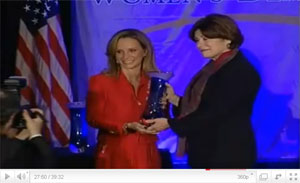 The Women's Democracy Network (WDN) held its annual Jeane J. Kirkpatrick Award dinner on February 28, 2011, honoring those who have made outstanding contributions to the advancement of women in politics and civil society. Receiving this year's award were the Honorable Frances Fragos Townsend, former Assistant to President George W. Bush for Homeland Security and Counterterrorism, and Sherry Rehman, member of the Pakistan National Assembly and ranking member of the National Security Committee. The awards were presented as a part of the WDN's annual International Women's Day conference held in Washington, DC.
In opening the program, WDN Director Michelle Bekkering recognized the delegates from Albania, Bangladesh, Belarus, Bolivia, Bosnia and Herzegovina, Cambodia, Guatemala, Jordan, Kenya, Kyrgyzstan, Lebanon, Moldova, Romania, Russia and Slovakia, who are taking part in the International Women's Day conference.
Before presenting the evening's first award, Judy Van Rest, Executive Vice President for IRI, praised both honorees. "Tonight, in memory of Jeane Kirkpatrick, we are honoring two extraordinary women, who through their careers in public service have been fearless vocal advocates of women's rights throughout the world."
Van Rest went on to say, "Sherry Rehman is one of the most courageous women I know. Today, she faces the harsh realities of women fighting against extremism in their countries, and her expressed views have put her at great personal risk."
Ambassador Shirin Tahir-Kheli accepted the award on behalf of Rehman, who was unable attend the event. In a taped acceptance speech, Rehman thanked the WDN for the award and highlighted the challenges and successes of women in her country. She discussed the dangerous effects of terrorism, militancy and religious extremism on women's rights and noted that much of the power and gains realized by women in Pakistan came as a result of the absence of government structures rather than as a result of government protection of women's right.
Rehman also highlighted the success of her female colleagues in the National Assembly. "Women are serving as role models in traditionally all male professions all over Pakistan. A higher participation in the parliaments, both provincial as well as nationally, has redefined the national agenda."

IRI President Lorne Craner introduced IRI board member Janet Mullins Grissom, who presented the evening's second award to Fran Townsend. "Throughout her distinguished career in public service, Fran has strongly supported and advocated for women's public and political engagement…She has been a role model and a mentor for women in public service throughout her career."
In accepting the award, Townsend highlighted women leaders from around the world, particularly the Middle East, who she has had the privilege to meet and work with over the years. She also noted the rise of women's participation in public life, stating, "This necessarily makes countries not only stronger, but strengthens their economies."
Townsend went on to note that the United States has much work to do. "There has only been one female Attorney General, one woman Homeland Security secretary, one woman National Security Advisor and I have been the only female Homeland Security Advisor. In the United States there has never been a female Secretary of Defense nor has there ever been any female heads of the CIA, Director of National Intelligence nor the FBI. So we are not done fighting here in the U.S."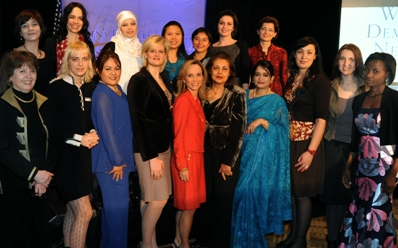 Frances Fragos Townsend is the Senior Vice President of Worldwide Government, Legal and Business Affairs at MacAndrews and Forbes Holdings, Inc. From May 2004 until January 2008 she served as Assistant to President George W. Bush for Homeland Security and Counterterrorism and chaired the Homeland Security Council. Townsend has long supported and advocated for women's public and political engagement. During her time at the White House, she met with women throughout the Middle East, including women doctors and entrepreneurs in Saudi Arabia, women running for elective office in Iraq, female military officers in the Jordan and the United Arab Emirates and female counternarcotics officers in Afghanistan. In 2010 Townsend moderated a panel for the Daily Beast's Women in the World conference regarding the critical role of women and women's rights for the future of Afghanistan. A long-time supporter of the Women's Democracy Network, Townsend spoke at the dinner celebrating the first anniversary of the Network.
A leading activist for democracy and women's rights in Pakistan, Sherry Rehman is the ranking member of the National Security Committee of the National Assembly of Pakistan and is President of the Jinnah Institute, a public policy think tank focused on security, democracy and governance issues. She also served as the Minister for Information and Broadcasting from 2008-2009 before resigning in protest over a crackdown on media freedoms in Pakistan. Rehman has authored several legislative bills and resolutions on foreign and security policy, human rights and media protections. Her briefing on security in Pakistan led to the adoption of the Joint Resolution on Terrorism, the first national consensus on the issue of terrorism in Pakistan. Rehman is an award winning journalist and was the first Pakistani to be recognized by the British House of Lords for independent journalism. In 2009, she was recognized by Pakistan's Association of Television Journalists for her support of media independence. She has also received the International Peace Award for Democrats by the Human Rights Commission.
The Jeane J. Kirkpatrick Award recognizes honorees for their commitment to increase women's political and civic participation within their own communities and on behalf of women worldwide. A long-time board member of IRI and the first woman to serve as the U.S. Ambassador to the United Nations, Dr. Kirkpatrick was a strong advocate for women's participation in politics. Her career in women's political participation and foreign policy is an inspiration to women.
The WDN is an initiative established by IRI to foster relationships among women leaders from around the world, providing them with opportunities to share best practices and develop the skills needed for professional advancement. The WDN encourages and supports women working to advance the political, civic and economic participation of women in their countries through skills-building trainings by creating regional networks to strengthen their development.
Top